BIOFIL – LIQUID ORGANIC SOIL INOCULANT IS NOW AVAILABLE IN THE UK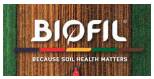 BioFil is a liquid organic bacterial soil inoculant which has been used by Hungarian farmers for more than 5 years with great results. The products are finally being launched in the UK and will be available from Farm Marketplace from January 2019. Research with pH-specific soil microbes commenced in Hungary more than 12 years ago, when scientists of BioFil Ltd. recognised that there was a need to find a way to grow crops in soils with extreme pH, either acidic or alkaline. They set out to find species of naturally occurring soil microbes that would support plant growth, help to improve soil structure and increase crop yields while at the same time re-duce the application rate of chemical fertilisers. Today BioFil Ltd. has a dedicated team of 25 researchers, three of whom hold PhDs in microbiology, who are continuously seeking to improve the performance of BioFil prod-ucts through careful selection of bacteria and to develop new products and services.
The current range of BioFil has six products: BioFil Acidic (pH 4-6), BioFil Normal (pH 5-7), BioFil Alkaline (pH 7-8), BioFil Pea/Bean, BioFil Soya and BioFil Post Harvest. Each of the products include up to 7 unique bacterial strains specifically developed with your soil pH in mind. BioFil Acidic contains bacterial strains which reproduce well in acid-ic soil pH. While BioFil Normal contains bacteria which prefer soils with neutral pH and have an excellent nitrogen-fixing ability. BioFil Alcaline was developed for alkaline soil and effectively suppresses the reproduction of plant pathogen fungi. BioFil Pea/Bean contains pea-symbiont bacterial strains which increases the formation of nodules and provides plants with nitrogen. Peas and beans become healthier and more developed, more resistant to various diseases. The bacterial inoculant BioFil Soya is re-sponsible for soya nodulation.
It contains a symbiont nitrogen-fixing bacterial strain. BioFil Post Harvest is used for intensive degradation of cellulose and can multiply even in low soil temperatures which makes it very effective in degradation of stems, leaves and roots so that the next plant culture gets access to valuable nutrients. There is no need to apply nitrogen for stalk degradation as this product contains nitrogen-fixing bacterial strain of high capacity.
Field trials conducted in Hungary have been continuously providing highly positive re-sults. In 2018 a green pea trial where acidic soil was treated with BioFil produced a sig-nificant yield increase of +26.7%. Also, yield increase of +40% was reported in 2016, and +50% was reached in 2015. While sunflower trials conducted in 2017 showed yield in-crease of +23.1%, potato trials conducted in 2017 produced +6 tonnes per hectare, and in the last few years soya trials (some of them utilised acidic soil inoculant) showed in-crease of between +9% and +42.9% in crop yield. This year BioFil established their fist trials in the UK with the autumn crops. They used acidic soil inoculant for 5 ha of winter wheat, 3 ha of OSR and 2 ha of beans. Each of the products was used with notillage, either a Cross Slot or a John Deere machine. The crop results will be reported after harvest in the Direct Driller magazine.
While BioFil makes no recommendations with regards to lowering of chemical fertiliser application rates, when the products are applied as directed they have the effect of providing the equivalent to approximately 100 kg/ha of chemical NPK. This is achieved through the inclusion of high concentrations of nitrogen fixing bacteria that solubilise phosphorous and potassium in the soil that cannot otherwise be accessed by plants.
BioFil products are well proven to be reliable and very cost effective over a broad spec-trum of crops and as a generalisation, for monocots yield increases are usually in the range of 5% to 15%, and for dicots 5% to 25% when compared with a control that re-ceives the grower standard chemical fertiliser application. However, with different seasonal growing conditions yield increases vary and being products containing very high concentrations of living soil microorganisms, they need to be handled carefully and applied in the correct manner to achieve the expected results. Because the bacteria can be damaged when exposed to UV radiation, it is essential for the liquid applied to the surface of the soil to be incorporated into the soil to a depth of 5 to 10 cm.
While this is not an issue when applied under no-tillage, under conventional tillage, the BioFil is applied during a tractor pass over the land preparing the seedbed or at the time of seeding, and needs to be raked into the soil. A tank and spray system known as BioFil Jet has been developed, which can be at-tached e.g. to the front of a tractor and applies the liquid at the rate 50 litres/ ha, and in the same pass over the land is incorporated by a rake towed behind the tractor. The products are competitively priced. It is not uncommon for experienced users in Hun-gary to achieve a yield increase and input cost reduction of up to 10 times the cost of the product. BioFil products have a shelf life of 6 months when held under refrigeration at 4 ºC to 5 ºC and up to one month at 20 ºC. Orders placed with Farm Marketplace at least one month in advance of the estimated application date will be guaranteed delivery of product that has been held under refrigeration and has a shelf life of 20 days on the farm at 20 ºC
The products will be available from www.marketplace.farm. For more information about the products go to www.terragro.hu.