July 2023
With my year as 2022 FSOOTY winner coming to an end here are a few thoughts on the spring workload and how the new sprayer has performed. First off, I'm Steve May and I work for Fromant and Sanders at Kislingbury near Northampton, a family arable farm with extra contracting work in the form of whole farm contracts and one off jobs covering the local area. My focus is on spraying, drilling and primary cultivation both in planning and execution working closely with our agronomist and management team. Cropping consists of winter wheat, winter barley, oilseed rape, winter beans, winter oats and spring barley. Wheat is mainly milling Zyatt and Skyfall (hard group one's) and Astronomer and Firefly (soft group threes).
With Septoria and yellow rust pressures very high this season I'm pleased we've managed to keep them all relatively clean so far with a robust fungicide program based around Folpet and Tebuconozole at T0, Prothioconazole and Folpet at T1 and Pyaclostrobin and Folpet at T2 with a few other actives thrown into the mix as well so far. Hybrid winter barley is grown here. We like the vigorous nature of the plant, its ability to tiller in early spring gives it the power to push on and deliver us some good yields. We have four varieties this year Bazooka, Belfry, Kingsbarn and Armadillo.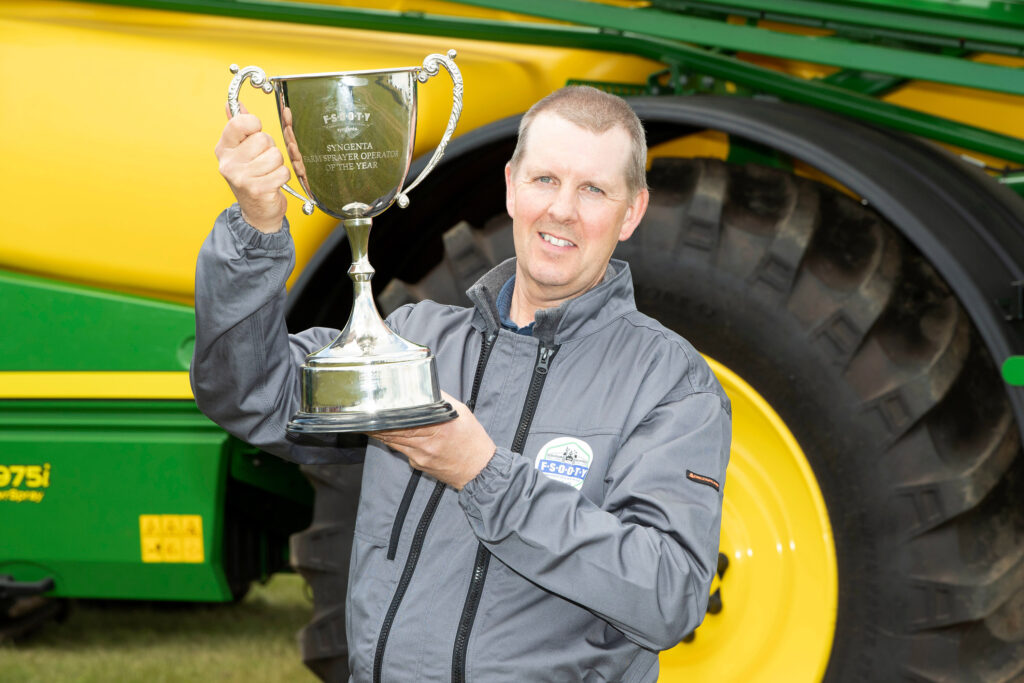 They do need a strong PGR as they can get very big and we want everything standing at harvest. Our main break crop is still oilseed rape and I have to say we have been very lucky with it this year; it was drilled with our 6 metre Horsch Avatar after a light cultivation to work in a dressing of sludge in late August following 40mm of rain. CSFB pressure wasn't too high and it got away well, knee high by the end of October! However, the hard frost in December and some patches of winter stem weevil, a pest we've never really seen before, hammered it back hard.
With the aid of the pigeons by February it was mainly skeletal but a bit of early nitrogen and good weather it has picked up well and now looks fantastic. It had a long flowering period this year which my honeybees really appreciated, they've done a great job of pollenating it. Here's hopeful for a reasonable yield. The winter beans are looking strong, drilled with our 4 metre Claydon hybrid drill, some after the plough on some dirty BG ground and some after a light cultivation 50mm deep with a Horsch Joker on the cleaner ground.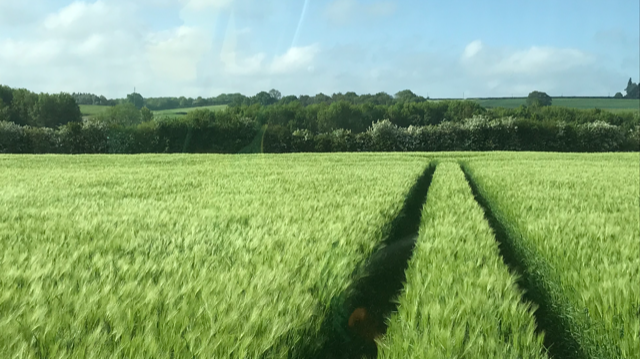 Germination and vigour seem higher after the plough which may lead us to ploughing a bit more next year. I know I've just used the P swear word in this publication, but you've got to go with what you see on the ground, harvest will tell us what's right or wrong I hope. The forward crop and wet weather have lead us to applying the first fungicide for chocolate spot a couple of weeks early. It'll be interesting to see if it ends up getting an extra spray because of this, here's hoping not, to try and keep costs down.
We have a small amount of Southwalk winter oats drilled the third week of November with our Kverneland Evo drill as the damp conditions were not suitable for the Avatar. They looked pretty grim all winter, so we went with a bit of early N in February and this has seen them pick up very well to a point where they have needed a robust PGR to mitigate against potential lodging. 32 hectares of spring barley was direct drilled in mid-April after a grazed cover crop but this doesn't look so good.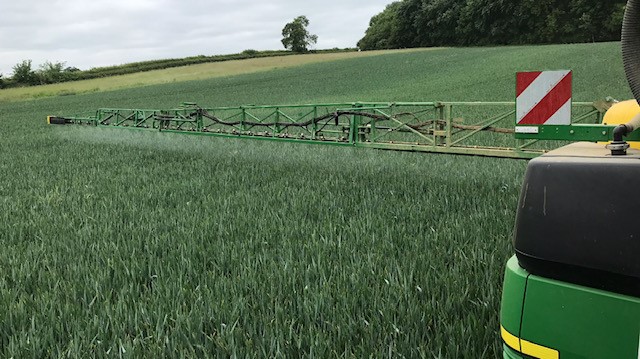 The decision was taken not to roll it after drilling due to the very damp seed bed conditions. It seems this and the cover crop have lead to a boom in the slug population, which in turn have had quite a feast on the young seedlings. This is something we need to look at a bit harder and try to choose our cover crop mix a little better, trying not to incorporate species that encourage slugs. I think Phacelia should be the base and add in a few others. Overall, the farm is looking good but due to the wet spring Black Grass can be seen all too easily.
Like many other farmers, we've been relatively successful over the last few years at controlling it but, as many are seeing this year, it's come back with a vengeance. I'm sure there will be quite a lot of ploughs working this summer to press the reset button as the boffins call it. For spraying operations, we have recently purchased a new John Deere R975i powr spray trailed machine. This has also been accompanied by a new 6R215 John Deere tractor. The two units as one compliment each other very well and I'm very pleased with the set up. So far this spring the sprayer has done around 3000Ha of spraying. No liquid fertiliser is applied through the sprayer only ag chemicals and micro nutrition. I'm particularly pleased with the upgraded joystick which is significantly easier to use.
Reversing trailed sprayers into corners is never easy and this has been made easier with the rear wheels self-straightening when the tractor is put into reverse, no more fiddly buttons to press in every corner. As far as filling is concerned, I mainly fill from base at Kislingbury. We have 40000 litres of water in two tanks I can draw from filled from a bore hole. This is normally enough to keep the sprayer filled even when I'm doing pre ems at 200 litres/ha. For back up there are also several satellite tanks around the farm.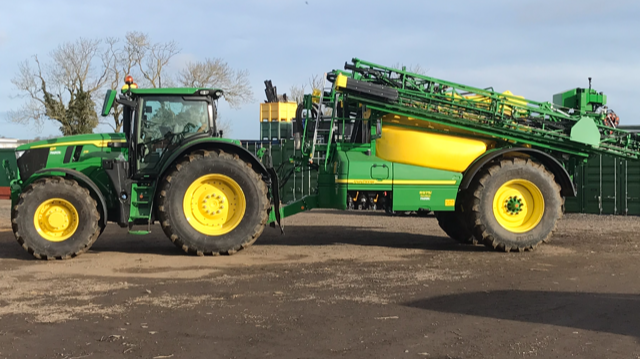 As we are in a hard water area, we have to watch for pesticide lock up and sometimes have to add water conditioners to some tank mixes to counteract this. When filling the tank, the active pause option on the R975i allows plenty of time to add all the chemicals as it slows the water flow to around 60 litres/minute. When all the chemical is in I simply push the button on the console and it fills again at 1200litres/minute. When fully loaded the sprayer weighs around 13 tonnes so we went for the 710 tyres to spread as much weight as possible when the going is not so good in the winter/early spring. Even these this year were not enough to stop some deep ruts being created in March and April that will need rectifying after harvest. For summer work these are switched for 480's, the tractor also runs the same setup.
The sprayer is fitted with TwinSelect nozzle units running with 3 metre GPS auto shut off which suit us better than individual shutoff. In the future I'd like to look at PWM, but this was not available on this machine at time of purchase. The wind this spring has been particularly challenging. To help applications in less than favourable conditions I can choose 035 Guardian air nozzles running around 1.8 bar pressure at 12 KPH delivering 100L/Ha. When conditions are better, I can choose 025 Guardian air nozzles running around 4 bar pressure delivering 100L/Ha at 12 KPH. With TwinSelect if I require 200 litres/Ha I can run both together. For pre-em spraying I can choose either 05 3D defy or 05 UDL for low drift. All these nozzles are fitted to the boom constantly as there are five nozzle holders.
The fifth is taken up with a 03 3D defy. Keeping the boom half a metre above the crop is vital in windy conditions to avoid drift and this is done automatically by the Norac system which I find runs well. After four months spraying with the new unit, I'm very pleased. It is a bit of a monster when you are stood next to it, but it doesn't matter what sprayer you have now if you want capacity it's going to be big.