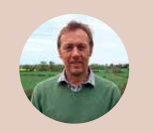 I farm 155Ha owned at Greenknowe and around 100Ha contract farmed in Berwickshire, Scotland just 6 miles from the border at Coldstream. The land is clay and sandy loam, deep, very variable but the best of products to run an arable business on, any limiting factor is probably me! I do all the farm work myself except for the corn carting, high clearance spraying and baling. My son, Harry (age 13) and I have been flying DJI drones since 2014 and he posts the video's on our Youtube channel 'Everything is Greenknowe' and pictures on Instagram under the same name.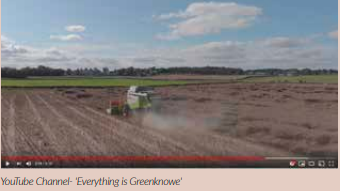 The last of the livestock left in 2000 but 75% of all straw is still removed, as the local livestock farmers wouldn't let me live with the guilt if I chopped it all. The organic matter tests carried out in the last 2 years show a 3 to 4.4% OM in my soils. I think this is helped by my long rotation, with grass being replaced with oilseed rape and beans and the addition of hen muck on stubble prior to rape drilling. The current rotation is WOSR, WW, SB, SO (Or Spring beans), WW, SB, WB.
All this added up to what I thought was a good place but I had always wanted to do more with less. In Scotland we usually have very short weather windows to combine and sow crops, an example this year when the phrases "your rape is at 14% that's good" and "if it's not raining I'll be cutting", were spoken loudly without an eyelid batted. This year I am not alone in cutting wheat at a lower moisture than my rape. Even in a "normal" year I was beginning to struggle to get all the winter crops in the ground with my plough based system and like many I questioned taking the great tilth presented after harvest and ploughing it down then try to recreate it with metal, diesel and man hours while risking it getting soaked or baked. I had even considered buying an old MF 30 or 40 just to sow the wheat directly after my beans but that felt like going back rather than forward. I had a contractor sow my rape with a subsoiler and broadcast method and this worked well most years but if I was to own the kit myself it had to do more than just sow rape.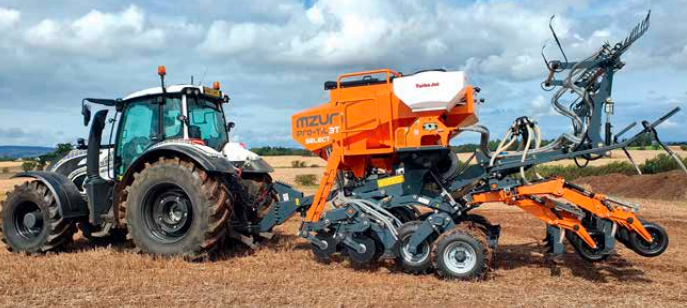 I started in 2014 to look online for information on direct drilling and spent hours reading the farming forum comments and watching Youtube videos of people's experiences, from that the Mzuri name came up. I had demoed other drills but most were a version of a combination drill rather than the options available now so I looked in more detail at the strip till concept. I think we all do our own version of min till, i.e. we all think we do the minimum amount of tillage necessary to achieve the desired results. I felt the Mzuri's leading leg and consolidating wheel were necessary on my heavier soils to create the correct conditions rather than a slot or smear. After a visit from Mzuri's Ben, who had a look round and a chat (he really was checking out the condition of my soil), we decided a demo was worthwhile and after wheel kicking at Cereals 2014 the autumn date was set.
The wheat went in perfectly as the Youtube video shows, and myself and a few neighbours dug and scraped the soil and decided, why wouldn't it work? It did, and very well, the subsequent wheat crop more than matched any other wheat I had that year, so far so good. I would have liked to have said "just leave the drill here" but to justify a new drill to sow a small percentage of my crops was difficult. Mzuri told me of someone who had a drill and farmed locally, so myself and a friend visited Patrick Fraser who runs a mounted 3T version and his wheat and rape looked well established and his feedback both pros and cons were very helpful. I began to look for a second hand 3 meter Protil and I found a trailed one online, with Mzuri's endorsement
I went ahead and bought a single hopper drill in immaculate condition and at a good price (even for a Scotsman) due to its single hopper. The 3 meter drill does come with an estimation of the horsepower required, at 180 it is steep, but even on my tougher soils it was realistic even at the start when the soils were tight and I would hope to require less as time goes by. Having said all that I did upgrade my tractor from a Valtra 183D to a Valtra 234D clad in Scottish rugby star Doddie Weir's own MND tartan designed by my wife's company no less. The tractor does feature on my Youtube channel 'Everything is Greenknowe' with the drill before anyone points out its more than a 180, but nobody buys a smaller tractor than they trade in, do they?
The first crop I put in with the drill was spring beans, again with Mzuri's help in setting up, something they did FOC, above and beyond my expectation. The initial day was daunting as it was different to anything I had ever done before but the beans were through and rowed up very evenly a few weeks later, to my relief. Next I did spring oats, grown for Quaker, sown straight into over wintered stubble and again they came up and away very evenly but my first mistake was soon to come. Being a bit thrifty I had a dispute/discussion with my agronomist about the need to spray what looked like a clean stubble prior to sowing spring malting barley. After sowing, the cold wet Scottish spring stalled the barley long enough for every weed known to man to appear and confirm my agronomists concerns, first lesson learned, start with a clean slate.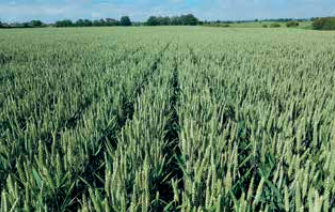 Don't worry he constantly reminds me! I now use a hired straw rake on my rape stubble mostly for slug and slug egg destruction as I find it halves numbers prior to wheat sowing and I try and glyphosate my stubbles as I don't spray off crops prior to harvest. I do try to resist any other form of 'recreational' tillage as I strive to stop the part of my brain which is conditioned to think loose, brown, power harrowed soil and green rows are a sign of a successful crop. My strip tilling has now progressed to almost all of my crops with 30% of winter barley, 95% of wheat, all the rape, oats and beans put in with the Mzuri system with fantastic results. I have kept my 15 year old plough and the combi drill for the few barleys, but they won't be replaced. I do still feel when I leave a field after sowing that it hasn't really taken enough time and effort and it will never work, but it does.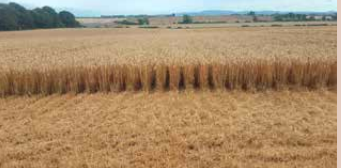 This year's harvest has produced some great crops, some of the best wheats I have ever grown, great OSR crops (sorry South of England) and the spring beans and oats are on Youtube and look excellent so far! I have sown 9 different crops with the drill to date with the standard equipment and I hope to try cover crops in the future if I get into the AECS scheme I have applied for. I have now traded in my single hopper 3T and have a new 3 meter dual hopper Mzuri with the new upgrades on the fan, disc and low disturbance single coulters which will all be useful, and I look forward to fertiliser placement which can only be a good thing. I would like to put beans down the front leg, cereals down the coulter and a clover out the pelleter as a cover crop but only with the help of a scheme payment.
I was recently lucky enough to be asked to take part in a Q & A at Cereals in the Conservation Tillage tent, hosted by Clive Bailye, a premier league of very experienced direct drillers and then me. I had so many of my own questions for the panel as they had many years of experience and each their own approach. I do a very simple version but we were all focused on improving soil health, margins and building a resilience in our soils and business in our own different ways. I was asked if I saw myself moving to direct drilling from striptill in the future but I stuck to my original thought, we are all doing the minimum tillage for our needs and strip tillage on my ground is, I feel, the minimum required. Of course like the British weather all that can change.