Written by Becky Willson, Farm Carbon Cutting Toolkit
The Soil Farmer of the Year competition aims to find, promote and champion farmers who are passionate about safeguarding their soils and building resilient businesses. The competition is now in its fourth year and attracts amazing farmers who are running a range of different enterprises and management systems, but are all connected by a focus on soil management and a drive to make the system more sustainable.
One of the highlights of the competition is the opportunity to dig a little deeper into the finalist's soil management strategies at farm walks which take place in early July on the top three farms. These events are always brilliant, not just because of the interesting things that are taking place on the farm, but also because of the honesty and openness of the farmers to answer questions and explain their management and how their system has evolved. The winners were announced in early June and we were incredibly lucky this year to be offered a space on the main stage at Groundswell to present the awards and allow our top three farmers to share their experiences with the delegates attending the show. This was a great opportunity for our winners to meet each other and discuss ideas, and the session was chaired by Joel Williams. All of the farmers gave a short presentation on their management system and some of the challenges that they had faced along the way.
Our winner this year was Julian Gold, an arable farmer from Oxfordshire, and on a sunny evening (when combining was in the forefront of people's minds), we all gathered to hear more about Julian's award winning management. Julian runs a predominantly arable farm, with a flock of sheep that graze cover crops and areas of permanent pasture. The fundamental management principle on this farm is managing carbon; by growing high yielding crops there is a lot of carbon pumped back into the soil and by reducing tillage, once that carbon is in the soil it doesn't escape. Julian explained his key philosophy on the farm, "I am not a farmer, I am a facilitator of photosynthesis and everything flows from that."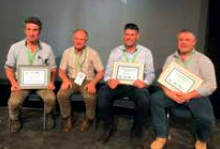 The key theme of the walk was focussed on the practicalities of residue management, specifically the management of barley straw and whether all of the issues that Julian has experienced was worth it. He is managing his system by returning all crop residues to the soil which is following his carbon principles, however practically it is causing some issues with crop establishment. By growing big photosynthetic crops, they are pumping carbon through the plant roots and into the soil which is great, and then by leaving the straw on the surface, it is acting as a soil biology primer. However dealing with the straw can present a challenge. The high carbon to nitrogen ratio of the straw will ensure that the biology have to work to breakdown the material, and Julian is convinced that the biology in his soil is now used to assimilating the straw. The nitrogen strategy on the farm currently is to apply it little and often however over the next few years, cutting back on nitrogen is a key management aim.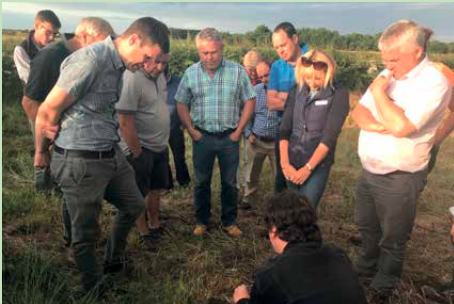 The farm occupies 800 ha and is mostly owner occupied. Julian runs a 6 year rotation, which is rape, wheat, spring barley, spring or winter beans, wheat and winter barley. There is flexibility between whether he grows winter or spring beans, and there is a guaranteed cover crop before spring barley after winter wheat, and if spring beans are grown after the spring barley. The farm runs a controlled traffic system which Julian started in 2012 which is based on 10m, which means that 20% of the field is ever driven on and 80% is not touched. No deep tillage is done and the carbon and root systems are protected. Julian was keen to recommend that everyone could try using a controlled traffic system at harvest, to minimise the potential damage by grain trailers and the combine.
Crops and residue management
The first field that we visited was a field of oil seed rape. This field had previously grown winter barley, and had a lot of chopped straw on the surface. The crop had established fine apart from an area where combining had carried on too long into the evening and straw chop quality was bad. A big issue with high volumes of straw residues is maintaining soil to seed contact as the soil surface layer is very fluffy and hard to consolidate. Another issue the farm struggles with is the battlement effect left behind when direct drilling with the tine drill. The undisturbed areas of soil support the rolls and make it difficult to consolidate the seed trench.
After the rape we went to look at a field of barley, which had had a cover crop before which had been grazed by sheep. The cover crop had a high biomass, as (similar to the cereals) Julian is keen to maximise photosynthesis even in the cover crop and provide a variety of rooting depths and species. Julian also explained how he creates the right mindset for soil friendly farming by imagining a fictional scenario "that way back in time as life was evolving on the planet, an intelligent soil ecosystem evolved first and needed a food source so created plants to grow and harvest sunshine and carbon dioxide to feed the soil community. The farmers function is to tend the food producing slaves and in return is allowed to take the seeds as payment!" Julian explained that "when you have this focus on farming for the soil it is a win-win scenario because the grain yields become better and more robust over time."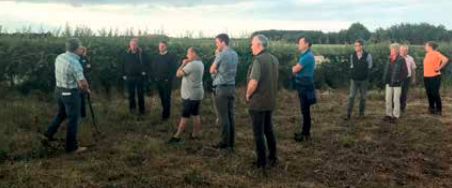 Julian has been growing cover crops since 2014, starting off with vetches and black oats, and now including high biomass mixes. They are mob stocked with 50% of the cover trampled and the field is never turned brown with bare soil. The field is then sprayed off and drilled. Until the point that it is sprayed off, something is growing, providing soil cover. This year, on this field, however grazing with the sheep was challenging, as they couldn't take advantage of the good weather early in the season to drill as the sheep were still grazing it, but Julian is still keen on the value of the sheep in the rotation, explaining "everything is an integrated holistic system, and you have to take some things on the chin to achieve the end goal." The walk also took in a different field of oilseed rape which had been drilled with the Moore disc drill, and looked at some pollinator strips that are planted in the middle of a field of barley as part of a research project looking at management systems for sustainability. While the main benefits of the strips is crop protection and improvement of biodiversity, it will be interesting to see whether there is a soil health benefit from them being planted.
Future plans
Julian is trialling a few acres where he is undersowing clover and medic. Now that the soil organic matter levels have built up, the next plan is to start to reduce Nitrogen levels and improve nitrogen use efficiency which will reduce nitrous oxide emissions, with the ultimate aim of running a farming system which has lower inputs and positive economic and environmental benefits. 
Cheshire Dairy man is runner-up
Our second place winner was Will Blackburn who farms in Cheshire. He runs a dairy enterprise with 300 milking cows and grows a range of arable crops. His light sandy soils make holding onto nutrients and water a challenge, and this has seen him adapt his management system to focus on building organic matter within the soil.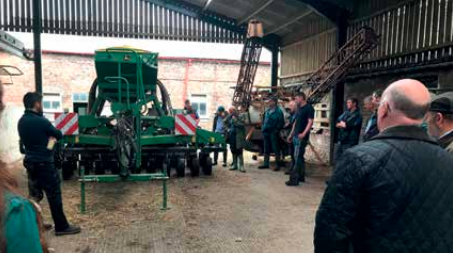 Will started drilling with a Moore drill 10 years ago for drilling grass into wheat stubbles. The farm was still growing potatoes, which prevented a complete switch over. He explains "when we were growing potatoes, it took 3 or 4 years of grass to get the soil back in good health. When potatoes were making good money that was ok, however when they weren't making good returns, it didn't make sense. You realise when you stop growing them how much they are damaging the system." Since the move away from potatoes the focus is to develop a fantastic surface to the soil which will build a humus layer (and resilience).
Will is also grateful to the cows and grass being on the farm, which has made the switch that much easier as the soil biology was already good. The soil on the farm is changing, the stones are disappearing which he puts down to good levels of worm activity, the worms are constantly active and digesting the soil, taking soil up which pushes the stones further down the soil profile. As well as the light land that is surrounding the home farm, Will has some heavier land away which is being managed in a similar way. Traditionally after 3 years of ploughing these fields would need a lot of working back down to get a good seed bed for the next crop, however with this system, that isn't the case. 
The first field that we visited was a grass field. Here Will explained more about the soils on his farm and how he manages them. The soils on this farm are good at leaching potash, so the aim is to get carbon into the soil and keep in there to make best use of it (and not lose it). Although this is a simple message, by following it and looking after the soils by not cultivating it is possible to achieve. The light sandy soils are great for turning cows out early, but in periods of dry weather they can suffer. The system being developed here is predominantly looking to provide the resilience in drought conditions. The grass seed in this field was disc drilled in. Will explains, "By not disturbing the soil, when the conditions go dry you maintain the soil capillaries and old root channels which allow water to percolate, and the soil can perform its natural function."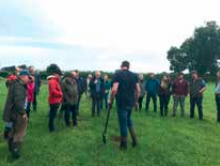 Although grass is fantastic for soil health and soil biology, Will is also keen on having a break from grass within the rotation and is seeing the benefits. It also provides an opportunity to get on top of the grass pests including leatherjackets. Grass management and efficient forage utilisation is something that Will has recently started to focus on in greater depth. Will maintains the grass in its vegetative state though grazing management. As well as providing high quality forage to the cows, he sees a soil benefit from this too as the grass is continuing to produce new roots until the seed head appears. By managing grass to keep it producing roots the soil biology is being fed and carbon is being cycled efficiently.
Lighter Machinery and Gradual Change
Will measures his grass once a week to calculate his available forage and complete a grass budget. Measuring grass covers and calculating his feed wedge has allowed him to improve his pasture utilisation and plan ahead. He explains, "the efficient use of grass means that we can use less concentrates, producing milk more efficiently." The leys on the farm are predominantly high sugar grasses and clover. Will has had fantastic results from high sugar grasses and finds them great for milk production as well as being carbon efficient. Will isn't a fan of intervening mechanically with machinery including the use of subsoiling or slitting as the aim is not to interfere unless there is a massive issue.
He explains, "if we can get roots, pore spaces and channels built up then the soil is more resistant to compaction, the soil starts to bounce and become resilient, however if you are tilling it, instead of bouncing back it goes down and stays down." Will started off with a Moore disc drill but struggled on the heavy land as there were issues with drying out and the slots opening up which led to poor establishment. He moved over to a 750a and finds that it does what it needs to do and fits the system, although he admits its quite extravagant for the number of hours that it does! However Will is completely honest that not everything has worked
"if you look at the past with everything I've done conventionally versus no till, I've had failures with both but my failures in no till have cost me less. There can always be crop establishment risks whichever system you are running. Through not cultivating though I've really seen the impact, as on fields where I've previously ploughed and the fields have been uneven and full of clods, I now have a flat field."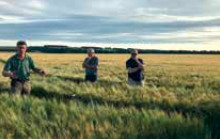 Future aspiration for Will include honing the grassland management system, and building organic matter levels even more. He is also interested in reducing fertiliser levels.
Lincs Farm gains Soil Farmer Award
Our final walk was with Paul Davey who farms 1100 acres in Lincolnshire. Spanning a mix of soil types including clay, chalk, medium and wold series, he grows a range of arable crops, runs a sheep flock of 200 ewes and a regional distribution business for local produce. The business has evolved to its current form through a range of different practices and growing of different crops including potatoes, vining peas, and onions. The broad rotation on the farm is 2 years of ryegrass, a legume break, wheat, an oilseed break, wheat, spring barley and then back to ryegrass. This longer rotation and cropping blocks of land has allowed him to reduce overheads.
The inclusion of livestock on this predominantly arable farm has been a key part of the strategy to be more resilient, sustainable and regenerative. The evening started with a presentation which explained the history of the farm and how they had decided to change the way they did things. He explains "What we've done hasn't been a licence to print money, it's been about trying to manage a ship in choppy seas. A key challenge has always been getting the equipment around the geography of the farm and get a margin at the end. So, we've always been on the lookout for changes to the system, but that involves finding a starting point." 
Within the logistical confines of the farmed area, Paul's strategy is moving to lighter machinery and making gradual changes in terms of managing tillage and compaction. Having recently dug some soil pits and looked at rooting depths and soil structure, he has concluded that roots from the crop are capable of taking out compaction when you are travelling with lighter machinery. He has seen the impact of working with heavier machinery, as he remarks "two or three years later, you can see a wave across the field where the kit had been travelling." He is comfortable with the use of extremely shallow cultivation to sort out any compaction that the roots can't deal with. He is also keen on ensuring that tyre pressures are right for field conditions wherever possible (given the balance between travelling in the fields and between then on the roads). 
Attentions were then drawn to the stripper header which is being used for the 6th season here on the farm. It is used for combining the ryegrass and allows the crop to be combined at the same rate as cereals, which allows for flexibility in tight weather windows, and it's also perfect for linseed. Paul is experimenting with it to drill directly into standing stubble, maximising the soil armour. Paul comments "a key question for the future is how we manage crop residues and how to keep the carbon to nitrogen ratio high enough to deal with a large amount of residues."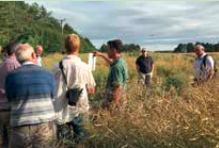 Grasses are the building blocks of the system that is run at Girsby Grange, and Paul is a passionate advocate of the benefits that grass brings. "Regardless of how you manage it, whether it is through growing grass for seed or grazed share farming agreements, it provides a massive benefit and up to 40 tonnes of organic matter per hectare over a threeyear period. It's an extremely valuable crop, with a big mass of rooting which brings life back to the soil, nothing works like roots do." After visiting a field of grass grown for seed, the walk finished up in a field of beans, where a soil pit was dug. The soil looked very well structured with good levels of soil aggregation. The previous week, this field had experienced 125ml of rain in 48 hours, but there was no evidence of any ill effects. This field will be zero tilled into wheat once the beans are harvested.
Paul is farming to improve the long term sustainability of his farm and a key part of that is farming for the rotation. He comments "it's about taking a long term view, being flexible and brave and taking the risk. When you scratch the surface you can see the costs of our actions. Most farming practices seem to be fixing a problem by creating a different one, with this system of farming, there seems to be genuine solutions." Three fantastic walks with three inspirational farmers that provided lots of ideas and knowledge for all who attended.
If you are interested in applying for the competition this year or nominating someone that you feel deserves to be recognised, the competition will open on World Soils Day (December 5th) and more information can be found at www. farmcarbontoolkit.org.uk.