Written by Jerry Alford from the Soil Association
There has recently been a lot of interest in the potential of organic no-till and it has been described by some as the holy grail of organic arable farming. It is also something that is of interest to non-organic farms because of the potential to reduce inputs, particularly on less profitable break crops.
Organic arable farming systems have always been built around the use of cover crops, diverse rotations and animals. Building fertility during the rotation for high value crops and also using these covercrops and grass leys as part of weed control strategies. These regenerative phases have always been used to counter the effects of the exploitative phases where crops and tillage remove soil nutrients. Organic regulations (EU Regulations 834/2007, 889/2008 and 1235/2008) prohibit the use of artificial chemicals and fertilisers and support the minimisation of the use of non-renewable resources and off-farm inputs. Put simply, the requirement is for circular economy principles to be followed as far as possible. Many organic farms include grazing livestock enterprises and as with non-organic mixed farms, soil health will benefit. In stockless organic arable systems, clover is grown as part of the rotation and is regularly topped and mulched to build soil fertility.
It is difficult to compare an organic arable farm with a non-organic arable farm because rotations, inputs and even crops may vary. Most organic rotations include legumes because of the fertility value, but very few grow oil seed rape because of its high nutrient demand and pest risk, to both it and following crops. The inclusion of fertility building phases in the rotation is also very different, although this is becoming more widespread in nonorganic systems. Cover crops over winter as green manures are also often part of the rotation. Organic farms can use composts, manures and digestate, subject to certain restrictions, but there are no synthetic nitrogen products approved.
The biggest problem organic farmers face is weeds, particularly grass weeds. Blackgrass can be a problem but the diverse rotations including ploughing, spring cropping and low fertiliser use does seem to reduce its effects in organic systems. In non-blackgrass areas, other weed grasses like annual meadow grass and bromes can reduce yields if allowed to develop. Perennial grass weeds like couch are also a problem although an Innovative Farmers trial has shown positive effects by using buckwheat which has an allelopathic effect as well as a shading effect when the weeds are at their weakest after harvest. Ploughing has become the main weed control mechanism for many organic farmers, with seedbed preparation and cultivations being part of the weed control strategy. However, many organic farmers have looked at using min-till or non-inversion techniques through their rotations to reduce the need to plough. Most would plough 3 times during a 5-6year rotation but finding a way to grow organic crops using a no-till system during the rotation would be a good next step.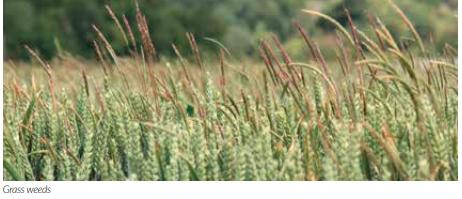 The benefits and potential of Conservation Agriculture are plain, but an organic farmer is restricted by the need to generate fertility on farm, the decision not to use chemicals and their customers choosing to buy organically certified products. The Soil Association agrees with the principles of conservation agriculture and in the long term would hope to get to a situation where tillage in organic could be reduced still further and conservation agriculture could take place with reduced or zero herbicide use. Knowing what the issue is the easy bit, finding the answer is the challenge.
So how do we get there?
If we are going to go no-till organically we need to control weeds and cover crops without chemicals. There are already three practices used worldwide, which have been tried in the UK by organic farmers, with varying degrees of success. None have been tried organically into long-term no-till situations.
The most well-known is the crimper roller. Developed by the Rodale institute in America, the ribbed roller crushes the stem of plants. The rolled plants then act as a weed controlling and moisture retaining mulch which also returns nutrients and organic matter into the soil. To work properly the crop being rolled must be an annual and at anthesis (early flowering). In America the most common crop crimped is rye which is at the correct stage when Soya and Maize are being drilled. In the UK the correct growth stage comes too late for UK cropping. The allelopathic effects of the rye may also make it unsuitable for small seeds like wheat. In an organic rotation, there is the potential to grow rye as a cover crop and then crimp and drill vetches during the fertility building phase. This second cover can then be crimped and will supply nitrogen to an autumn drilled cereal. This avoids the need to plough out a grass ley which itself can become a source of weeds.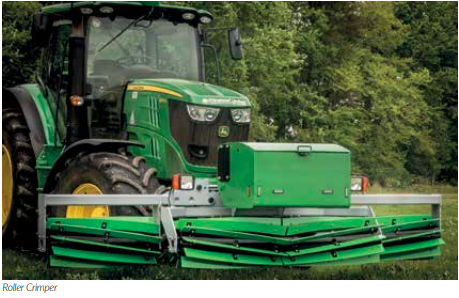 The second technique is to drill a crop in the winter into a frost susceptible cover crop such as buck wheat, berseem clover, phacelia and mustard. This will provide a mulch to the next crop as well as nutrient recycling. Smaller seeded plants may not work in this situation because they are less competitive as seedlings, but it has been used for beans. There is a potential problem if there is a mild winter because any cover crop plants which produce seed could create a weed problem in later crops so some form of management may be necessary. Grazing with livestock could be an option because cereal and OSR plants will regrow after grazing. As part of an Innovative Farmers trial on alternatives to glyphosate a group of farmers used rollers on cover crops during a frost to investigate whether they would be an option and did show some success, which would allow late winter drilling where ground conditions allow.
A third option is to use a permanent understorey and drill into this. Similar to pasture cropping which drills into permanent pasture this form of bicropping would use a clover understorey to provide both cover and fertility to the growing crop. This technique has been used in non-organic situations where the clover is either grazed hard or sprayed with glyphosate at low rate and crops drilled into this. Clover needs soil temperatures of above 10 degrees to grow and so is not very competitive against a winter/early spring sown crop but could be an issue at harvest if the crop is not competitive. It is important to choose a smaller leaved and low growing variety of clover. Nitrogen will be released when the clover is cut and so some method of topping or crimping between rows would release nitrogen to the crop. After harvest the clover could be mulched, cut for silage or grazed prior to the field being redrilled in the autumn/winter. In theory any crop which is competitive could be drilled into this permanent cover which will self-seed and spread to maintain a competitive mulch. Possible problems come during later years if the clover grows too quickly or competes for moisture with the germinating crop plants.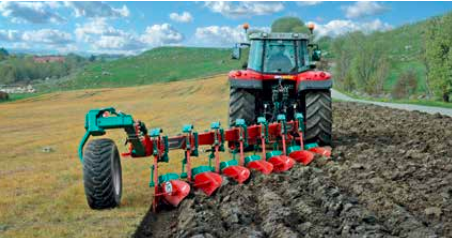 Innovative Farmers are setting up a trial looking at this using white clover as a cover. To be held on long-term no-till farms and an organic farm, the plan is to plant a white clover cover crop in the summer after harvest and drill a spring crop for 2020 harvest. This can then be continued into 2021 and there is the possibly to also look at techniques to manage nitrogen release from the clover. If this proves effective it could be possible to have a rotation including cash crops every year with a permanent cover crop in the understorey.
Trying to fit these techniques into either organic or non-organic systems in the UK is tricky. Our maritime climate suits grass and weed growth, particularly during the summer and the current variable weather patterns lead to late weed flushes. If we had European type weather patterns with dry summers and hard winter frosts, it would be easier to do. As a result, we need to look at what cover crops and cash crop rotations fit best into the UK climate and farming systems. This research must also look at profitability and costs of systems as much as at inputs and this research needs to be done at both farm and regional level to move away from a one size fits all scenario. Both organic and non-organic farms would benefit from sharing this knowledge and applying those practices which they can borrow from each other or which can be adapted to fit.
Please contract the Soil Association on 0300 330 0100 for more information or advice.