Farmers and growers flocked to the sixth annual Groundswell, the UK's largest regenerative agricultural show in late
June this year. It was another sell-out event with 5,500 attendees who travelled to North Hertfordshire for two days of
information exchange, inspiration and a bit of liquid refreshment during the worst drought since 1976.

Written by Alex Cherry
With over 140 sessions to attend, Groundswell offered a platform for household names, technical experts, experienced regenerative farmers and leading researchers to explore and debate the issues, opportunities, science and practices around regenerative agriculture. The event has grown from 500 farmers in a barn in 2016 as the "No-Till Show" to the two-day "Regenerative Agriculture Show and Conference" that it is today.
Although, one commentator referred to it as a "Festival of Ideas" which perhaps seems more appropriate given the scale and breadth of content. The eve before Groundswell is always exciting as people begin to arrive from all corners of the UK and beyond, pitching tents and getting the lay of the land. It is a chance to catch up with old friends and make new acquaintances in The Earthworm Arms Bar, where there were some enticing foodie offerings including different Pasture for Life meats cooked over fire. Dr Doolittle took to the decks and blasted out some disco classics which had mixed reviews from the audience, although a loyal cohort in Hawaiian shirts kept the energy going.
The camping area soon filled up with around 750 campers with all shapes and sizes of tents and campervans. On Wednesday morning Jill Clapperton kicked off proceedings in the Big Top tent, followed by Greg Judy advising farmers "How to think like a Grazier". Across the 8 different session venues it was tough deciding what to go and see. Before the midday session a tribute was made to Caroline Drummond MBE, recognising her incredible achievements of 30 years leading LEAF, before her tragic passing in May.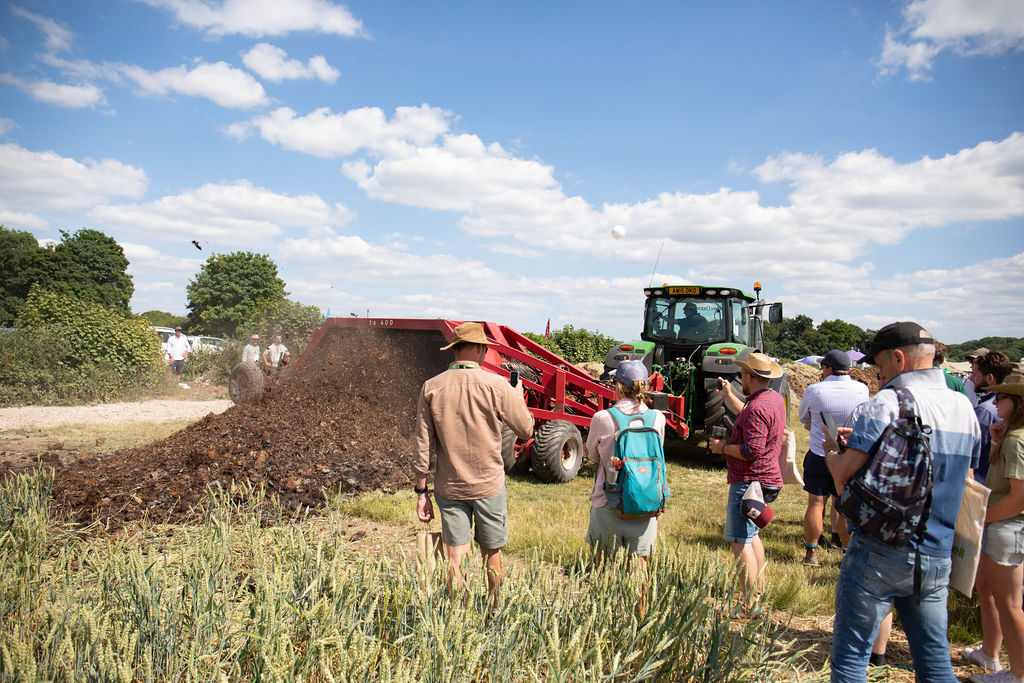 Henry Dimbleby provided a one year update to the National Food Strategy and Dwayne Beck from South Dakota asked "Are We Doing The "Right Things" Or Only Doing The Wrong Things Better?" Billy Lewis was announced as "Mixed Soil Farmer of the Year" and David Miller as the "Arable Soil Farmer of the Year" in the awards organised by Farm Carbon Toolkit. Tom Martin ran a very honest session entitled "Learn from My Mistakes", a forum which was appreciated by the audience. The guest speaker that seemed to be on everyone's tongue was George Monbiot who presented a well rehearsed synopsis of his latest book "Regenesis". 
The audience were broadly welcoming of this polarising debate on the future of food. It posed some difficult and highly-referenced points to disrupt the assumption that Regenerative Agriculture is the answer to feeding the planet. As a festival of ideas, it is important to challenge everything. It was noble of George to attend Groundswell, although it would have been even even more impressive had he stayed on for a couple of drinks in the Earthworm Arms to listen to some of the pioneering regenerative livestock farmers he rallies so strongly against.
Professor Lennart Olsson from Lund University in Sweden provided a fascinating update on the progress of the radical "perennial revolution" that the Land Institute and their global network are working on. After a stimulating and hot day, unsurprisingly the Earthworm Arms bar became the focal point for further in-depth analysis and discussion.
The beer was brewed in part by surplus bread from Toast Ale and brewing enthusiasts headed to the tour at Crossover Blendery where the beer is spontaneously fermented and flavoured by the fruit growing in the agroforestry on the farm. As the sun set, attendees got stuck in to some serious shape throwing on the dancefloor to the groove of funk and soul from DJ Krinks and, in the campsite, history was made as the first Groundswell marriage proposal took place and a happy couple announced their engagement, fittingly on the anniversary of their first embrace at Groundswell 2021.
We look forward to the first Groundswell wedding in 2023! Despite a few sore heads and one speaker declaring memory loss from the antics in the early hours, Thursday's sessions kicked off with stimulating questions proposed: "How is big business adopting regenerative agriculture?" And "Does it make financial sense to go Regen?". In the Demo Field the line up of manufacturers showcasing their direct drill machines included Weaving, Sky, Dale, Sam Agri, Horsch, Novag, Kverneland, Ryetec, Tuckwells, Amazon, Primewest, Claydon and Horizon.
The ground was very dry and the cover crop was bulky with rye volunteers and weeds. As a case study of an innovation born from a meeting at Groundswell, Small Robot Company and Tuckwell's demonstrated their Treatment Maps Partnership – Tom robot can identify individual weeds in the field and also provide accurate plant counts in a growing crop, whilst also giving an accurate assessment of leaf colour and biomass assessment. This is converted into shape files readable by the sprayer which targets problem areas rather than applying a blanket application to the field.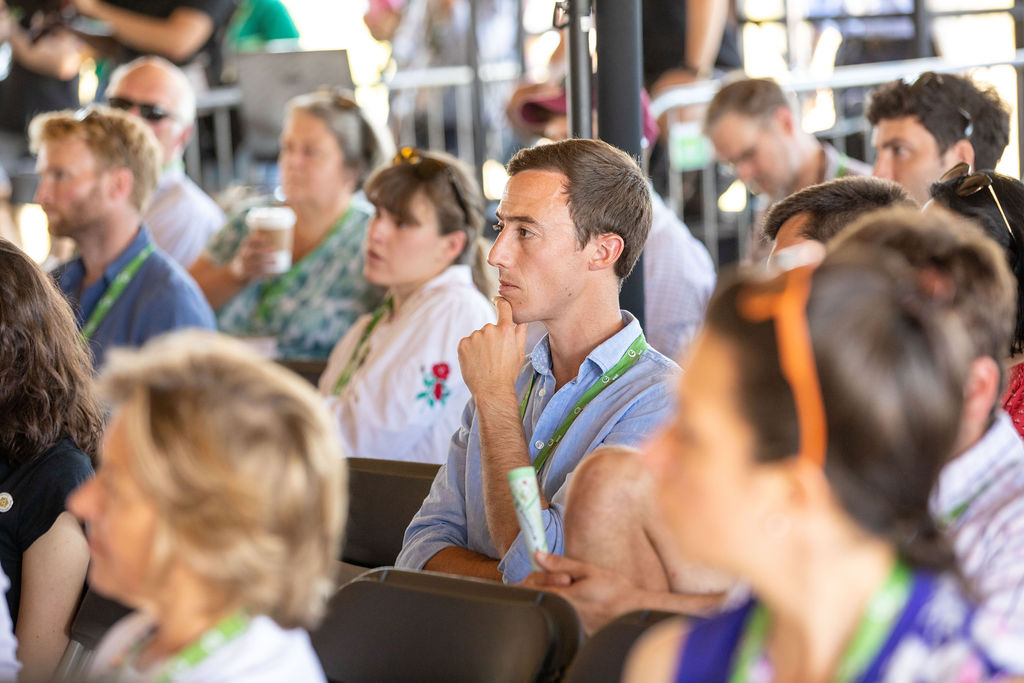 Defra Secretary of State George Eustice was joined on stage by: Minette Batters, tenant farmer and NFU President; Baroness Natalie Bennett, former leader of the Green Party; Tony Juniper, Chair of Natural England; in a panel chaired by Baroness Rosie Boycott, journalist and publisher. Commenting on the show, Eustice said "It's amazing to see such creative thinking, new ideas being pioneered, new agronomic techniques and indeed, the rediscovery of old ones." Elsewhere in the programme speakers tackled practical issues such as 'do potatoes have a place in regen systems?', 'Improved Nutrient Management with Zero Carbon Fertilisers" and 'the threat of weeds for regenerative agriculture.'
Hosts John and Paul Cherry led a group to move the mob of beef shorthorns for the last session of the day with Greg Judy providing a refreshing and entertaining commentary on proceedings. We hope the show is re-energising and stimulates new ideas in this fast changing world we live in. If you missed some of the sessions in person, you can watch nearly all of them on the Groundswell YouTube channel. If you have an idea for a great session for next year applications are accepted via the Groundswell website.
We're busy planning already, looking to expand on the offering for small-scale regenerative farmers, new entrants and market gardeners, while not forgetting the retail sector. We are also asking exhibitors to state what they are doing to support Regenerative Practices when they apply for a stand. We hope the show can continue to bring together a forward thinking community whilst regenerative agriculture becomes more widespread within the UK farming industry. Make sure you have the dates in your diary – 28th and 29th June 2023.