STRIP TILLAGE BEST PRACTICE

What a year it has been.
Now that we are nearing the end of this unforgettable year it is a good chance to look back and reflect on what a year it has been and just how encouraging it has been for us growing the Virkar Brand in the UK. The Virkar brand is rapidly growing here in the UK and coming off the back off a highly successful autumn demonstrations programme where we had to deal with some particularly challenging autumn weather. 2021 looks to be even better. With more drills working on farms across the country, new Virkar products being launched, and the continued growth of Virkar in the UK. Next year looks to be very encouraging for us.
2021 Changes to the Virkar Dynamic DC
Having our own test farms allows us to constantly evaluate the drills performance and strive to always develop it further. Having our own farms means we can relate to our customers and understand exactly what they need in a machine. Knowing our product like we do and using it on our own farms gives our customers confidence in the machines and peace of mind that we will always be there to offer support.
One of the changes has been the cooperation along with JJ Metcalfe to now be able to run their low disturbance seeding point on the Virkar Dynamic DC drill. Having run and evaluated this point on our demo drill this autumn it has performed incredibly well and moving forward it will now be an option to choose between the standard Virkar point or the JJ Metcalfe point.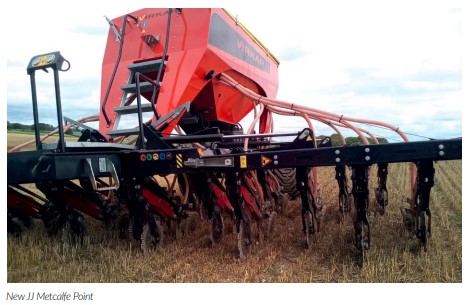 Other changes to the Dynamic DC for 2021 is a new inhouse built Virkar ECU for the drills electronic control of all major function, which has greatly reduced the amount of cabling on the machine. Combined with other updates that include the main hydraulic lines being upgraded to improve the machines longevity and general performance. The ethos of the Virkar Dynamic DC is to maximise performance and crop establishment, combined with low operational costs. Having machines including our own carrying out operations on some very stoney clay capped ground has allowed us to really get a sense of true running cost in terms of wearing parts.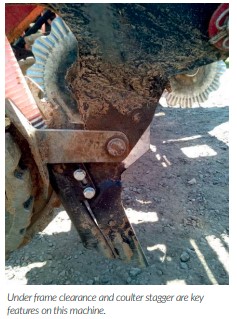 Something else we are working on is the ability to use the drill as an inter row hoe. The factory is currently evaluating several point options and we are hoping to carry out field trials in the Spring. We are seeing a big increase in interest for inter row hoes as farmers are looking for ways to reduce their reliance on herbicides. With the way the Virkar Dynamic DC works and the coulter design with contour following and on the move pressure control as well as the steering rear axle which ensures the machine is always running true behind the tractor, makes the drill a good starting point to try inter row hoeing in a direct drilling system. If testing goes well in the Spring then this feature enhances the drill even further to set it apart from the competition.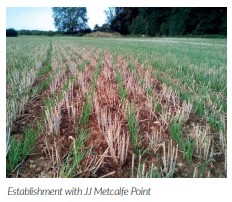 Wider Dynamic DC Drills coming 2021
Virkar have been working on and will be out testing in early 2021 a nine meter model of the Dynamic DC. The plan is that this new range of wider drills will be on a completely different chassis design and eventually they will be able to offer widths from 9-13.5 meters in this configuration. Like everything Virkar do their philosophy is to build the highest quality machines. Virkar wishes to listen to farmers and at the same time provide a modern and technological outlook, thanks to its multidisciplinary team, to create high quality and reliable machines whilst keeping them easy to operate with a high degree of innovation.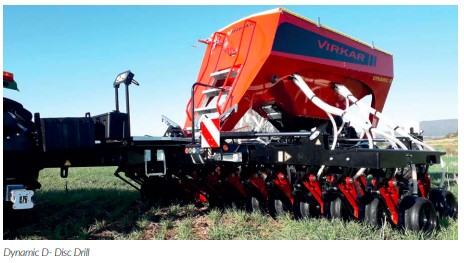 New for 2021 is the direct disc coulter version of the drill. The Dynamic D has been thoroughly tested in tough Spanish conditions for 2 years. The coulter design means it can mount into the same frame as the Dynamic DC drill meaning you keep the modular design with all the benefits this provides, widths from 4.5-7 meters will be available with 19 or 25cm row spacings.
The coulter arms are maintenance free, they have sealed bearings and bushed everywhere there is a pin. The coulter design means you get 35cm of travel for contour following, with on the move coulter pressure adjustment, and only one manual adjustment per coulter leading to quick set up time in the field. Again, the drill can be specified with 3 hoppers and various other options.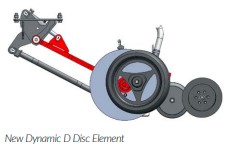 We already have a lot of interest in the Dynamic D mainly due to its contour following capabilities, and the simplicity and ease of use. This machine now allows us to offer both methods for direct drills, which Is only going to help us moving forward into 2021 growing the Virkar brand further. The plan for us is to have one on show at the Groundswell event in June as well as running a demonstration unit in the Spring to run alongside our demonstration Virkar Dynamic DC. This December marks two years since we first came across the Virkar brand. Who knew from watching a video of the drill online we would now have numerous drills running across the country, a demonstration book already nearly full for the Spring and that is before we have got our hands on the new Dynamic D drill to showcase to farmers/contractors.
It is clear to see that the Virkar brand will go from strength to strength in the coming years, and 2021 is very much looking to be busy, but we would not have it any other way.