DRILLING FLEXIBILITY UNDERPINS PROGRESS TOWARDS GREENER FARMING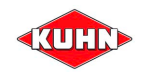 Yorkshire arable farmers Julian and Scott Hopwood are taking important steps towards a more sustainable farming future.
With 500 acres of relatively light Vale of York land, growing a rotation including winter and spring cereals, oilseed rape and breaks such as spring beans and peas, they have started using cover crops and non-inversion establishment to improve the farm's environmental credentials. Far from a radical change of direction, their approach is a steady evolution, and one that has avoided the need for any major investment in specialist machinery. A key driver for change has been Julian and Scott's active participation in the Sustainable Landscapes programme. This is an initiative that is being delivered by a range of supply chain partners with the aim of delivering innovative food production solutions for the benefit of the environment, consumers and farmers.
"Involvement in Sustainable Landscapes has encouraged us to take a fresh look at the way we farm and is introducing new ideas that we're keen to adopt," says Julian. "With the changes in farm support policy coming with ELMS, it's very clear what direction we need to go. Factors such as carbon capture, water quality and soil health are going to be increasingly important and will impact on the way we farm in the future."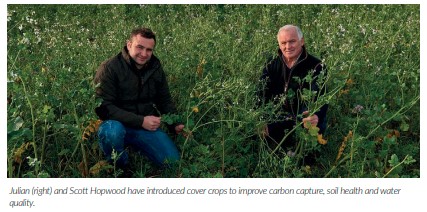 In many ways Julian and Scott are ahead of the game, having been farming for some time at Grimston Grange with soil health in mind.
"We're farming land that's typical of the Vale of York, ranging from blow-away sand to medium loams at the heaviest, so we've always been conscious of the need to incorporate fibre to maintain soil organic matter," he explains. "We've always swapped straw for farmyard manure, spreading that as much as we can, and more recently we've been using sewage sludge as an additional way to import nutrients. "Cover crops are another way to improve the soil but are still a relatively new venture for us. Nevertheless, we're already seeing benefits and I can see them being a significant part of our future farming policy."
It's a future that Julian expects will also involve increasing amounts of noninversion establishment, something he's been able to achieve using the same power harrow/drill combination that works so well after the plough. "We have a Kuhn Venta 4030 pneumatic drill mounted on a Kuhn HR power harrow and this combination has been a real game-changer when it comes to establishment flexibility," he adds. "With the disc coulter system on the drill, we can operate in a wide range of conditions, from minimum tilled to ploughed ground, with great control of seeding depth from the tractor cab. The quality of the establishment is very visible, with crop covers being complete and very even.
"We always use it in conjunction with the power harrow, which has a tine spacing design that helps to avoid jamming and a rubber packer roller. The power harrow has additional benefits such as quick-fit tines and is also fully controlled from the touch-screen in the cab.  "The combination has transformed our drilling capabilities and allowed us to introduce non-inversion establishment without having to invest in different machinery."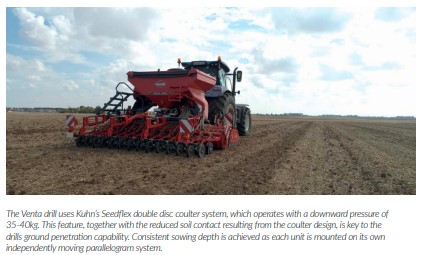 To date, non-inversion techniques have been used to establish winter wheat following oilseed rape and have also been used in establishing rape when conditions allow. Where rape is following wheat, the usual practice is to apply sewage sludge, with being disced in with stubble before sub-soiling and then going straight in with the Venta drill/power harrow combination.
Cover crops
Cover crops have been introduced with carbon capture, soil health and water quality very much in mind, with some varied mixtures now being grown ahead of spring cropping. Typical mixes include species such as fodder radish, vetches, black oats, clover and phacealia, offering a range of rooting depths and leaf architecture to maximise the benefits for soil health. Julian is also growing oil radish, which has additional benefits in reducing the impact of harmful free-living nematodes.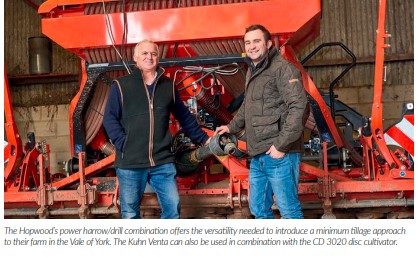 All cover crops are flailed before being ploughed in ahead of spring crops, adding substantial organic matter and nutrients to the soil.
"It's still early days for us with cover crops, but we followed them with spring peas and spring beans last year and did see benefits," says Julian. "Most notable was the way these crops came through the drought conditions so much better than we'd normally expect."
Incorporating cover crop residues is just one of the jobs for the plough at Grimston Grange, which remains the primary tool for cultivation despite the increasing use of non-inversion techniques. As with the power harrow/drill combination, Julian and Scott have opted for strength and good structural design with a Kuhn MultiMaster 183. "The plough is still an important part of our cultivations and we've chosen this machine for its build quality and its balance," adds Julian. "We use it with a 16 inch furrow width and usually with a packer roller, and can switch between using it on-land or in-furrow depending upon conditions. If we're going to plough, as we plan to continue doing where required, it's important we do as good a job as possible, so a machine that is well designed and adaptable is critical."
Winter wheat at Grimston Grange typically achieves around 3.5 tonnes/acre, mostly grown for the feed market though some does go for milling. Winter barley also yields well, averaging in the region of 3 tonnes/acre, though this can be lower in a poor season and higher when everything comes right. Oilseed rape can be a challenge, with the threat of flea beetle ever-present, so the strategy is to drill early, and never later than the end of August. Spring cropping is generally aimed at the premium markets, with barley usually achieving malting grade and peas and beans grown for seed.