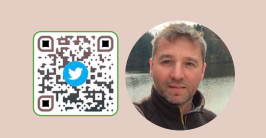 Fake news?
Harvest 2020 was never going to be great, the perfect storm of a wet autumn and winter followed by a spring drought was always going to end in disappointment. When it came to yields any usual excitement and anticipation was replaced by simple desire to clear ground of such uninspiring crops and start again in the hope of a better season next year, an endless instinct of optimism that seems bred into all farmers. As combines started rolling our fears were confirmed and average yields were the lowest I have ever been responsible for. We consoled ourselves that weather had placed the outcome beyond our control and at least the right management decisions had been made to reduce spend in attempt to maintain margin. Prices are good but almost theoretical when you have so much less to sell, solace only found in a decision made to carry over harvest 2019 milling wheat taken during the spring drought once it became clear that yields were surely going to be lower and storage space un-stretched at harvest.
As a business that farms mostly land belonging to others under contract farming agreements there is always a day of reckoning post-harvest when the results are announced. We work closely with our landowning clients to keep them well informed about crop prospects and management decisions throughout the growing season, they were under no illusion as we entered harvest that this year those results would not be great. They had been consulted when we decided to cut back on input spend and agreed it was a wise strategy given the circumstance of the season, aspirations had been firmly aligned with likely reality…………… that is until they read the wider farming press and listen to the "pub yield" chatter of other farmers. Little regard is given to how such miracles have been achieved, their different locations, soil types, input use, irrigation, and dare I say even honesty, instead they are simply held up as evidence of failure of their own farm or contractor to perform. 
It really isn't helpful, in fact the lack of honesty or disclosure of all the facts is damaging not only to contractor / farmer relationships but also in the bigger picture of leading land agents, suppliers and even policy makers to conclude farmers can afford the ever inflating prices we are subjected to. In a year where I believe my management was better than it has ever been, and my team worked harder than ever to achieve their goals, it's saddening that success is judged as failure because of a boastful few.
So, are farmers dishonest? Does agricultural media print fake news? I like to think not, it is more a case of selective reporting and agenda surely? In the case of a farmer maybe an genetic ability to "forget" after a few pints or a sloe gin too many about the 100ac of OSR that was ripped up and replaced with spring barley whilst boasting how they "averaged" 5t/ha of OSR this year ? or maybe recounting the cost of irrigating that 15t/ha wheat crop is best forgotten along with the myriad of snake oil products and top of the line fungicides his agronomist talked him into using to achieve that headline number seen momentarily as it flashed up on the uncalibrated yield monitor when the Lexion's hydrostatic stick was jerked backwards? On occasion the reason for yield dishonesty can be a little more calculated however, in a competitive land rental and contract farming market would the land owner be better off if they farmed the estate for them and got them these better yield they boast of? Fake news, it seems, is not only reserved for American presidents with an agenda.
Sadly, I am a little more sceptical about just why these tales of success proliferate so much in farming media. Put simply, success sells, it attracts advertisers who flock to be associated with or highlighted in the aspirational success story, and they pay the bills. It runs much deeper than just "pub yield" stories however and over the last decade or so we have witnessed the death of any independence in farming media replaced by seemingly endless paid editorial, the value of which really is questionable to our industry. Rather ironically (as founder of www.thefarmingforum.co.uk) from me I blame the internet which has all but taken over as the primary source of information for most of us, squeezing those existing publishers harder to sell their souls and integrity. Maybe I should accept some personal blame here! It's all harmless though, right ? No one really takes all this to seriously? Well it's certainly does not feel that way when sat down with contact farming customers in year-end meetings that much is for sure.
It is not just yields that get exaggerated though and as regenerative agriculture gains in popularity it will inevitably attract its own fair share of fake news. As farmers move away from more conventional inputs, we can be sure that an array of "soil friendly" products and machinery will compete for the same cash. Products are increasingly discounted to "influencer" farmers in exchange for good reviews and recommendations, cheap and powerful marketing for those that know how to use it. Never has it been more important to have access to independent facts and value our integrity.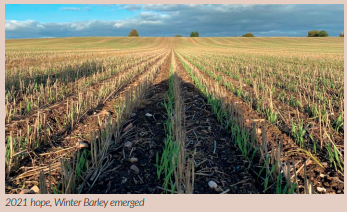 It now seems clear that DEFRA's ELMs will accelerate uptake of conservation agriculture and this will be where the money is in the future. I have just listened to George Eustice's speech that mostly seemed to announce that there would be a series of announcements to follow but did make reference and commitment to capital grants. I have never been a fan of grants, probably because I have never yet managed to meet any criteria to get one (I'm not bitter, honestly !). Mostly because they tend to penalise innovators, and encourage those that would not otherwise have adopted change to spend for no better reason than acquisition of something new and shiny at a discounted price. This fills me with fear in the context of conservation agriculture where those with experience understand that mechanisation changes are only really a small part of what is required in a successful system, I hope these proposed grants are smarter in their targeting used to invest in knowledge exchange and re-education and do not simply serve to further line the pockets of our suppliers.
As no-till farmers we must also be careful to not over exaggerate the benefits of it brings, we all know the cost savings and environmental advantages it can deliver, but we must remain conscious of conformation bias and look to back up what we do with good solid data wherever possible. We must be realistic about size of markets for some of the niches on the fringes. I love the idea of agroforestry and incorporating more tress into our farm and have looked at various ways to derive income from them, harvesting nuts and quince etc was suggested as a possible solution to me but seriously just how big is the UK market for quince? There are maybe niche opportunities out there, but the markets are small and would fail quickly if we all jump in at scale.
I hope that policy makers are not blinded by the impressive, extreme case examples of enviable success some have achieved on the fringes. Agroforestry, rewilding and clever value added direct marketing should not be seen as some kind of blueprint for ELMs; instead the creation of a scheme more achievable by the majority of us trying to produce commodities competitively for global markets alongside our management and regeneration of the countryside and environment will hopefully result. Over the years we have been farming under conservation agriculture principles, we have without doubt added benefit to wildlife, environment and climate, with cheap food the only output we sell though there has never been any direct reward or premium attached to the natural capital provided and I look forward to ELMs putting that right.
The relief of clearing the uninspiring crops of 2020 came with a hangover, later drilling and replacement of winter rape with spring linseed led to a later harvest which reduced opportunity for cover cropping and forced later drilling dates, but surely we would not get another wet autumn?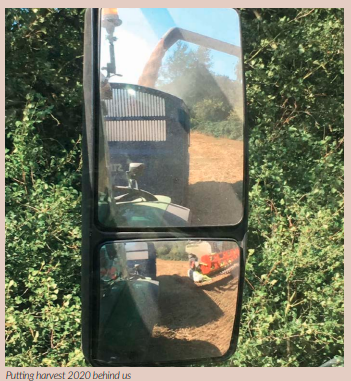 Ironically and without planning to do so our first fields of wheat were established on 22nd of September, the same date as they were a year previously, and then equally as coincidently it started raining again. A couple of weeks passed without a wheel turning and thoughts of 2021 becoming a repeat of the nightmare that was 2020 were hard to ignore. Unlike some parts of the country, however, luck was with us and in midOctober the rain stopped and gave us the 10 days we needed to get wheat, barley and rye drilled into reasonable conditions, the sense of relief was strong, the thought of another year like the last just too horrible to imagine for all involved.
I know our memories can sometimes be short and the last 12 months serve an extreme example, but it really does feel like the windows of opportunity to establish, treat, and harvest crops are getting tighter. Without the extra capacity gained moving from a 6 to a 12 m drill has bought us we would once again find ourselves missing targets and compromising cropping because of weather. If climate change is real, we as farmers are very much on the front line and will quickly become its first victims if significant steps to put things right are not taken.
I'm conscious this is an unusually negative article for me, but the last 12 months have been tough. No farmer that cares, likes to grow a crop they are not proud of, throw in a global pandemic and looming economic armageddon and positivity is a hard attribute to maintain. Yet again however my fantastic, committed team have turned things round and today we are back on track, set up well with a good-looking set of autumn crops ready to perform next harvest. I may even start talking pictures of them and positing on social media again ……… what was it I was saying about selective reporting and farmer honesty?