MORE MECHANICAL WEED CONTROL OPTIONS FROM OPICO

OPICO has widened its mechanical weed control line-up to include a new range of inter- and intra-row hoes.
Joining Hatzenbichler comb harrows and hoes, German-built KULT machines add to the Bourne-based company's offering with specialist cultivators designed for high-value vegetable and salad crops. In addition, the firm's steerable headstocks provide a simpler, lighter, lower-cost option for implements with narrower working widths. KULT's inter-row hoes can be equipped with a wide range of working tools from A-shares to L-blades with tines positioned to suit the narrowest 10cm spacings in wheat to row crops like pumpkins set up to 1m apart.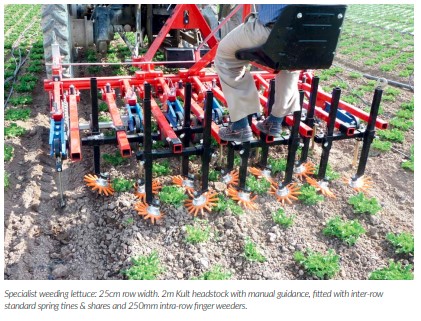 While dealing with weeds between the rows of crop is critical in maximising yield, in these high-value specialist crops it's equally important to manage those in amongst the rows of plants. That's where KULT's innovative intrarow finger weeder comes in. A much simpler approach than other solutions on the market, pairs of plastic tined wheels either side of the row work in tandem to pluck weed seedlings out from between the crop plants. This intra-row weed control option is also available on Hatzenbichler's line-up of inter-row hoes. 
"With its success firmly rooted in the vegetable industry, KULT's philosophy is very much about building bespoke machines to suit the customers' requirements," explains OPICO managing director James Woolway.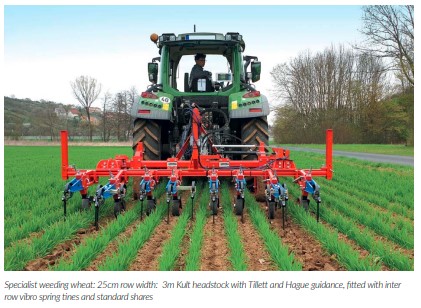 "Its weeders can be made to suit any bed size or working width and can be equipped with a wide range of tools to deal with different crops, soil types and weeds. That concept of configuring bespoke machines is exactly how we at OPICO are handling our mechanical weed control offering here in the UK. Our product specialists will work with growers to build exactly the right specification implement for the job."
To that end, there is a range of options for the KULT's steerable toolbars. At the most basic level customers can opt for manual guidance with an operator seated on the frame steering the unit either mechanically or hydraulically. This is often chosen where there is less of an emphasis on covering the ground at high speed. Moving to the next level of automation, growers can opt for camera guidance. Like Hatzenbichler machines, KULT weeders employ the British-made Tillett and Hague system. These camera-guided machines work closer to the crop and hence provide improved weed control at higher work rates. While Hatzenbichler comb harrows and inter-row hoes provide herbicidefree weed control options for broadacre crops, the KULT line-up is a much more bespoke offering to cater for a widerange of specialist crops.
"Although we've been selling Hatzenbichler comb harrows for weed control in organic arable crops for some 25 years, it was only last year that we introduced the Austrian firm's inter-row hoes to the UK," says James Woolway.
"Since then we've had enquiries coming from all sectors of both agriculture and horticulture. That demand prompted us to look at widening our offering. With a strong established following in vegetable and salad production, KULT was the natural solution. The company's product line gives us a full armoury to deal with the increasing demand for chemical-free weed management."