An online soil guide aiming to become the world's most comprehensive resource to help farmers improve soil health
and increase the efficiency and profitability of their businesses has been launched.
The Good Soil Guide – a collaboration between Yorkshire Water, Yorkshire supply chain consultancy Future Food Solutions and expert soil scientist Neil Fuller – is a free-to-access, online encyclopaedia, specifically designed for use in the field. The huge database contains extensive information, empirical data and advice on how to improve soil health, increase soil organic matter (SOM), diagnose and treat problems with soil and crops, and help farmers to reduce carbon emissions. It is a live guide, enabling farmers, agronomists, and other industry professionals from around the world to share their knowledge by adding to the already extensive resource. The idea for the Good Soil Guide was born when Yorkshire Water Catchment Strategy Manager, Andrew Walker, met with Neil Fuller at an event held by Future Food Solutions.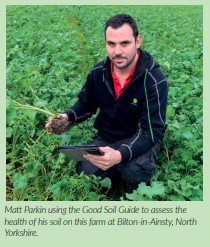 In 2014, Mr Walker helped initiate a project bringing together landowners and stakeholders in the English uplands to facilitate better environmental outcomes for blanket bog land and was keen to try a similar approach in the lowlands. He said: "The project in the uplands proved that by engaging with landowners and other stakeholders and taking a collaborative approach, you can create outcomes that deliver for all. "We wanted to take this model and apply it to the lowlands to solve issues around sediment, nutrients and pesticides leaching into the watercourses and having a detrimental effect on water quality.
"We knew that working with farmers to address this would bring them huge benefits in terms of keeping soil and expensive fertilisers and pesticides where they should be – in the field.
"For us, it was a case of improving water quality, so we got our heads together and created the Good Soil Guide to help achieve these aims." Mr Walker added the guide was the sum of Mr Fuller's 40 years of experience in practical soil science compiled into a single resource, which was funded by Yorkshire Water. "Essentially, it focuses on improving soil health and increasing soil organic matter," Mr Walker said. "Doing this gives the soil a more robust structure, meaning far less is lost to sediment, nutrients and pesticides are held on the field, and as the soil can absorb more water, incidents of flooding are hugely reduced."
Mr Fuller said the resource had been created to help farmers get the best out of their most valuable asset – soil. He added that it was a holistic guide, looking at all aspects of soil health, and had been specifically designed for use in the field. He said: "The Good Soil Guide is full of soil data derived from cover crop trials, different tillage methods, practical experience and much more. "By using it, farmers can compare soil samples from their fields with pictures in the guide and diagnose issues such as a lack of nutrients or depleted soil organic matter. They can then use the contents of the guide to put that right. "It is not written in an academic or scientific style. The information is presented simply and clearly and in a mobile-friendly format, so farmers and agronomists can access it whenever and wherever they need it." 
Mr Fuller added that the guide also included advice on carbon management, including sequestering carbon to reduce atmospheric C02, increase soil organic matter and help farmers move towards net zero. "The key to carbon net zero is good soil health," he said. "By managing soil in a way that increases its health, everyone wins. The farmer saves money, increases yields and reduces emissions; there are huge environmental benefits including removing CO2 from the atmosphere, and the consumer benefits from better quality food. "The Good Soil Guide is a powerful tool in enabling British agricultural to make these changes." Food consultancy Future Food Solutions co-ordinated the creation of the Good Soil Guide.
The guide is free to use and has no links to agribusiness, meaning all the information and advice contained within it is unbiased.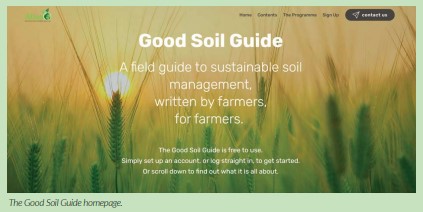 Future Food Solutions is already running the world's largest renewable agriculture project – the Sustainable Landscapes Humber Project – in East Yorkshire, in partnership with Yorkshire Water and frozen food specialists Birds Eye. The Good Soil Guide extends this work, opening up cutting edge soil management practices to farmers across the globe.  
Paul Rhodes, director of Future Food Solutions, said the guide was a huge leap forward in helping farmers to grow more sustainably.
He said: "Our understanding of soil has moved on dramatically in the past five years and what we've learned is that to get the most out of it, we must treat it as a living bio-system. "The Good Soil Guide has been developed to help farmers do this and realise a dramatic increase in soil health. "Making that shift has huge, positive consequences in terms of reducing steel and diesel use, improved yields, better efficiency and better profitability. "It will also help farmers reduce emissions, and with the target of net zero just 20 years away, that is something we all have to start taking seriously." Matt Parkin, who farms at Bilton-inAinsty near Wetherby, North Yorkshire, is taking part in the trials to improve cover crop establishment. He said: "I am currently participating in some interesting cover crop trials as I think soil management is becoming steadily more important to an integrated farming approach. "As a dedicated soil tool, the Good Soil Guide can only help with this."
To access the Good Soil Guide, go to www.soilguide.co.uk and create a free account.