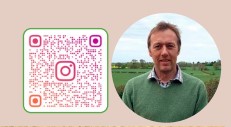 Harvest now seems like a distant memory; thank goodness you say! We seemed to get away reasonably light here in S.E. Scotland compared to many others around the UK. I still run two systems on some crops, and I can compare the results rather than wonder what if?
It started with the poorest crop this year, winter barley. The direct drilled and plough/ combi drilled crops were equally poor, at best 2/3 of an average crop but easy to cut and dry. I have struggled to get my strip tilled winter barley to match my plough/combi yield and although close this year it was again below. It was obviously much cheaper to establish but I think the fact my winter barley is at the end of my rotation may be causing a delay in the improvements shown by the other crops.
My Mzuri sown Diablo spring barley matched my plough combi drilled yield this year and that was all above my 5-year average. The TGW of the barley was greater on the Mzuri sown ground, which was as I had hoped, the wider rows allowing light inception and a fuller grain. The Mzuri sown Canyon spring oats, for Quaker out yielded my plough/Combi drilled oats by over 1t/Ha and cost 1/4 of the establishment cost. The oats sown after the plough struggled in the dry spring (as I show on YouTube) and never caught up. The wheat was all sown with the Mzuri and like most in the area was very bold but mostly below average. The spring beans sown directly into overwintered stubble were the highlight at the end of my harvest, they yielded well above average and were a first-class sample. The beans went in well and the lack of soil disturbance retained the moisture, that gave them the great start shown on YouTube and Instagram as I love walking in them.
I continue to look for answers regarding the winter barley and there is a lot of advice out there. As well as reading this magazine, I follow lots people and businesses on Instagram and online. The Soil_doctor is one which provides lots of information which stimulates thought, although not always easy to apply in my situation. They recently had a periodic table of cover crops which was very cleverly laid out and worth a look. My version of cover cropping this year also incorporates my favourite form of muck spreading, it is on around half my spring oat stubble which will be over-wintered, spread with calcium lime and then drilled with Diablo spring barley. The stubble had a good cover of volunteer oats growing in it and a small flush of weeds which developed late due to the dry spring.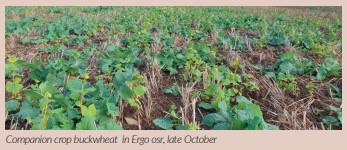 I called a neighbour whose sheep graze my TGRS, he provided another batch which have now had a month on the stubble tidying it up and adding some manure without the compaction. The benefit of the grazing and muck may be minimal, but the lack of traffic involved can only be a good thing for my soils.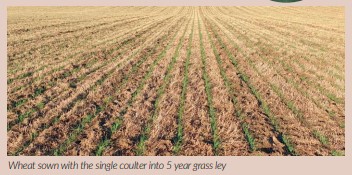 According to a recent BBC news article England uses only 0.41% of its environmental monitoring budget monitoring soils! This seems mind blowing considering we know how important a healthy soil is and as farmers we have been testing soils for a considerable time now realising what we do has a big influence on them.
Scoring your soil using VESS scoring system is something SAC promote and while I am not necessarily using this system I do frequently walk, dig and examine the soil as this is a simple guide to its condition. Trust your eyes and nose, I read recently that we have in our DNA the ability to recognise healthy soil by its smell, this check is cost free. In September, having held off last year due to the wet conditions, I spread the ash from my biomass boiler on some of the less favourable heavy clay patches in some fields. While this is a very blunt instrument this has helped soil condition and achieve more tilth and a more even crop emergence.
I am using Solvita burst soil testing and while the results were relatively good to start with, I have noticed a great improvement in my soils in the relatively short time I have been direct drilling/strip tilling. The structure of the soil has visually improved in this time and I am now beginning to re-test some of the fields direct drilled from the start in 2015, they have been ploughed 1 or less times since then. I know that true direct drillers would maybe say my approach, still using a plough in rotation, is a bit like claiming your a vegan and having meat once a month but I can't yet remove the plough completely from my rotation. The shame of it!!
Some of the soil damage is being caused by harvest machinery. I have written before about trying to look at cause rather than mechanical cure. This has been a costly exercise for me, my combine was overdue a change so putting my money when my mouth is I ticked the track and the power spreader options, two things I feel can play a big part in improving my soils. The tracks will reduce the compaction caused in the less than ideal conditions we, in Scotland, are often forced to cut in. This will allow me to raise the leading leg on my drill, and the spreader is a must as a good spread of chopped straw is essential for my system.
Establishment of winter crops this year has been good with challenges similar, but much less extreme, compared to last years. Early sown crops have fared the best with record high rainfall in October compromising some later crops and calling an end to some farmers autumn campaign. Where we are in SE Scotland once the weather and soils turn wet, they can often stay wet until spring. I drilled wheat for a neighbour in October this year. A 5-year grass ley, sprayed off, then wheat sown directly with the single coulter. This was the first time I had done this and despite the front leg running around 6 inches deep the single coulter left a narrow almost minimum disturbance finish, and the crop has emerged well. 
I have tried some companion cropping this year in my OSR. We do not have the severity of flea beetle problems experienced farther south but like a few farmers in this area I thought I would try some companion crops so I had experience of what may work up here. I have tried a block of Buckwheat and a block of Berseem clover in my OSR, each mixed with the slug pellets and spread out the pelleter on the drill at sowing. I was putting fertiliser down the leading leg on the drill, OSR seed at the coulter then pellets and companion crop down at the harrow rather than mixing the companion with the seed in case it settled in the hopper. The buckwheat has established well whereas the clover has not.
The suspicion is that the preem which was deemed ok for clover may have found its way to the seed and killed it off. My conclusion from the trial so far is, if your growing Buckwheat put in a sacrificial crop of OSR as buckwheat seems to grow well but the predator here is more often slugs which still prefer to eat OSR. It is good to know the buckwheat established well with this method and now the frost has killed it off maybe it will leave some fixed nitrogen, providing a benefit and an option for the future. Maybe something which slugs prefer to OSR would be a better companion!? I will have another go next year. I have mixed wheat varieties again this year in some fields, mixing seed in the drill, then treating the whole field as the lower input variety. I find this works well.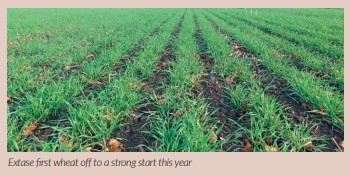 I know I am not as brave as many other contributors to this magazine, I do have very low establishment costs and I am beginning to reduce fungicides and insecticides on my farm, and as my soils improve I hope I can go further each year.