Selling organic, 'Pasture for Life' food directly to consumers brings dividends for one farming family. Sara Gregson reports…
First generation farmers Chris and Denise Walton have, over the past 40 years built an award-winning sustainable farm and butchery business, operating close to the Berwickshire coast in the Scottish Borders.
"We always wanted to sell our beef, lamb and pork directly to consumers," says Denise. "We strive to produce the highest quality food, whilst also having a positive environmental impact. We are organic and certified Pasture for Life (guaranteed 100% grass-fed with no grain ever fed), which we believe is the Gold Standard for land and animal welfare management and completely fits with our business ethos."
Neither Denise or Chris come from farming backgrounds; Chris has accountancy qualifications and Denise trained in environmental and land management. Moving to Scotland and starting with a 20-acre smallholding in 1989, they increased their acreage to 250 acres by working in partnership with neighbour Amanda Cayley. In 1993, together they took the opportunity to buy the nearby arable unit of Peelham Farm, bringing the landholding up to 670 acres.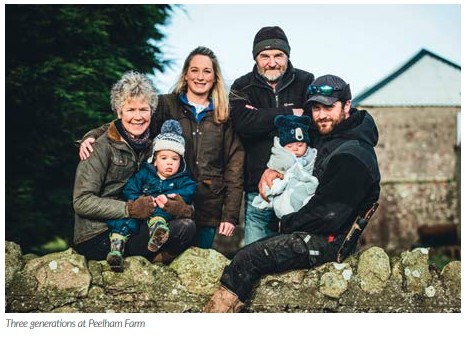 "The farm was pretty run-down, farmed for the short term, had no hedges and was ecologically poor. The land rises to 700ft and comprises some heathland and acidic grassland," says Denise. "As new entrants, Chris had to work off the farm in the early days and making a profit has been central to what we do. But farming with nature was also a primary driver for the business from the very start."
Twenty-seven years later, their son Angus and his wife Helen have joined the business and they have now started the third generation by having two young children. Amanda, now retired, is still very much involved in the life of the farm and the butchery. The couple started making charcuterie from their pork, mutton and beef in 2005 and then developed an on-farm butchery for their cattle, sheep and pigs in 2008. The aim was to become price-makers rather than just price-takers. They started attending farmers markets in local towns and cities such as Edinburgh and Glasgow and supplying independent retailers and restaurants.
"We talk to our consumers a lot and to local chefs to gain feedback about our products. We tell them how we aspire to excellence in land management, animal care and environmental stewardship. We are spreading messages of agroecological land regeneration and the production of healthy, grass-fed meat. It really fits in with consumer thinking at the moment – people want healthy, environmentally-sound food."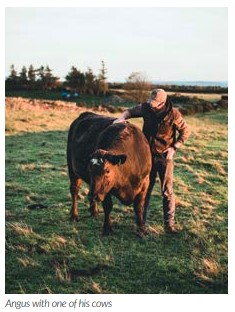 Livestock
Peelham now has a herd of 150 Aberdeen Angus suckler cows. There are four Aberdeen Angus bulls, selected for breeding attributes of ease of calving, good depths of sirloin and high levels of intramuscular fat. Ninety per cent of the livestock is born and reared on the farm. The rest come from a small network of other organic and Pasture for Life farmers whom Denise and Chris work closely with in neighbouring counties, including 100% grass-fed dairies which supply rose veal from 'unwanted' male dairy calves.
Sheep numbers have fallen in the past couple of years and now comprise a rolling flock of 60 to 100 cull ewes and store lambs to supply the butchery with lamb, hogget and mutton.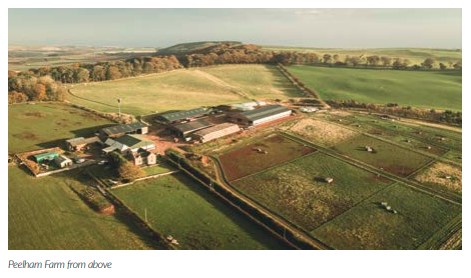 "A few years ago we were trying to manage three breeding enterprises all at the same time," Denise admits. "We were all exhausted at the end of calving and lambing. So we have reduced the number of Red Duroc x Tamworth sows down to 50 and Angus is now focussing on the cattle. We have moved away from setstocking and he is installing fencing and water supply to the fields to allow long-rotation grazing."
Winters can be harsh with temperatures averaging around 1 degree centigrade for three to four months and average annual rainfall of 1,000mm. The cattle calve indoors in March and April and are out grazing by the end of April. There is good housing and the heavy soils have so far limited outwintering possibilities.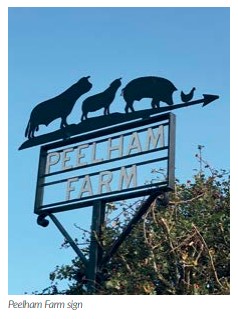 The cows are fed only grass silage. Calves stay with their mothers all summer and are weaned at housing. The poorer performing beef calves are kept back and reared and sold as ruby veal. All the calves are tagged with electronic tags and their growth rates are measured constantly. The beef calves finish at 24 months at 500 to 600kg liveweight on just silage and grazed grass.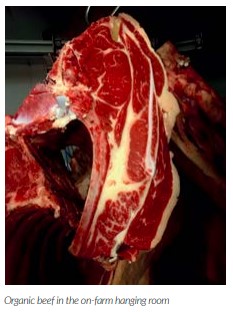 Adding value
There are three full time butchers and a full time help with the charcuterie, making a wide range of air-dried and fermented meats including prosciutto ham, smoked juniper mutton, pancetta, salami, chorizo and smoked nduja.
"We try to add value to everything we produce and sell as much as every animal that we can, including liver, cheeks, trotters and marrow bones,"
says Denise. "We have just started selling Auld prime – native cow beef that has been hung for at least six weeks.
"Curing is a good way of adding value to an animal. For example, you can sell as ewe for £18 a head, or cure one of its legs and sell it sliced for £55/kg. "Having the butchery helps us see what effect any changes in management out in the fields is having. For example, we can see how much better native breeds are at converting grass into saleable meat compared to some continentals we once dabbled with. And we can see how the levels of intramuscular fat alter too."
Coronavirus
The pandemic has had a significant impact on the business at Peelham Farm.
"Covid knocked us sideways for the first ten days of lockdown back in March, but since then demand has been five times what it normally is at the Christmas peak and interest has remained high," says Denise.
"We are reaching many more customers online, website traffic has increased by 170%, and we have upped our game considerably on social media. We have engaged a brilliant photographer to take photos of us working and we do lots on twitter, Facebook and Instagram – telling potential and existing customers what it is we do and why we are doing it. "In essence, we are showing them how their purchasing decisions are affecting every stage of the production process – through the butchers, the farmers, the livestock, the grassland and the soils. They are an intrinsic part of an agroecological system which is bringing health and balance to every element of that chain."