April 2023
Winter seems to have finally turned to spring in West Yorkshire, if not a little confused about its timeline! Having had very little in the way of snow all winter, 5 inches arrived on the 10th of March, just over a week after applying 85kg per ha of nitrogen to the wheats and OSR. Other than a trip out with the Sky Easy Drill to plant some beans for a customer, fertiliser application was the first field work since drilling wheat back at the end of October 2022. The wheats have looked pretty well all winter, some of the second wheats looked a bit patchy to start with, but have now caught up and are all very even.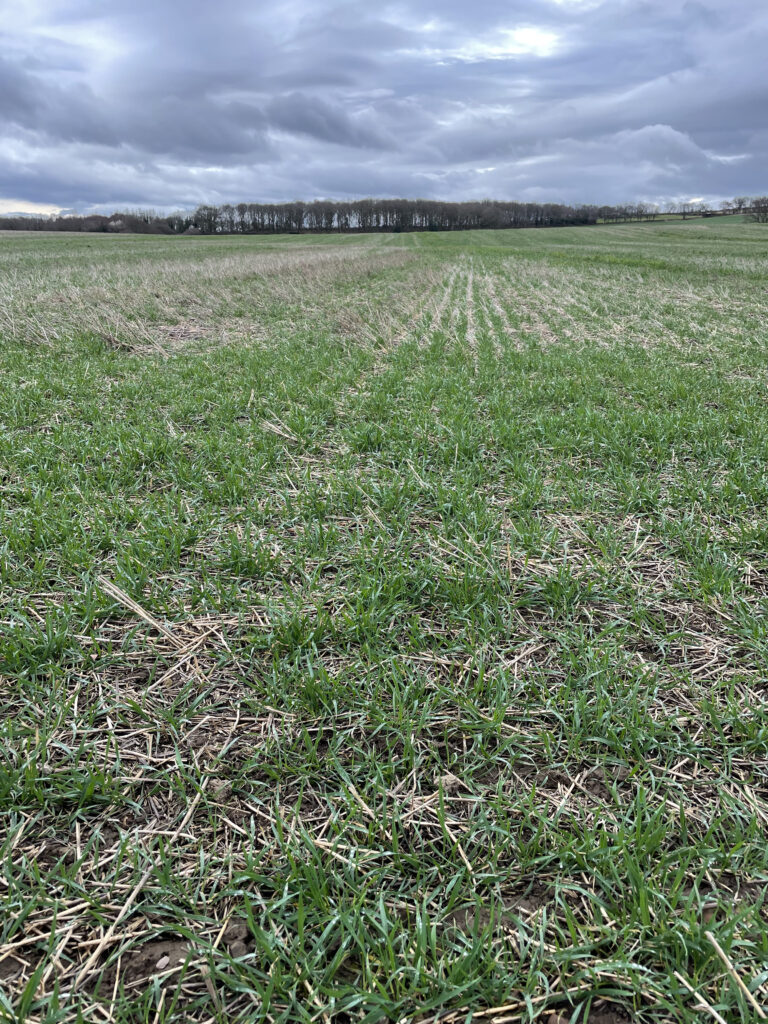 Second wheat
One of the biggest 'challenges' in sharing my experience of Direct Drilling, is the visual aspect. As farmers, we've been conditioned to what a growing crop should look like, clean, Sterile seedbeds, with all the trash buried and no straw on the surface. Planting seed into stubble/cover crops is very alien to most farmers, but just because we've done it that way since grandfather was a lad, doesn't mean we have to keep doing it that way, an openness to change is the biggest step. Cover crops were sprayed off prior to drilling, as it turns out, the frost would probably have done the job this year, the couple of trial patches left unsprayed, now look pretty much identical to the rest of the farm, but it is far too big a risk to take with the weather at moment, what that looks like in the future will all depend on which route we go down with ELMS and or SFI, that is very much yet to be decided.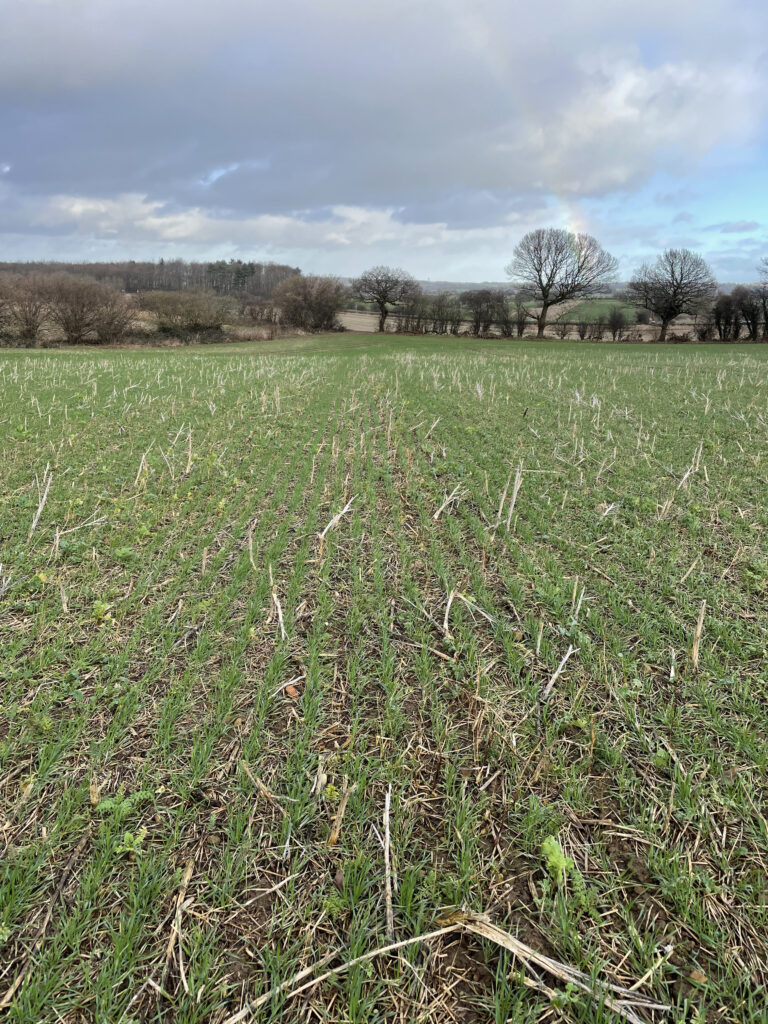 1st Wheat after OSR & Cover crop
One observation of the cover cropping seems to be the resilience of radish, glyphosate doesn't seem to affect it, although it's been knocked back by the frost, it keeps on growing! Back in January I had a small group of researchers from Leeds University visit the farm, Dr Ruth Wade and Professor Ruth Chapman were very keen to see the changes to the soil since their previous visit.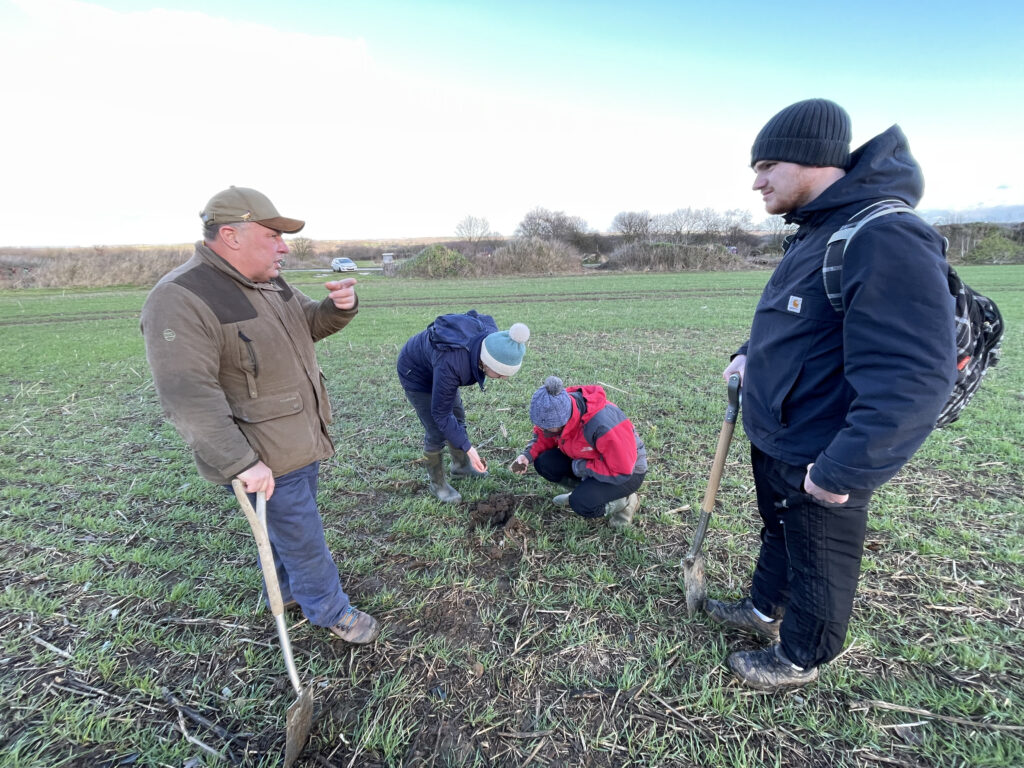 Leeds University visit
The instant observation was literally over the hedge, wheat after OSR into cover crop vs wheat into ploughed and cultivated seedbed (more on the ploughing later!) I'll let the pictures tell the story, a very wet cold January day, guess which field you could walk on without pick anything up on your boots?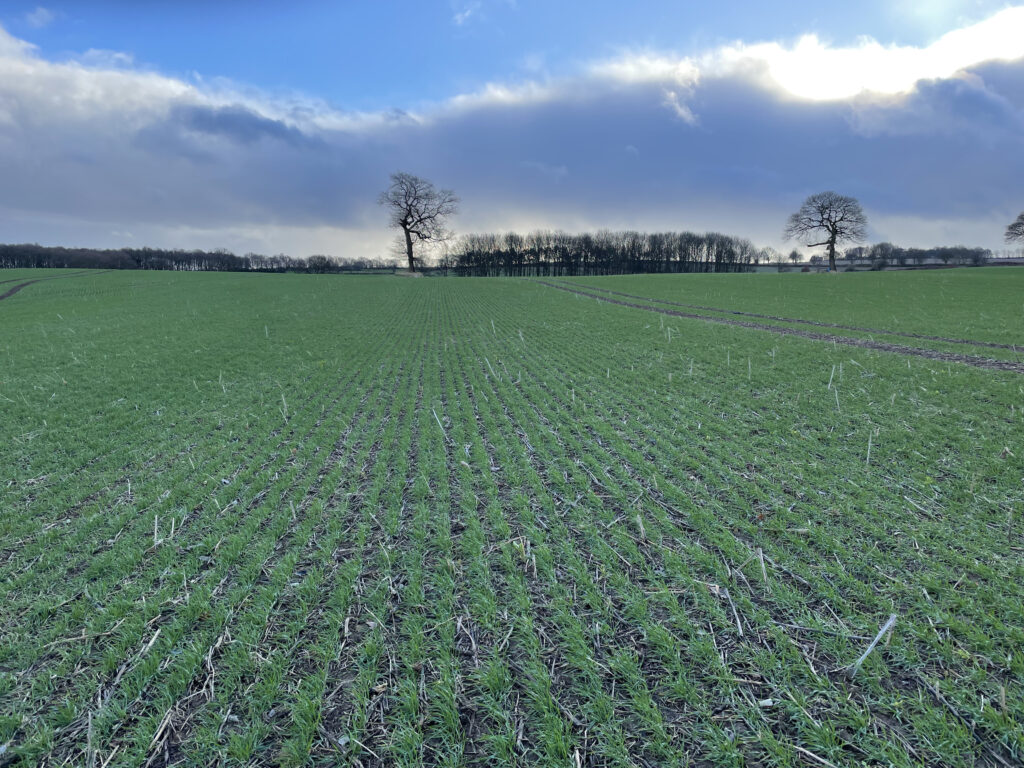 Direct Drilled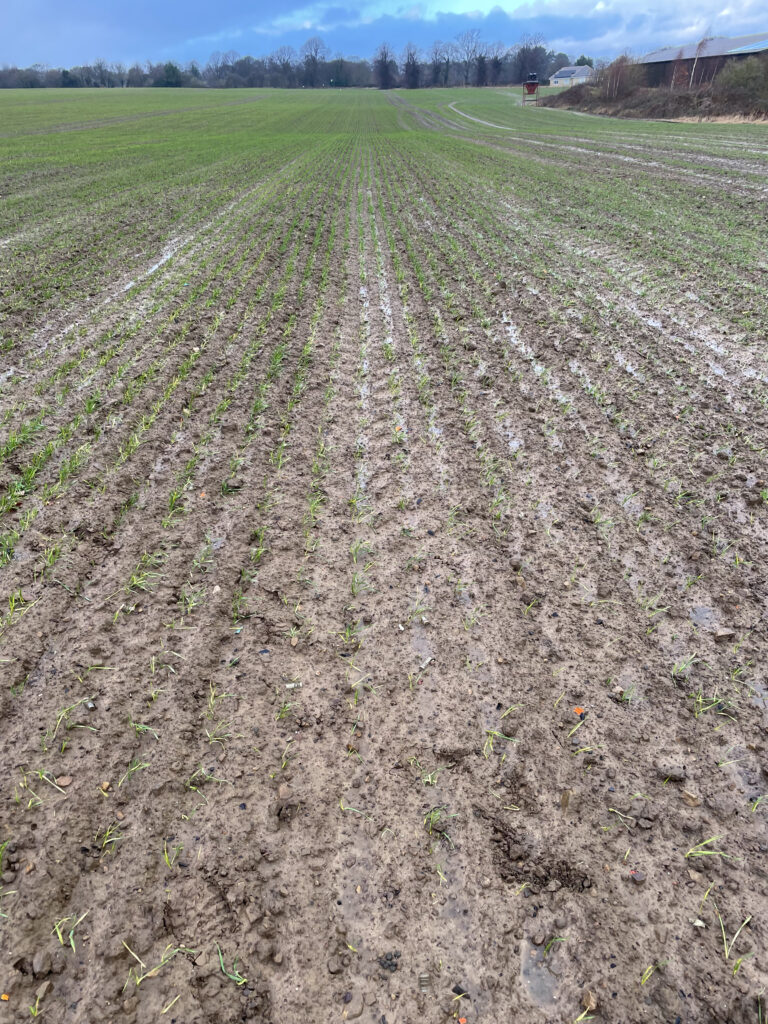 Ploughed and cultivated
Whereas the wheat hasn't concerned me, the OSR has some challenges as it always seems to. Pigeons and slugs have impacted every field, some worse than others. Pretty much every field has damage a few metres away from the hedge. We're considering different options for next year to combat this, increased seed and slug pellet rates in these areas at the time of drilling are looking to be the favoured option at present.
One field has suffered from pigeons to the extent that well over half of it now won't make a crop, the plan is to plant a cover crop into it ready for next autumn, the remaining 10 ares should make harvest fingers crossed. My previous statement of how crops look, can equally be directed to the look of the OSR. Planted in between the existing wheat stubble, viewed from across the direction of drilling the crop looks very patchy, seen from the direction of the drilling, it's all in the row, aside from a bit of pigeon damage, it looks to be the beginning of a viable crop, without any sign yet of CSFB.
Encouragingly, the field that was straw raked and had the discs on the Muzuri Rezult stubble rake set to a very shallow depth, looks to have significantly higher plant population and much more ground cover, it will be interesting to see how it compares to the rest of the farm throughout the growing season and more importantly at harvest.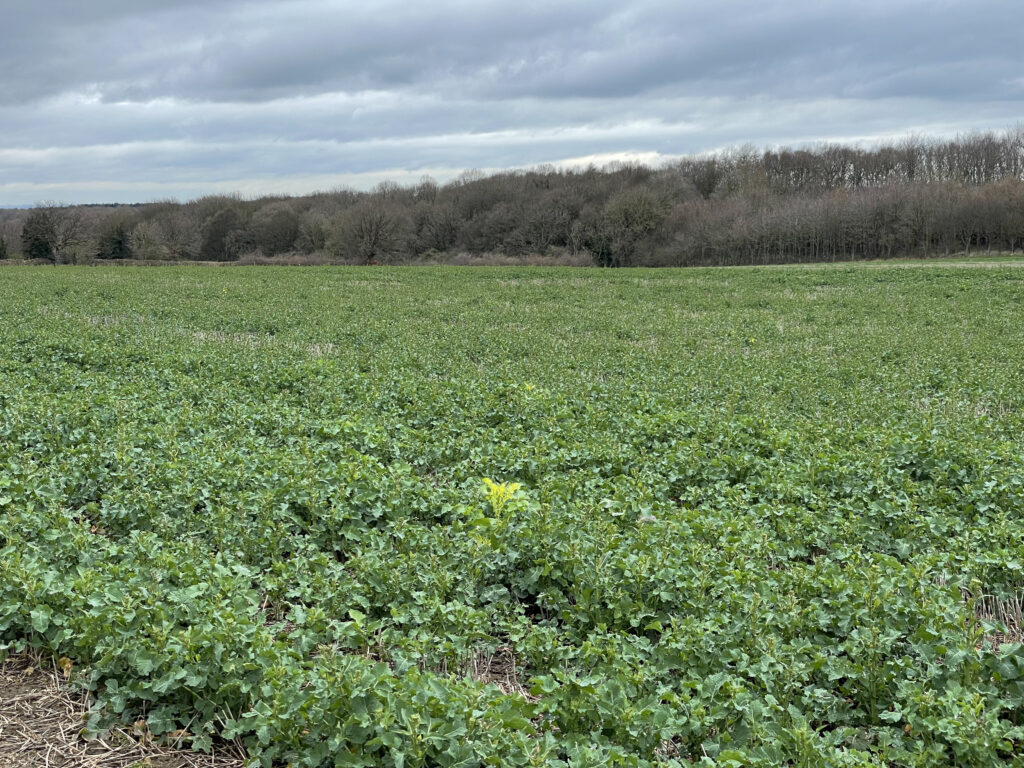 OSR
Now, I know that the plough is looked upon by some, in Direct Drilling circles, as the devil's tool! Up until just over two years ago, everything was plough and power harrowed here, we were a traditional plough based system, until I realised there was an alternative way of crop establishment! That said, we are big supporters of the local ploughing match and have been hosting the Barugh and District Ploughing Association for well over 40 years, barring the odd weather event and a year off for Covid the farm has hosted the match every year. In a changing world, we feel it's important to support local events and keep countryside traditions and skills alive to be passed down to future generations, irrespective of how we choose to grow our crops.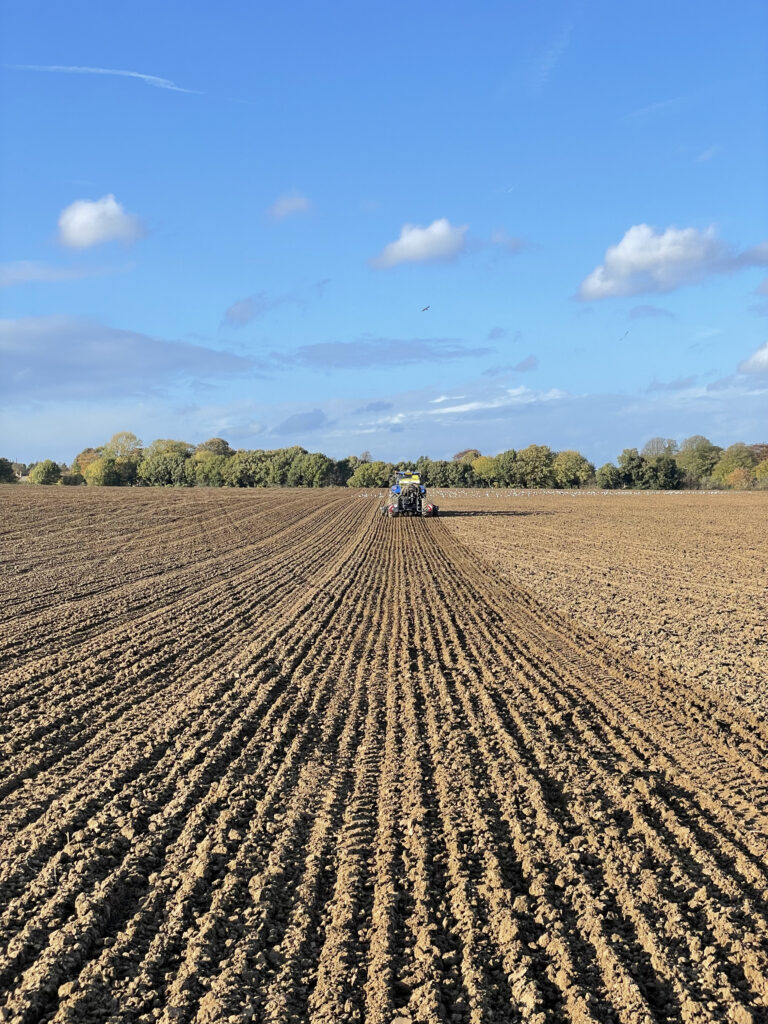 Drilling and Ploughing