We had a busy start to 2020 with members visiting Agrovista's Project Lamport site on a cold and windy day in early February where Niall Atkinson and David Purdy talked about the results so far on soil management, soil structure and biology of the trials. Philip Wright added more detail on cultivations. They also visited a field of OSR where establishment plots with and without companion plants told a clear story on how adding diversity rather than mono-cropping can bring benefits.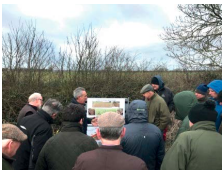 This was followed by our annual conference and AGM on 11th and 12th February held in York. This was a great success attended by 150, with a wide variety of speakers discussing subjects as diverse as mob-grazing to how the mindset of farmers dictates how they cope with changing their systems from conventional to CA. A delicious dinner was followed by an intriguing quiz on seed types kindly provided by Ian Gould and we celebrated the 21st birthday of one of our newest members, Donald Christie.
Sadly, our next events were put on hold due to the Covid 19 situation and it has been really disappointing not to see one another at shows, farm walks and other events and visits which had been planned by the Committee. Once it became clear that the social distancing rules were not going to be lifted any time soon, the Committee took up the offer of setting up a BASE-UK Members Only Forum, hosted by The Direct Driller which has proved to be quite successful.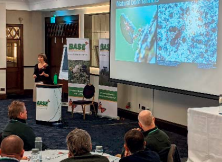 The Committee also decided that to provide members with some interaction it would be great to hold some online meetings and these have proved a big hit so far. In July Kelly Jowett from Rothamsted Research provided a fascinating presentation on Carabid Beetles and in August James Warne from Soil First Farming discussed Cover Crop Strategy and The Path to Conservation Agriculture. These were loosely based upon his articles written for The Direct Driller magazine but also gave members an opportunity to open the discussions further. Whilst we planned for these to last an hour, the discussion went on for much longer.
As I write this we have just held another online meeting with Robert Brewster (who spoke at our AGM Conference and had planned to host a visit to his farm in Scotland) presented on how to Build Soil Health with Mob-grazing. This proved inspiring to those with and without livestock and we hope that our planned trip will take place sometime in the future.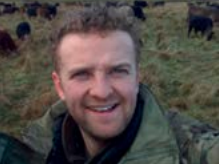 SAVE THE DATES:
Going forward we have plans for more meetings for members including:
• 14th October – David Purdy and Mark Hemmant from Agrovista discussing Project Lamport results and what the future holds for this trail.
• November – date to be confirmed – members meeting with Adrian Newton from The Hutton Institute and Henry Creissen from SRUC presenting on IPM as a concept and practices under CA systems. More details will be sent to members in due course.
• We have invited Frederic Thomas from BASE France to present an online meeting (it is not likely he will be able to get to us from France any time soon!) – again the date is to be announced.
• 9th and 10th February 2021 – AGM Conference at The Park Inn by Radisson in York – Covid allowing!
BASE-UK, within its membership has unparalleled, impartial, practical expertise in the field of conservation agriculture which is not only openly and widely available to members embarking or contemplating initiating 'regenerative' practices on their own units but also caters for the more 'well-seasoned' practitioners.
Membership is for individuals and if you would like to know more about us please visit our website 
www.base-uk. co.uk or email rebecca@baseuk.co.uk for membership information.