STRIP TILLAGE BEST PRACTICE

At Mzuri, we champion sustainable establishment, and we believe strip tillage answers the questions that many growers are now asking to improve their yields, promote healthier soils and reduce operational costs.
We pride ourselves on supporting our customers and so we've shared our top 'Best Practice' tips that help growers get the best out of the Mzuri strip tillage system:
• Correct strip tillage technique starts with the combine. "By failing to prepare, you are preparing to fail," an old maxim which is also true for strip tillage. Good practice starts with preparing the perfect "canvas" to drill into and this means ensuring the field is "striptill-ready" at harvesting. We recommend an optimum stubble height of 150-250mm to ensure it flows well through the Pro-Til. An even distribution of chopped straw and chaff is also desirable as uniform mulching around the field is paramount for ensuring good moisture retention and availability of material for earthworms to turn into nutrients.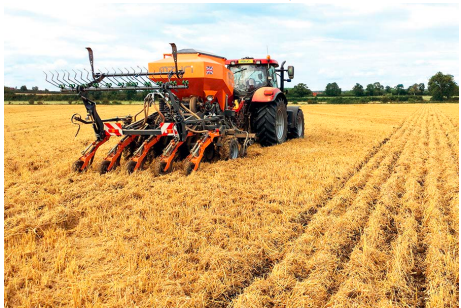 • To chit or not to chit? Although the Pro-Til will happily drill directly into surface straw in a one pass operation awarding excellent residue clearance, some growers may prefer to create a stale seedbed prior to strip till drilling. This is particularly pertinent for farms with a blackgrass or slug problem or for users who wish to accelerate straw decomposition. In this situation, we recommend the Rezult straw rake. It features five-rows of extra stiff tines with the option to fit a set of leading discs. The result is a nice, light tilth creating the perfect stale seedbed.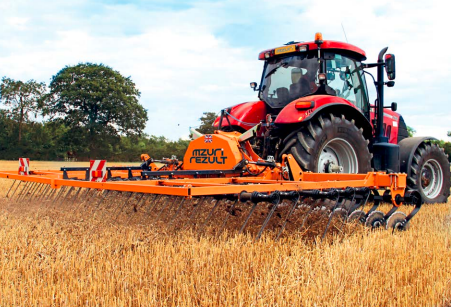 • Get the light right. Good light interception from early growth stages is key to strong plant structure and high yields. The stubble height of 150- 250mm is ample enough to shield the crop from cold temperatures and winds yet short enough to ensure the plants get sufficient light, providing an optimum micro-climate.
• Leave the surface straw… on the surface. Leaving previous crop residue on the surface helps retain moisture, reduce erosion, and improves organic matter.
• Give the seed the best start. The secret to fast and successful seed germination is good seed to soil contact for instant availability of nutrients and moisture. Soil must be reconsolidated to eliminate the air pockets leaving friable, fertile tilth to give the seed the best start. This is what the Mzuri Pro-Til does exceptionally well thanks to its combination of unique, patented features. The auto-reset tines produce the perfect tilth with the option of placing a band of fertiliser just where it is needed, followed by the reconsolidating wheel. The coulter tool bar works totally independently to the cultivation zone, ensuring easy adjustment and constant seed depth control. Each coulter hydraulically exerts pressure to each of the seed depth wheels to ensure accurate seed placement and excellent soil to seed contact. As a result, the crop can get away quickly and grow to achieve its full potential. • Understand your soil. One size does not fit all and so we recommend you should look to tailor the equipment to best suit your specific conditions. We offer a range of front leg options to easily adapt to any type of soil, including a choice of front discs and leading leg configurations. The optional front discs cut through surface residue and help to create a tilth with minimum soil disturbance. The choice of the cultivation leg and wing tips control the tilling depth and profile. Wider wings are typically fitted when seeding with a wide band coulter whereas narrow wings are best suited for drilling with a narrow coulter in harder ground. • Select the correct seeding coulter. Not only is there a whole host of options to tailor to the soil, we also offer a range of seeding coulters to suit the crop too. Wide band seeding is recommended for wheat and barley whereas narrow band seeding would be better suited for oilseed rape and beans.
• The choice of wheels is also important to ensure the right amount of pressure is exerted. The Pro-Til can be supplied with a wide or narrow wheel profile to match the coulter and soil type. Dry soil conditions need slightly more pressure to ensure better seed to soil contact whereas drilling in wetter soils requires a lighter approach in order not to cap the soil. • The final touch. The Pro-Til is supplied with a harrow bar which produces the perfect smooth finish for better coverage of pre-emergence herbicides. Some users prefer to keep the tilth profile untouched in order to create a microclimate which can be up to 2-3°C warmer in the ridges – a practice which is particularly popular in colder climates with freezing winters. The slightly raised contours of the ground coupled with the surface straw each side of the crop row provides shelter from wind damage and subzero temperatures. This practice can ensure a viable crop where conventionally drilled crops would often fail in the same conditions.
• Rotation, rotation, rotation. At Mzuri, we promote a minimum 4-year rotation to increase crop health. The changing of crops in a sequence reduces their resistance to chemical, builds up plant resilience against disease and helps to combat persistent weeds. With the ProTil single pass system promoting better establishment, users can feel more confident to include spring crops into their rotations, whilst we actively encourage users to experiment with cover crops and companion species for greater diversity and soil health benefits.
For more information on the Mzuri strip tillage system visit
www.mzuri.eu or call 01905 841123