Written by John Dobberstein from No-Till Farmer USA and originally published in July 2018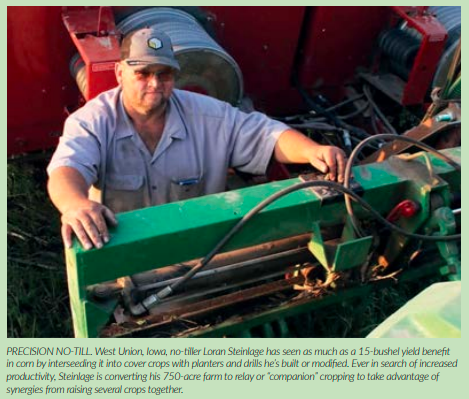 From interseeding to relay cropping to 'engineering by inventory,' Loran Steinlage is building a profitable, divergent no-till operation
Several years ago, a trip with friends to look at greenhouses led Loran Steinlage to a Mennonite farm. It was there that he started looking at his farming practices a little differently. The farm owner had a brand new, ice-block construction house and shop and three brand new Massey Ferguson tractors. "And if you understand the Mennonite faith, they don't borrow money, so he's making some serious money on 20 acres," he told attendees at the National No-Tillage Conference in January. "From that time on, I've really been trying to focus how we do things on our farm."
And Steinlage's farm doesn't look like most others in his state. Soil tests, crop yields and even infrared videos from his fields are proof enough that no-tilling, cover cropping and alternative planting systems are improving his farm's soils and profitability.
On the Fringe
Steinlage's 750-acre farm sits in the northeast corner of Iowa in the Paleozoic plateau, on the edge of the glacial-till line. His area only sees 140 frost-free days, and he estimates his fields have at least two dozen soil types.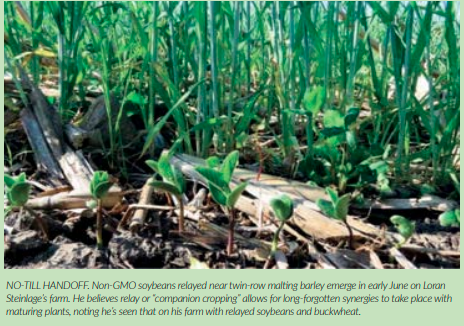 Steinlage used to raise continuous corn for many years, but rootworm resistance and weed issues started building up. He began working more closely with the NRCS in 2006 and since has brought soybeans and winter wheat back in the rotation. This year he replaced Roundup Ready corn and soybeans with 100% nonGMO hybrids and varieties. He also raises barley, winter wheat, cereal rye and buckwheat for cash crops, and rye and wheat for seed. Steinlage no-tills corn around April 17 at a rate of 21,000-38,000 seeds an acre, although he saw later planting dates this year with his non-GMO hybrid.
Because Steinlage variable-rates all his seed corn, using a DigiFarm RTK guidance, "we automatically get variable-rate cover crops because the covers thrive when you drop that plant population down to 21,000 to 24,000," he says. "Where do we need the covers to be better? On the gravel knolls. We're monitoring and seeing how fast we can gain soil organic matter on our hills."
Steinlage typically interseeds cover crops into corn when it's at the V2-V3 stage. He rarely runs the interseeding units any slower than 10 mph, usually shooting for 11-12 mph. He shifts corn planting over 5 inches so no changes are needed for the seeders or his John Deere 8400T tracked tractor. Over the last decade, he's tried various combinations of interseeded covers, including clover; annual ryegrass, red clover and radish; cereal rye, winter wheat, lentils and sweet clover; dwarf-Essex rapeseed, crimson and balansa clover and oats; phacelia, buckwheat, hairy vetch, flax and winter peas; faba beans and chickling vetch; and meadowfoam.
When growing corn on corn, he interseeds clover or vetch. As his rotation has changed, Steinlage often seeds winter wheat into soybean stubble going to corn and cereal rye into corn stubble going to soybeans.
A Big Shift
Although Steinlage has been known for his interseeding prowess, he's in the middle of shifting much of his operation to relay cropping, or what some refer to as companion cropping. It's the practice of planting different crops in proximity for pest control, pollination, providing habitat for beneficial creatures, maximizing use of space, and to otherwise increase crop productivity.
Many of the modern principles of companion planting were present many centuries ago in cottage gardens in England and forest gardens in Asia, as well as thousands of years ago in Mesoamerica.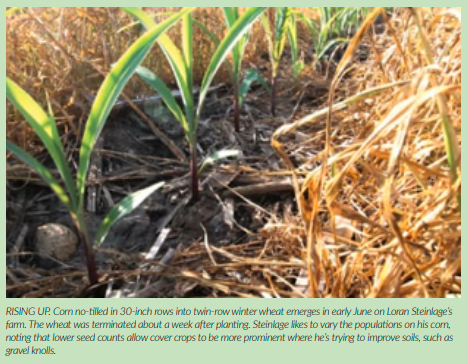 "The biggest thing I see on companion cropping is productivity. I want my cover crops paying. When I committed to cover crops, that's where I started and that's what I'm going to stay with," he says.
Steinlage is in his fourth year of relay cropping on a field scale. He began investigating synergies between different crops planted together several years ago, noting the productive 'Three Sisters' plantings by Native Americans of corn, soybeans and squash. Soybeans he planted in his own greenhouse in this manner that were supposed to be 12 feet tall grew 18 feet high.
This year, due to switching to non GMO corn and soybeans and planting later, Steinlage interseeded about one third of his acres — mostly corn — with cowpeas and is relay-cropping the remaining acres with summer legumes. He typically sidedresses corn with N with his interseeder at V7-V8. The DigiFarm RTK system in the tractor lets Steinlage shift rows over 5 inches to place seeds right next to the old plant into minimal residue.
He's found relay cropping can be very profitable compared to traditional notilling methods. A projection budget he shared this year showed 30-bushel cereal rye and 30-bushel soybeans, paying at $10 a bushel each, and 400 pounds of buckwheat could make him $660 an acre, which he feels compares favorably to 200-bushel-an-acre corn.
"The scary part is I know we can double those numbers," he says. "Do I have to farm the world? No, just got to farm smarter."
This year, Steinlage reduced his corn acres and focused on interseeding and relay seeding more warm-season legumes into his cash crops, taking some inspiration from his friend Chris Teachout, a veteran no-tiller and cover crop experimenter from Shenandoah, Iowa.
Teachout last year managed a warmseason legume interseeding test plot on his farm for Practical Farmers of Iowa where less than 40 units of nitrogen (N) was applied to corn. There were three replications of corn interseeded with cover crops, but in one area there was an early primer of cool-season covers that included brassicas ahead of corn. Corn that followed the primer cover crops and was interseeded with treatments of fava bean, cowpea, corn/ soybean/squash and sunnhemp all yielded 200-213 bushels an acre with just 40 pounds an acre of N applied, the study data shows. A test strip with the primer covers, but nothing interseeded, yielded 190 bushels.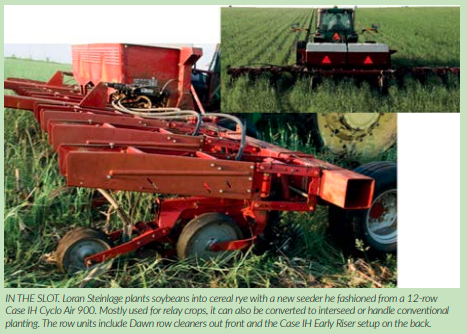 Workshop Creations
Grand plans for interseeding or relay cropping don't become a reality until no-tillers have a planter or drill outfitted properly to deposit seed accurately and maximize emergence. Steinlage got his start with interseeding systems several years ago when he used a small Agri-Fab spinner box pulled behind an ATV to seed cover crops into corn seedlings. Since then, he's gone through several different toolbars that he's modified for interseeding.
An early interseeder model used 7 years ago, while he was still strip-tilling, included a toolbar mounted with a Gandy air seeder. It was used to interseed up 80 acres of corn, but the machine proved to be too small to expand the practice.
He later revived an old 30-foot Hiniker drill that was adapted for twinrow seeding of cash crops and cover crops. It was later sold and he used the money toward his next machine. In 2016, Steinlage worked with Dawn Equipment to build an interseeder comprised of a Dalton toolbar and the company's DuoSeed Cover Crop InterSeeder row units from Underground Agriculture. Dawn also helped provide some modifications to allow for rowcleaner mounts for Dawn row cleaners, seed firmers and a Precision Planting 20/20 monitor.
Steinlage made further improvements, creating an in-row roller attachment for the DuoSeed units to roll down cover crops and interseed at the same time, saving time and fuel. Steinlage started using it to interseed annual ryegrass, cereal rye, clovers and other cover crop species into corn that's generally at the V4-V6 stage.
He runs the machine with a Hiniker box to drill soybeans, then switches the box out for a Montag to interseed covers and sidedress nitrogen. The interseeder also includes poly selfadjusting row cleaners.
"With the Montag tank I can dump four totes of seed in there and we go to work. We're drilling cover crop seed, we're interseeding with it and we're doing all our fertilizer application with it," he says. Adding this advice, "If you want to make a piece of equipment pay, build it with some versatility so you can use it.
"If you want to make a piece of equipment pay, build it with some versatility so you can use it…" — Loran Steinlage
Never one to accept the status quo, Steinlage rolled out yet another seeding device in June, a 12-row Case IH Cyclo Air 900 that he modified to mainly handle relay cropping. But he can also interseed or do conventional planting with the machine. The row units include Dawn row cleaners out front and the Case IH Early Riser row-unit setup on the back.
A big key to the planter's setup is a Sukup Slide Guide that he modified to shift 15 inches in either direction, allowing the machine to do relay, interseeding or regular no-tilling.
Steinlage also owns a John Deere 1760 corn planter that he's modified with precision technology, parallel arms with bearings that he built himself and Shoup Mfg. Co. cast-iron row units. Despite the changes in equipment and associated costs, Steinlage says the cover crops are paying their way. He reports an average 15-bushel increase in the current no-tilled corn crops when they're planted into cover crops.
'FLIR'ry of Data
Steinlage says he's gathered some interesting data on the impact his no-till system is having on his soils and popular assumptions made about cover crops by farmers and experts in his northern climate. On one field he's been interseeding for several years, soil tests show the percentage of water-stable macroaggregates in the soil is at 70% on a 5-year basis, on par with restored prairie and up 30 percentage points from levels typically seen in fields with continuous corn. Pasture grasses and prairie remnants score in the 90% range. Soil organic matter levels range from as low as 1.7% in gravel knolls to 6% in his better soils. He's found through soil biology tests that recovery of organic carbon on his farm has been slower than with recovery of soil aggregates, he says.
Soil Temperature Measurements
One of the myths often repeated about no-till and cover crops in the Upper Midwest is that residue left in fields in the spring before planting makes soils colder and wetter, requiring tillage to warm soils up. Wanting to find out for himself, in 2016 Steinlage bought a forwardlooking infrared (FLIR) camera for his iPhone to take heat measurements in his fields, even doing side-by-side comparisons with his farm and a neighbor's. Steinlage has infrared video from March 2016 of a field on his farm with cereal rye and soybean stubble next to a neighbor's tilled, ripped soybean stubble. The video shows soil temperatures as high as 47 F on Steinlage's field vs. temperatures as low as 37 F in his neighbor's field where the soil is more bare.
Another experiment where Steinlage raked residue away from a 10-by-10- foot plot in one field showed soil that was no-tilled and cover cropped were as high as 46-50 F, and as low as 36-42 F in the uncovered plot. Steinlage says no-till residue and cover crops provide a beneficial insulating effect. Data from soil probes he inserted at a 4-inch depth has also shown soils were warmer in areas with covers in spring than uncovered soils, until equipment passes made temperatures spike cooler, he says. As warm weather arrived, the canopy kept soils cooler and the soil got warmer again after harvest.
"We make people scratch their heads pretty hard, with the results" he says
Is Wider Better?
Steinlage is also looking for a way to get livestock back on his operation. But as you might expect it won't be the conventional way. A couple of years ago he was invited to visit some farms in Ireland. While there he noticed the large amount of sheep used in grazing systems, with corn planted to 40-inch spacings so the animals could fit between the rows. Hoping livestock will allow his daughters to help manage the farm when they return, Steinlage started working with consultant Bob Recker of Waterloo, Iowa-based Cedar Valley Innovation on experimenting with different corn populations and row configurations that could lead to livestock grazing in living corn.
Recker is working with 14 growers in Iowa, Illinois, Wisconsin, Minnesota and Ohio on wide-row concept test plots for 60-inch rows. The wide-row system is defined as omitting one row to provide added sunlight to corn and interseeded cover crops. No-tillers turn off every other row on a traditional 30-inch row corn planter and double the perrow population in the other rows.
Plot work last year showed either a small or no yield penalty for 60-inch corn if populations were doubled in the 60-inch rows with the number of seeds per acre remaining the same. Where cover crops were used, the 60-inch rows significantly increased growth of the cover crops compared to 30-inch rows. On his plot last year, Steinlage planted two rows of 30-inch corn at populations of about 34,000 seeds per acre, skipped a row and then planted two rows of 60- inch corn with populations over 50,000 seeds an acre. His corn yields for 60-inch rows were 230 and 223 bushels an acre, but 213 bushels for 30-inch rows. Steinlage says those numbers compared favorably to 30-inch corn with or without cover crops on other farm plots Recker studied.
Recker also oversaw experiments with 60-inch monocrop corn and the resulting yields of 221 to 238 bushels an acre also exceeded expectations.
One goal of the wider rows is to allow access to the field any time of the year, which would be beneficial for high-clearance equipment, companion cropping or possibly grazing.
"If you can grow 60-inch corn and equal 30-inch corn and eventually have a grazing opportunity, isn't that something you'd look at?" he says.