ESTABLISHMENT COSTS V RETURN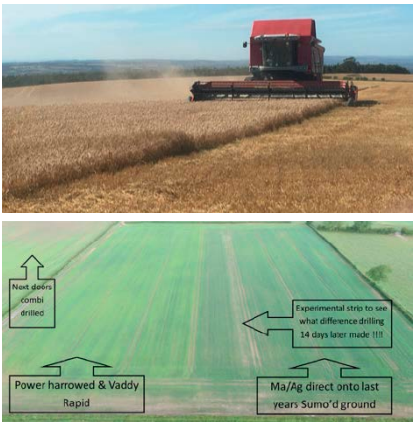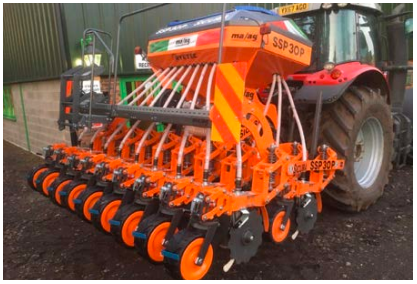 For once weather conditions were similar around the country, poor conditions in the backend of 2019 leading to a lot of ground remaining undrilled or those that had been, failing due to water logging. A late start in spring thanks to prolonged rain on heavy land delayed drilling until well into April, then it stopped and didn't start again until most crops looked as though they had just about expired. The plants then decided that with a bonanza of water they would "wake up" and put their new found energy to great effect and a late surge of secondary growth led to crops looking much improved but meaning a late harvest and very uneven ripening.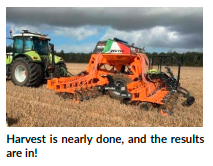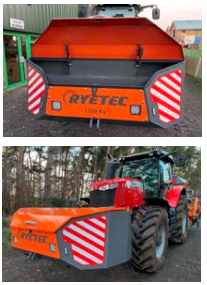 Interestingly we had a trial field of Spring Oat, drilling 5 acres with the farms conventional system of power harrow followed by a Vaddy, to the other 5 acres drilled direct onto last backend sumoed ground which had been successfully treated with roundup. All drilled the same day, unfortunately due to operator error a 4.8 metre strip was missed the length of the field in the direct drilled plot (more on this later). The two crops emerged at the same time, thanks to the Vaddys narrow row spacing and even colour of the freshly cultivated soil the crop appeared to have a much better coverage/emergence than the direct drilled crop. But as the crop grew in the dry conditions whilst the direct drilled crop remained a healthy dark green virtually until the rains finally came, the cultivated crop look thoroughly sick, yellow and with every wheeling of the previous operations evident.

Certainly next doors conventionally worked and drilled field (inset) doesn't look any different to Ma/Ag direct drilled the same day with double the horsepower per metre!!!
We just now need a bit of warmth to get things moving
In order to widen the appeal of the Ma/Ag drill and offer a much more price competitive units for smaller farmers and contactors wishing to start down the direct route, we have launched ready for Spring (when it arrives !!!) a 3 metre mounted version of the Ma/Ag drill. Utilising the same fully floating coulter unit with its twin disc design, including scalloped straight disc and angled plain disc with a rear rubber press wheel.
If you want to carry tools, fuel or perhaps some cover crop seed, maybe you should treat yourselves to a WorkBox ideal for anyone who needs to have a workshop in the field?
The lid is waterproof and dust proof so every angle is covered, although dust seems a way off at the moment !
More details on drills or Workboxes
contact Ryetec on 01944 728186