If you are like us, then you don't know where to start when it comes to other reading apart from farming magazines.
However, there is so much information out there that can help us understand our businesses, farm better and
understand the position of non-farmers.
We have listed a few more books you might find interesting, challenge the way you currently think and help you farm better.
The Carbon Farming Solution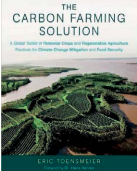 Agriculture is currently a major net producer of greenhouse gases, with little prospect of improvement unless things change markedly. In The Carbon Farming Solution, Eric Toensmeier puts carbon sequestration at the forefront and shows how agriculture can be a net absorber of carbon. Improved forms of annual-based agriculture can help to a degree; however to maximize carbon sequestration, it is perennial crops we must look at, whether it be perennial grains, other perennial staples, or agroforestry systems incorporating trees and other crops. In this impressive book, backed up with numerous tables and references, the author has assembled a toolkit that will be of great use to anybody involved in agriculture whether in the tropics or colder northern regions.
For me the highlights are the chapters covering perennial crop species organized by use staple crops, protein crops, oil crops, industrial crops, etc. with some seven hundred species described. There are crops here for all climate types, with good information on cultivation and yields, so that wherever you are, you will be able to find suitable recommended perennial crops. This is an excellent book that gives great hope without being naïve and makes a clear reasoned argument for a more perennial-based agriculture to both feed people and take carbon out of the air. Martin Crawford, director, The Agroforestry Research Trust; author of Creating a Forest Garden and Trees for Gardens, Orchards, and Permaculture
Mycorrhizal Planet: How S y m b i o t i c Fungi Work with Roots to Support Plant Health and Build Soil

An Mycorrhizal fungi have been waiting a long time for people to recognize just how important they are to the making of dynamic soils. These microscopic organisms partner with the root systems of approximately 95 percent of the plants on Earth, and they sequester carbon in much more meaningful ways than human "carbon offsets" will ever achieve. Pick up a handful of old-growth forest soil and you are holding 26 miles of threadlike fungal mycelia, if it could be stretched it out in a straight line. Most of these soil fungi are mycorrhizal, supporting plant health in elegant and sophisticated ways. The boost to green immune function in plants and communitywide networking turns out to be the true basis of ecosystem resiliency. A profound intelligence exists in the underground nutrient exchange between fungi and plant roots, which in turn determines the nutrient density of the foods we grow and eat.
Exploring the science of symbiotic fungi in layman's terms, holistic farmer Michael Phillips (author of The Holistic Orchard and The Apple Grower) sets the stage for practical applications across the landscape. The real impetus behind no-till farming, gardening with mulches, cover cropping, digging with broadforks, shallow cultivation, forestedge orcharding, and everything related to permaculture is to help the plants and fungi to prosper . . . which means we prosper as well.
Building soil structure and fertility that lasts for ages results only once we comprehend the nondisturbance principle. As the author says, "What a grower understands, a grower will do." Mycorrhizal Planet abounds with insights into "fungal consciousness" and offers practical, regenerative techniques that are pertinent to gardeners, landscapers, orchardists, foresters, and farmers. Michael's fungal acumen will resonate with everyone who is fascinated with the unseen workings of nature and concerned about maintaining and restoring the health of our soils, our climate, and the quality of life on Earth for generations to come.
A Soil Owner's Manual: How to Restore and Maintain Soil Health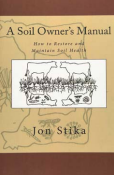 A Soil Owner's M a n u a l : Restoring and Maintaining Soil Health, is about restoring the capacity of your soil to perform all the functions it was intended to perform. This book is not another fanciful guide on how to continuously manipulate and amend your soil to try and keep it productive. This book will change the way you think about and manage your soil. It may even change your life. If you are interested in solving the problem of dysfunctional soil and successfully addressing the symptoms of soil erosion, water runoff, nutrient deficiencies, compaction, soil crusting, weeds, insect pests, plant diseases, and water pollution, or simply wish to grow healthy vegetables in your family garden, then this book is for you. Soil health pioneer Jon Stika, describes in simple terms how you can bring your soil back to its full productive potential by understanding and applying the principles that built your soil in the first place. Understanding how the soil functions is critical to reducing the reliance on expensive inputs to maintain yields.
Working with, instead of against, the processes that naturally govern the soil can increase profitability and restore the soil to health. Restoring soil health can proactively solve natural resource issues before regulations are imposed that will merely address the symptoms. This book will lead you through the basic biology and guiding principles that will allow you to assess and restore your soil. It is part of a movement currently underway in agriculture that is working to restore what has been lost. A Soil Owner's Manual: Restoring and Maintaining Soil Health will give you the opportunity to be part of this movement. Restoring soil health is restoring hope in the future of agriculture, from large farm fields and pastures, down to your own vegetable or flower garden.
For the Love of Soil: Strategies to Regenerate Our Food Production Systems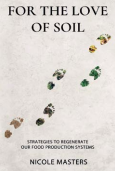 Learn a roadmap to healthy soil and revitalised food systems for powerfully address these times of challenge. This book equips producers with knowledge, skills and insights to regenerate ecosystem health and grow farm/ranch profits. Learn how to:- Triage soil health and act to fast-track soil and plant h e a l t h – B u i l d healthy resilient soil systemsDevelop a deeper understanding of microbial and mineral synergies-Read what weeds and diseases are communicating about soil and plant health-Create healthy, productive and profitable landscapes.
Globally recognised soil advocate and agroecologist Nicole Masters delivers the solution to rewind the clock on this increasingly critical soil crisis in her first book, For the Love of Soil. She argues we can no longer treat soil like dirt. Instead, we must take a soil-first approach to regenerate landscapes, restore natural cycles, and bring vitality back to ecosystems. This book translates the often complex and technical know-how of soil into more digestible terms through case studies from regenerative farmers, growers, and ranchers in Australasia and North America. Along with sharing key soil health principles and restoration tools, For the Love of Soil provides land managers with an action plan to kickstart their soil resource's wellbeing, no matter the scale."For years many of us involved in regenerative agriculture have been touting the soil health – plant health – animal health – human health connection but no one has tied them all together like Nicole does in "For the love of Soil"! " Gabe Brown, Browns Ranch, Nourished by Nature.
"William Gibson once said that "the future is here – it is just not evenly distributed." "Nicole modestly claims that the information in the book is not new thinking, but her resynthesis of the lessons she has learned and refined in collaboration with regenerative land-managers is new, and it is powerful." Says Abe Collins, cofounder of LandStream and founder of Collins Grazing. "She lucidly shares lessons learned from the deep-topsoil futures she and her farming and ranching partners manage for and achieve."The case studies, science and examples presented a compelling testament to the global, rapidly growing soil health movement.
"These food producers are taking actions to imitate natural systems more closely," says Masters. "… they are rewarded with more efficient nutrient, carbon, and water cycles; improved plant and animal health, nutrient density, reduced stress, and ultimately, profitability."In spite of the challenges food producers face, Masters' book shows even incredibly degraded landscapes can be regenerated through mimicking natural systems and focusing on the soil first. "Our global agricultural production systems are frequently at war with ecosystem health and Mother Nature," notes Terry McCosker of Resource Consulting Services in Australia. "In this book, Nicole is declaring peace with nature and provides us with the science and guidelines to join the regenerative agriculture movement while increasing profits."Buy this book today to take your farm or ranch to the next level!
Teaming with M i c r o b e s : The Organic G a r d e n e r 's Guide to the Soil Food Web