Sly Agri was founded 14 years ago in the UK by George Sly. The company was built on a strong family history of agricultural equipment and engineering. The Sly Boss and Stripcat machines were developed jointly with a French farmer, Cyrille Geneste with all the manufacturing being carried out in France. At the end of 2019 Cyrille decided he wanted to sell his share of the business which would have been difficult for George to manage having now taken over the family farm in Lincolnshire. George decided that the time was right to invest in the business and Sly Agri was rebranded as Horizon Agriculture with a focus on regenerative and conservation agriculture.

Why Horizon? The Soil Horizons describe the different layers of our soil. Without soil we would have no food and so it is vital we preserve, maintain and replenish soil. Our entire business focus and all our products are designed with this in mind, hence our name, Horizon Agriculture. We have with the help of Innovate UK and Local Government invested heavily in the manufacturing process's that support our business. Since January 2020 we have commissioned a purposebuilt semi-automatic blasting and coating facility on site and a 4-bay assembly hall. We are proud to be one of the biggest employers of local people in Sutton St James and we are proud to use local businesses as suppliers of parts and subassemblies.
Key members of staff in Horizon Agriculture are:
George Sly who is the Managing Director and has grown the seeder, strip tillage and precision planting business in the UK since 2010 and is looking forward to continued growth of our sales market and product development worldwide.
Johannes Weber, Technical Director for Horizon Agriculture who brings a wealth of experience from designing, engineering and supporting seeders and strip tillage machines across Europe. He has been key in the development of the new products coming soon from Horizon Agriculture. Tom Carnell, Technical Sales Manager who brings a wealth of knowledge relating to precision farming techniques and technologies across the world. Tom is responsible for sales to Farmers and dealers worldwide.
With some UK and International sales already under their belt, the Horizon Agriculture team are bringing some revolutionary ideas and products to the market. A newly engineered no tillage and minimum tillage seeder called the DSX has been developed in house with first deliveries expected for spring 2020. The seeder features some never seen before technology such as the all new SeederForce system which is an active sensing of the rear following wheel in relation to a consistent seeding depth regardless of ground conditions. If the seeding disc encounters harder ground the force on the following wheel is reduced. With SeederForce the down pressure is increased to improve seed depth, placement and closing of the slot, this is automatic and continually senses and adjusts the down pressure.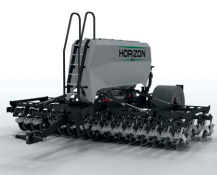 The experience gained by the Horizon Agriculture team has allowed them to make the row units narrower to give greater material flow through the seeder. This has allowed the use of row cleaners on the front and back rows of the seeder, which are controlled with Precision planting cleansweep. A redesigned coulter allows the wearing edge of the coulter to be replaced by removing two bolts, instead of having to replace the whole assembly. The redesigned coulter also allows the use of a firmer that ensures the seed has no air gaps between it and the bottom of the trench which greatly improves even of emergence.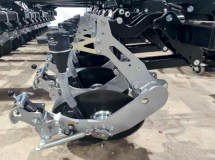 The DSX seeder also features redesigned aesthetics with a new single piece tank to replace the multiple tanks found on the Boss seeder. The new tank is partitionable to allow different seeds and products to be metered at the same time. It is possible to split the flow of seed so that the front and back rows of the seeder are delivering different products at different depths if required.
The seeder uses the RDS ISOCAN Artemis system as standard with options available of either Precision Planting or DICKEY-john control systems if full ISOBUS is required or if the control of more than 3 products are required. Future plans for Horizon Agriculture are the development of a new strip till row unit which will combine weed control, undersowing and strip till. This will include Precison Planting options. It will have additional changes focused on making the product easier to use, maintain and giving an increased service life. Flexibility to change row spacings and elements of the strip till will be kept as well as a narrow version for specialty salads.
Horizon Agriculture are currently in the process of planning and building a visitor/ education centre on Georges farm. Georges farm, with 30-50% clay and low lying, it's far from easy!, it's a great base to develop our products and test them in tough conditions. The purpose of this visitor centre is that we can share with other farmers the successes and failures that we have in trying to regenerate the soil and therefore the agriculture on George's farm. Our plans include a strip-till academy, agro-forestry, and field sized "trial plots" as well as a conference room and café. Our trial plots will focus on the use of cover and companion cropping and different management strategies in order to regenerate the soil on the farm. The farm is a separate business and our focus is on margin not yield and a general shift away from chemistry to biology. We will conduct 5 and 10 year trials alongside Reading and Cranfield University to create a valuable educational resource for farmers, schools and colleges, something George feels very passionate about. (Use Farm here)
Horizon Agriculture are Precision Planting and 360 Yield dealers. The Precision Planting technology is focussed on either adapting existing precision seed seeders to include technology such as the SmartFirmer, a sensor giving you a constant view of residue (organic matter), moisture and temperature conditions around the seed. Alternatively, the technology can be installed on the Precision Planting row units available from Horizon Agriculture. This Precision Planting technology offers a solution for improving crop performance and yield with precision seedered crops be that maize, sugar beet, oil seed rape, soya or vegetables. Frames for the Precision Planting row units will be manufactured in Lincolnshire. The precision seeding row units can be combined with an all new strip tillage concept currently being developed by Johannes and George with their team at Spalding.
360 Yield offer a range of products that focus on the efficient application of nutrients to the growing crop. The products include the "Y drop" system which is an add on accessory suitable to be retrofitted onto most crop sprayers on the market The "Y drop" allows the delivery of liquid fertiliser to the base of the growing plant allowing the reduction in the amount of Liquid N used due to the accurate placement. To partner this product the 360 soilscan allows in field, instant soil sampling which gives soil pH and available N.
The final part of the rebranding exercise is Traxxis. Traxxis is our replacement track business. We are able to supply most agricultural and industrial tracks. We have constructed a new track production facility in Malaysia which is due to come online in July 2020. With a new and re-engineered product line up, we aim to offer the lowest operating cost of any manufacturer in the market today, without any sacrifice on quality. Malaysia produces over 40% of the worlds natural rubber latex, and it is considered the very finest quality. This was one reason we chose it as our base. Sustainability and soil is not forgotten in our track products, we are working hard to ensure our latex is sourced sustainably.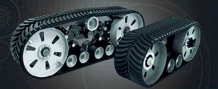 Our dedicated Research and development lab in the UK means we can design and develop our compounds and tread patterns in the UK in collaboration with our engineering team in Malaysia. This closed loop team also have access to our testing ground in the UK. We distribute our products worldwide and our strategy is to be in the top 3 for replacement agricultural rubber tracks by 2025.
For further information on our seeders, planters and striptill please contact tom. carnell@horizonagriculture.com. For information on Traxxis please contact paul.chapman@traxxis.co