I am currently a final year student at Harper Adams University studying Agriculture with Farm Business Management. Although I am passionate about the Farm Management side of the industry, I am rapidly acquiring a vested interest into the Conservation and Regenerative Agriculture side too. I believe this has stemmed mainly through the placement year Harper Adams offer, where I was very fortunate to work for N E Salmon Ltd in Norfolk, a forward thinking business focusing on soil health and sustainability, implementing a 'Harvest CTF' system, alongside a diverse 9-crop rotation of which further included cover cropping. I managed to gain a huge range of new knowledge and experience through this placement in regard to regenerating and improving soil structure and health to provide sustainable yields.
The placement opportunity then led me to Western Australia for 8 months, which allowed me to see further alternative approaches to maintaining soil health when faced with different challenges in the dry climate and lack of structure within the soil. Harvest was spent at Dolany Farms, which was an 11,000ha unit cropping wheat and canola on a fully implemented 13.5m CTF system. This system allowed for high efficiency whilst only disturbing the soil once with the drill to conserve moisture. I was involved in the seeding (drilling) at the second farm, Stirling Ranges Beef, where we had the job to operate 2 new 21m Seed Master drills 24/7 over 12,000ha planting crops including lupins, beans, peas, grass, canola, wheat and barley.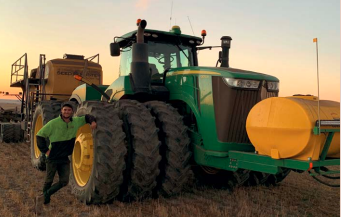 To provide a background, we have a relatively small 300 acre farm at home, of which the entire area has been under a HLS scheme for the past 10 years. A flock of roughly 500 breeding ewes were reared for the first half, followed by a pedigree Hereford suckler herd for the remainder. Prior to this, the farm was run on an intensive cropping system, with a rotation including wheats, barleys, OSR and root crops with no real focus on soil health, just maximising output. As the HLS scheme expired in 2019, the decision was made not to renew, but to wait for the proposed ELMs scheme to become available. We believed the 10 year break and long grazing seasons would have left the soil in good condition with a relatively low weed burden.
Unfortunately, it has proven this year has not been the one to make a return to arable cropping after a large proportion of the farm has spent its time submerged in water following the Barlings Eau breach in early November. With focus away from the cropping, we were fortunate to establish a stubble turnip grazing mix, which saw the return of sheep to the farm again in February. Weather permitting, we aim to be successful in drilling some vining peas and spring barley, with the remainder of the permanent grassland being left for the year to cut for hay and hopefully some more be returned to arable cropping in Autumn 2020.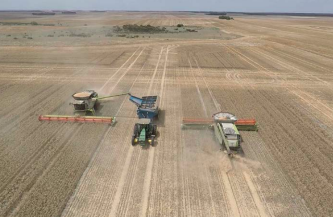 The aim of the new system is to maintain and further improve the soil health following its years as grassland through a range of conservational methods including permanent soil cover through diverse cover crop mixes and rotations, and reduced tillage establishment techniques. I believe the best way forward in this situation will be to trial a range of alternative systems to see which will provide both the optimum financial and physical benefits together. I am a strong believer that all tools have a place on the farm if used correctly, and not one system will suit all due to variables such as climate, topography and soil type changing between farms.
In terms of University, within the course I am studying there is a relatively small amount of content on Sustainable Agriculture systems and soil health, which I guess isn't surprising being a business management orientated course.
This has driven me to research more about the topic elsewhere, reading articles and attending a variety of events. This desire to learn more about the topic has also influenced me to base the topic of my dissertation on Conservation Agriculture, having recently carried out a survey investigating the factors that are influencing uptake within the UK. Farmers have been surprisingly willing and responsive to this piece of work, which has helped me gather some very interesting data from a range of different farming scenarios.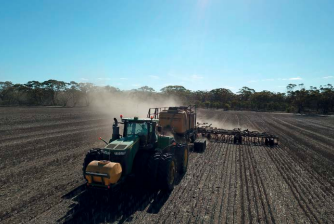 After carrying out preliminary research, I found although literature supported the global uptake Conservation Agriculture, there appeared to be a misunderstanding to why the uptake of the techniques had been relatively slow in the UK. Currently my research is showing that an overall lack of trustworthy information and knowledge, together with the uncertainty over future policies and key pesticides such as glyphosate is causing this stagnation. Interestingly the research has shown there is still a lot of people not willing to change as they are sticking with a system that has always been implemented and are not prepared to alter. Farmers on short term tenancies appear not to be as willing to adopt the techniques, which is understandable due to the low level of security resulting in them not wanting to adopt new techniques with benefits taking so long to materialise. 
Although it's hard to believe from the current press, I believe the future for UK Agriculture is positive as long as we are able to work together as an industry and show the public and policy makers that we are able to implement sustainable changes in an increasingly volatile environment, because at the end of the day, the demand for quality food is not going to disappear. This positivity about the future is emphasised to me at University with the current students as 'the future of farming', showing a very keen attitude to face the challenges that the industry is currently facing and will inevitably face in the future.
My plan now is to graduate this year, and further pursue my learning on a trainee management scheme on a larger scale farm. I would hope this will benefit my knowledge, as well as being able to implement some of the things I have learnt over the last few years in terms of management skills and sustainable agriculture practices