It's only 4ha, what difference will it make?
Written by Matthew Izod of Priory Farm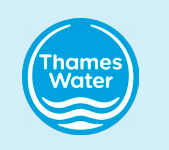 Priory Farm
Priory Farm is a 100ha arable family run farm in the Evenlode catchment of the Cotswolds, with 100ha also being rented. The farm is run by my Dad, Nathan, who has been farming here since he was old enough to reach the pedals! I joined the farm in 2015, not knowing much about farming! We have a mixture of soil types from clay to Cotswold brash, which seems to give us a lot of different approaches to farming.
The Trial (as featured in Direct Driller issue 4)
Thames water are looking in to No Till drilling and cover crops to see if it can reduce sediment and phosphorus run off in to the water courses, whilst also looking at the wider soil benefits. The trial is part-funded by Thames Water to help remove some of the risk factors involved.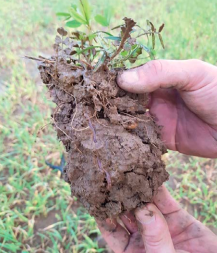 Following an initial taster event in February 2018, we expressed our interest, alongside two other farms, and were asked if we would like to take part in the trial. We decided on 4ha directly next to the river for No Till, with the remaining 3ha of the field being farmed in the same way we normally would. The cultivator was parked up from the spring of 2018 for that area of the farm and the trial began. A cover crop of oats was planted straight after harvest, which unfortunately never took off, not a great start to clear the doubt we already had in the system. 2018 was flood free so not much use for monitoring sediment run off, but a perfect start for us for the spring of 2019. Spring Barley was planted with a contractor's Weaving Sabre Tine in to the 2018 spring barley volunteers. The other 3ha was cultivated twice with a pigtail cultivator a few weeks previous and drilled with the same drill on the same day. Both halves of the field emerged evenly and stayed very even up until harvest.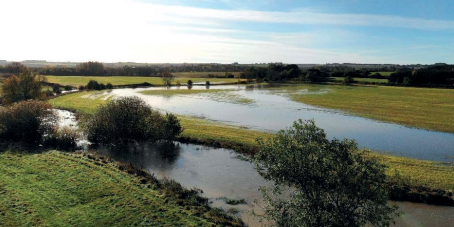 First Year – Soil Sampling & Harvest Results
We monitored the crop closely, wanting to see a difference in the two systems, but there was nothing in it until we started to sample the soil. The farm is periodically sampled for our P&K application, but we have never really paid much attention to any other results.

A Healthy Soils assessment was done to get some baseline figures for our first year. The results completely changed our way of thinking about the trial, I always thought the point of us cultivating was to minimise and get the crop off to a good start, which in this case it clearly hasn't helped but created problems that we might not have had before we pulled a tine through the ground. It really showed how we need to do a bit more of an assessment of our soil before we start to try and alleviate problems that we think we have. When both sites were harvested, the tilled area 6.8t/ha & no tilled area 6.7 t/ha, the cultivations hadn't effected the yield of the crop but equally the no till had performed just as well, but without a 20 l/ha cost of cultivation.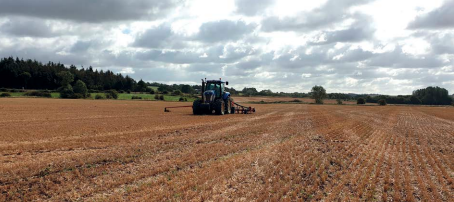 Second Year – Change of mind
A crop of Oil Seed Rape, companioned with buckwheat, crimson clover & vetch was planted on 5th September 2019 with the tilled side being no tilled OSR without companions, due to no time between combining and drilling. The crop grew well until, like the whole of the country, the rain came, and still hasn't disappeared! We have experienced flooding at least six times this winter, so the crop hasn't fared well and will be drilled with spring peas. This winter has really shown the resilience in some of the soils across the farm but also the area's that need some improvement! Considering we have always cultivated to aid drainage, our no till site has coped very well and at times looked and walked much cleaner, often coming back with clean boots.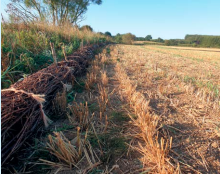 Soil movement has been minimal, only the last two floods have seen any noticeable erosion. We have also had some coppice bundles installed on the field's edge by Earth Watch this summer to also see if this can help with catching sediment before it enters the river. We are always looking for new ways to help mitigate our effect on water courses; it often seems the simplest ideas are the most effective!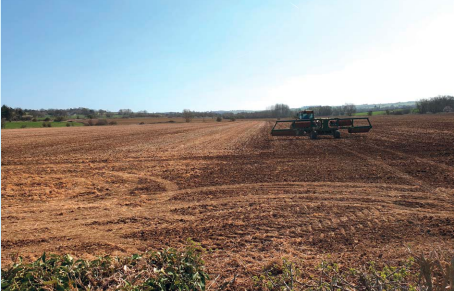 Future for Priory Farm
We have now started direct drilling some other parts of the farm now and are looking at reducing our cultivations, there is a lot to learn but joining the trial has really opened our eyes to different approaches to farming. Also taking part of the trial with Thames Water has opened many different opportunities to meet a lot of different people and have had some great conversations about new ways to approach conservation agriculture. I would recommend to any farmer to get involved in a trial or project with other farmers and likeminded individuals. It has really focused us to look to the future, across the whole farm, especially with the new agricultural bill and the bigger focus on the wider environment.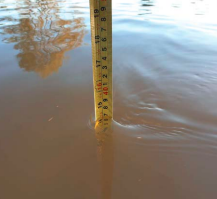 For more information about the Thames Water trial, please contact the Evenlode project team from Atkins and Natural England. Jay Neale, Atkins (jay.neale@atkinsglobal.com) or Andrew Russell, Natural England (andrew.russell@naturalengland.org. uk).