Written by Felicity Lenyk from Eden Research plc
The situation
The Food and Agriculture Organisation ("FAO") estimates that 40% of global food crops are lost to plant pests annually, equating to a yearly financial loss of over $220billion. This stark statistic highlights the importance of further research into new ways to tackle these pests if we are to feed the world's growing population in the future. Agriculture has never lacked significant challenges, but continuous regulatory scrutiny is having a major impact on the conventional pesticides market around the world. Crop protection products and programmes are under constant review and increasing pressure from regulators and consumers is driving a global movement towards more sustainable alternatives.
The loss of numerous crop protection products and chemistries has recently been publicised in the media. Sentiment around the removal of these products has been positive from a consumer standpoint and slightly more critical from a grower perspective as they have voiced concerns about the fact that the industry is left without viable alternatives. The current situation is that farmers are facing challenges from pests and disease, but with no approved chemical solutions.
This rapid loss of chemistry is driving increased innovation throughout the crop protection market. The biopesticide industry is developing rapidly, currently growing at a CAGR of 15% and estimated to be worth $10 billion by 2025.
Biopesticides are derived from natural materials such as animals, plants, bacteria, and certain minerals and are generally considered reduced risk pesticides. However, despite the fact that they generally have a more favourable environmental profile, they are still subjected to a rigorous registration process as they must meet all regulatory standards and not compromise efficacy. Conventional pesticide product discovery and development takes 10- 12 years and costs in the region of $300million. The process is faster for biopesticides, but the costs can reach $25million.
So, where does Eden Research fit in?
Eden Research plc is the UK's only quoted company focused on biopesticides for sustainable agriculture. Eden develops and supplies innovative biopesticide products and natural microencapsulation technologies to the global crop protection market. The products are based upon natural plant chemistries but deliver performance on par with conventional chemistry and complement integrated pest management (IPM) programmes.
Terpene active ingredients
Plant terpenes are secondary metabolites and are one of evolution's answers to natural plant defence mechanisms. Eden has registered three terpene active ingredients in the EU – geraniol, eugenol and thymol. This is no mean feat in a decade where it was more commonplace to see approvals being withdrawn. As volatile compounds found in essential oils, terpenes have been utilised as a means of crop protection for centuries. Until recently however, due to their volatility and hydrophobicity, there was no practical means of applying them successfully at scale in agriculture/ horticulture. Stable formulations rely on a means of encapsulation, and due to the use of Eden's patented SustaineTM technology, high capacity loading of terpenes with a phased release mechanism is now achievable.
Terpenes are ubiquitous in the environment and are even found in many common foods. The terpene active ingredients in Eden's formulations are Maximum Residue Limit (MRL) exempt and have no detectable residues, with pre-harvest intervals as low as 0-days for certain products. They have multisite modes of action against pests and therefore have no known risk of resistance, which is an increasing concern with many actives available on the market. Another key advantage of Eden's formulated products is their lack of persistence in the environment which, combined with safety to beneficial insects, helps to protect the environment. A lack of accumulation of soil residues can help reduce the need for drilling, and products such as these works well with the development of field margins.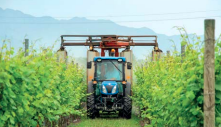 The innovative technology
Sustaine is a naturally-sourced, microplastic-free encapsulation system that is suitable for a wide range of active ingredients, including conventional chemical and biological actives. SustaineTM is the enabling core of Eden's products and provides a biodegradable solution to microencapsulation that has been commercially proven. Stable capsule suspension formulations are possible with high loadings of active ingredients in aqueous, solvent-free formulations with excellent bio-activity and the potential to increase efficacy, protect against phytotoxicity and mix readily with a range of chemistries.
A key feature of these microcapsules is that the capsule wall is not eroded during the release process; the terpenes exit via pores, which open upon hydration and close again when the capsule experiences osmotic stress/ dehydration. In this way, the terpene active ingredients have a phased release pattern and prolong their activity across multiple rehydration/dehydration events. This controlled release can facilitate lower overall application rates of active ingredients as there is reduced risk of losses to the environment.
Solving the microplastics problem
The European Chemicals Agency (ECHA) has proposed an EU-wide restriction on the use of "intentionallyadded" microplastic particles. The proposed restriction includes the use of microplastics for agricultural and horticultural purposes, including polymers utilized for controlled-release fertilizers, encapsulated plant protection products (PPPs), seed coatings, and biocides.
By 2025 in the EU, pesticides containing synthetic polymer microplastics are likely to be banned and removed from the market to prevent their direct release into soil and water. The only acceptable alternative is the substitution with biodegradable formulations. Reformulated products will need to be evaluated and registered within the five-year transition period, and SustaineTM is a viable, proven and immediately registerable solution to the microplastics problem in formulations that benefit from encapsulation.
The ECHA Annex XV proposal for restrictions on intentionally added microplastics in agriculture/horticulture could mean up to:
• 200 reformulations of Plant Protection Products
• 50 reformulations of seed coatings
• 500 adaptations of seed coatings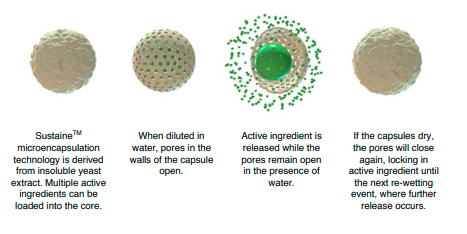 The proposed microplastics restrictions for capsule suspension plant protection products (CSPs) and coated seeds could result in a total reduction of 15,000 tonnes microplastic pollution across the EU over the next 20 years. Eden is actively working with a growing number of partners to develop new, plastic-free formulations for their active ingredients including conventional chemistry as well as biologicals.
Eden's current portfolio of biopesticides
To date, two commercial products using the terpene active ingredients and SustaineTM technology are approved – MevaloneTM is a bio-fungicide used primarily to tackle botrytis on grapes and CedrozTM is a bio-nematicide used across a wide range of vegetable crops. The main markets for these products are in southern Europe (approval is currently being sought in the UK). Both products benefit from being MRL exempt and having favourable environmental profiles compared to many conventional products. For example, drawbacks with a number of conventional nematicides include harm to the environment, difficulty of application, and long re-entry periods, which has led to various examples being withdrawn from the market over the years. CedrozTM is a water based alternative, applied with existing irrigation equipment and a proven solution to complement existing programmes.
Adding to the existing portfolio, Eden intends to launch new products in important new segments of the crop protection market, including insecticides and seed treatments. Mevalone has already received emergency use approval in France for post-harvest storage diseases in apples, which is another major new use and another step towards high quality, residue free food produce.
Reaching organic status
The organic market is growing considerably and between 2012 and 2017 the area under organic production in the EU increased by 25% to reach 12.6million hectares. Eden's terpene active ingredients (thymol, eugenol and geraniol) have organic approval in the EU, providing growers with an alternative solution to use as part of IPM.
The current regulatory landscape
Government resources and regulatory bodies are under-resourced, which urgently needs addressing. The good news however, is that regulators are addressing the fact that biopesticides are distinct from conventional chemistry and must be assessed differently. Crop protection requirements are increasingly focussed on a need for sustainable chemistry, and going forward this trend is unlikely to change. Sustainable alternatives have the ability to impact the environment, as well as growers and manufacturers/distributors in the following ways:
• The environment: Products which are efficacious and provide reliable control of pests or pathogens to enable improved yields and crop quality must also have minimal impact on the environment. The challenge going forward is to maximise yields for a growing population, whilst reducing any negative impacts on wildlife or human health.
• Growers: Products are required that are easily incorporated into existing programmes, with current equipment. Easy to use and apply, with improved safety profiles for users, they also need to be based on active ingredients that have low risk of developing resistance.
• Ma n u fa c t u re rs /d i s t r i b u t o rs : Formulations suitable for commercial production and with broader storage conditions than many biologicals are required to enable efficient production and distribution at scale.
Outlook
The requirement for alternative solutions to challenges in crop protection will increase as regulatory pressure increases. Eden is confident that it is well placed in the market to deliver solutions going forward which are efficacious, residue exempt and polymer free, ultimately delivering products which instil confidence in regulators, growers and consumers alike.