As with most companies, there is always a bit of luck at the beginning. Naïo Technologies is the result of two robotics
engineers crossing paths, Gaëtan Séverac and Aymeric Barthes. They both believe robotics offer solutions to the problem's agriculture is facing today.
Their goal is to offer practical and durable solutions to agricultural issues while reducing workload with autonomous tools. Early robotic developments have focussed on providing solutions into high value crops such as vegetables and vinyards, but as the technology improves so should the entry price and therefore solutions to other crops will hopefully also become a reality. Over the past 6 years, Aymeric and Gaëtan have built a team of experts in agricultural robotics combined with practical advice from farmers and investors. They, like many of us have observed that farmland in the past, has been managed and yields increased using methods that negatively impact the environment and the soil structure we rely on to grow our crops.
Naïo Technologies is convinced that modern technology will help turn the tables around. Their agricultural robots and hi-tech tools aim to increase productivity while respecting the environment and making agriculture more human again!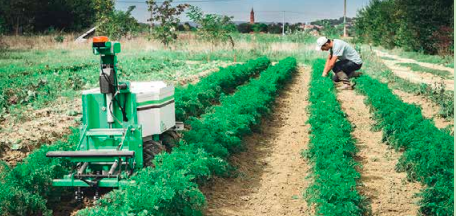 They currently have 3 robots out there, Oz, Ted and Dino. We will cover Oz in this article, but you can read about the others on their website
Oz Weeding Robot
The Oz robot allows you to weed and hoe autonomously, this can increase your profitability while also respecting the environment. It is designed to improve working conditions and reduce your daily workload. Oz is entirely autonomous but you can also guide it to go wherever you need.
Oz is an environmentally friendly robot with an agricultural vocation. It weighs very little and consequently reduces compaction in your soil. Thanks to its surface hoeing technique, Oz protects soil structure. Oz uses up very little energy and its mechanical weeding technique allows you to save on other inputs.
Oz Operating Modes
Manual mode:
The robot is directly guided by the user with the help of a wireless remote control.
Tract and follow mode:
Oz can follow you around and transport loads. The robot is also able to tow a small farm trailer to help you during harvesting or assist you during heavy or strenuous work.
Autonomous mode:
In autonomous mode, Oz follows the crop rows of the plot and guides itself. Oz can weed all your crop rows without human supervision. To guide the robot automatically in autonomous mode :
• crops need to have leaves or be placed on mounds of at least 10 cm height.
• in between rows a strip between 55cm to 120cm wide is required.
• At both ends of the plot, Oz requires a strip of clean earth of mowed lawn that's about 250 cm wide to be able to turn around and start on the next row autonomously.
The Oz robotic weeder comes with a configuration unit that allows you to pick the right operating mode for you. The unit will also ask you to enter specific information on the plot Oz is required to weed (number of rows, plot size, etc). When in autonomous mode, the robotic weeder will send a text message to inform its owner when it finishes weeding. It is also capable of detecting potential anomalies during work (obstacles, blocked tools, errors in row length…), in which case it will use text messages to send alerts.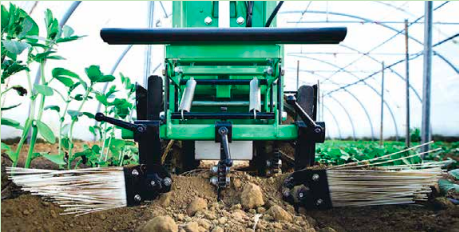 The text message function is only available when network coverage is available.
Oz Technical Data
Size & Weight
• Size without tools: Width 40cm, Height 60cm, Length 100cm (130cm tool carrier included).
• Ground clearance: 7cm.
• Weight batteries included: 110kg without tools / 150kg with tools and weights.
Power & Autonomy
• 4 110W electric motors • 4WD
• Tires : o quad-style studded tires or o tractor-style tires depending on your type of soil.
• Maximum load on top of the robot: 90kg if Oz is not working the soil simultaneously.
• Maximum tow weight : 300kg if Oz is not working the soil simultaneously.
• Remote control : 7h autonomy, 10m reach without obstacles.
• 24V – 2 x 12V lead batteries, 80A/H or 2 x 12V Lithium batteries – up to 100 A/H
• Work autonomy: 3 hours on lead batteries and up to 10 hours on Lithium batteries.
• Charging: o manual charging by connecting the charger to the charging plug. o possibility to quickly change batteries in between sessions to have Oz rapidly continue its work in less than 5 minutes.
• Battery life : o 400 charging cycles (lead batteries) o 2000 charging cycles (Lithium batteries)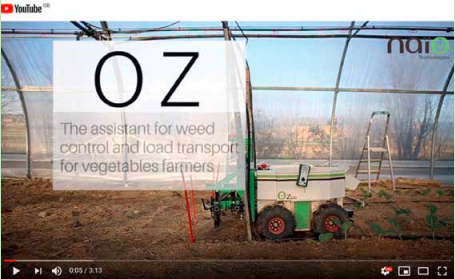 Use & Storage
• Required temperature during use : 5°C / 40°C.
• IP 64 Protection : resistant to dust and water projections (no high pressure cleaning).
• Maximum slope : 10%.
• Maximum speed : 1.3km/h (22m a minute). Therefore Oz weeds an acre in 6 hours 45 minutes based on 0.5m row spacing or 1.5 acres on a single charge (Lithium batteries).
• Communication with user via text message (coverage required).
Warranty & Maintenance
• 3 Year warranty, with the exception of consumables and wear and tear.
• Maintenance : replacement of the engines' wearing parts : o Every 5 years or after 5 000 working hours : change the engines' carbon brushes. o Every 10 years or after 15 000 working hours : change the motor reducers.
Oz Tools
• Plowshare : for weeding between rows, work width 40 to 60cm.
• Comb harrow : for in-row, interrow and mound weeding, work width 40 to 80cm.
• Weeding brush : for in-row weeding, 3 to 5 cm into the crop.
• Spring harrow : for the in-row weeding of crops with solid taproots.
• Spring tine harrow : width 20cm.
• Straight harrow : used to break slaking crusts.