At this year's Groundswell, headline sponsor and the UK's largest water-only supply
company, Affinity Water will demonstrate the relationship between soil health, water
resources and the environment.

Shaun Dowman, agricultural advisor at Affinity Water, explains that there is a need to change how we manage our soils and water resources, and that a close relationship between farmers and water companies is the key to achieving this. "Whether you farm on the banks of the Thames or the tops of the Downs, every piece of land, every farm in this country sits within a water catchment," he says. "Therefore, what happens on farms and in the field is of interest to the water industry and we want to help farmers make choices for their farm business, that will positively impact water and the environment. "Conservation agriculture offers the chance to restore degraded soils, tackle climate change, protect water, feed the world and enhance biodiversity. This is why all of us at Affinity Water are excited by Groundswell and, are once again proud to be headline sponsors of this hugely enjoyable, thought-provoking and positive event," says Shaun.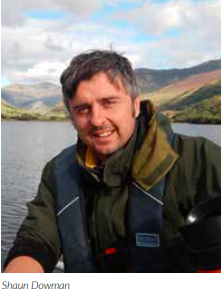 A 'healthy soils = healthy water' ethos is at the heart of the Affinity Water business and is expertly demonstrated in the relationship between their head of water quality, Fiona Waller, and her no-till farmer husband, Ian. The couple farm 450ha of mainly arable land in the mid-Chiltern area, and have worked together to help improve water quality both on and off the farm. Direct Driller talked to Fiona and Ian on how their job roles impact their agricultural and water management decisions.
What would you say is the most important piece of kit on your farm?
Ian: The most important tool is a garden fork for getting a good look at my soil. We have a high stone content in our soil which can impact the accuracy of measuring compaction with a spade or penetrometer. The prongs of the garden fork find their way past the stones giving a much more accurate picture. If the soil falls through the prongs of the fork, that's always a good sign. I usually check my soil health in the autumn, winter and after harvest. I always try to take the fork with me when I go for a walk to test an area that is looking particularly good or bad.
Fiona: From a water quality perspective my focus would be on the farmer themselves. They have the knowledge, they know where their land boundaries are, where the water flows, where it floods and what happens on their land when it rains. Essentially, hearts and minds are as important as any kit. Fiona, how does being married to a farmer influence your work at Affinity Water? I work very closely with our catchment team, so it's been really helpful to be able to share ideas and information from Ian with them. Affinity Water has been doing catchment management work for the last eight years and during that period we've had really close links between the catchment team and farmers. But in the beginning, I used Ian as our main sounding board and the catchment team came to the farm for a visit, to learn more about some of the challenges and to see for themselves what could be achieved. This relationship helps fill the gap between water industry and agricultural knowledge. For example, when we were discussing the impact metaldehyde was having on water quality, I was able to discuss this with Ian to get his input. I was also able to provide the team with information on ferric phosphate, as Ian had been using it with great results for many years.
Ian, how does being married to Fiona impact your farming practices and decisions?
I'm very aware of the impact that agriculture has on water quality, and this is all coming home to roost now that it's very high up on the government's agenda. The 'eye opener' for me is seeing what Fiona goes through when there are problems with water pollution, and how seriously this impacts the water industry. Most farmers aren't aware of all the work that goes into providing high quality water and all of the measures in place to achieve this. I've been to a surface water treatment works three times now and it's so enlightening to see what goes on. I find it staggering how much sediment, which is essentially topsoil, comes out of the works. We're talking about lorry loads every day from just one treatment works.
Farmers need to do something about this and I'm a firm believer that direct drilling has a big part to play. However, it's also about doing a whole host of things right to stop this, and for those of us who are aware, to share knowledge and educate. Ian, what three conservation practices would you recommend to other farmers to protect their soils? Growing cover crops is extremely important, but finding detailed information can be hard. I'm constantly striving to find plants that I can grow in a short space of time and understand how to grow them, so cover crops are at the top of the list of things that I want to learn more about.
Secondly, treat every day as a learning day. Don't think you know it because it's happened once, you need to keep improving your knowledge. People always ask me what my goal is, and I say to improve soil health, but it's a long term goal. We have damaged some soils over the last 50 years and so it could take as long to rebuild their condition – I'll never achieve it, it's an ongoing project. Finally, we need to do more research on soil. I have a saying: 'Soil is like the ocean' – we know about the big things in the soil; the equivalent of whales are worms, but we don't know enough about all the smaller bacteria and microorganisms and their interactions with our farming.
Fiona, what are your top tips for famers who want to have a positive impact on water quality?
The best thing that any farmer can do is to engage with their local water company catchment team. These teams are full of really enthusiastic people who want to work with farmers to improve water quality. They will have access to some funding through schemes and grants that companies, or Natural England may have and can help you to identify these. Finally, soil health is the key to improving water retention on land, to prevent flooding and to reduce the amount of soil, pesticides, and nitrates running off into watercourses. Farmers need to focus on soil health as much as yield and crop output.
By doing this yields could increase at the same time as water quality being improved. Ian, you'll be attending Groundswell this year, what are you most looking forward to seeing at the event? I'm really looking forward to attending both days of Groundswell and in particular I'm looking forward to attending the lectures on rebuilding soils. I'm especially interested in the interview with Sue Pritchard, Henry Dimbleby and Rosie Boycott, on 'Does Britain Need a Food Policy?', as I think this will generate a good debate. The event is also a great opportunity for me to meet like-minded individuals to share experiences and develop new networks within the zero-till community.
Farm profile:
• 450 ha split into six blocks
• Predominantly milling variety winter wheat – for Warburtons
• Other crops: WOSR, spring beans, cover and fodder crops
• 65 breeding Herdwick ewes – used to manage the grassland, cover and fodder crops
• 18% of farm is in stewardship
• Predominantly medium loam soil type
• Zero tillage across the whole farm as of last year
Affinity Water at Groundswell
• Stand FY1: Affinity Water Catchment Hub
• Cover crop panel discussion – 10:15am on 26 June in conference barn
• 'Low cost, open-data and DIY approaches to assessing the public goods provided by your land' – 3:15pm 27 June in the conference barn, Sophia Burke and Mark Mulligan
• Rainfall simulator with Jay Fuhrer – at the Affinity Water Catchment Hub
• Catchment augmented reality experience – at the Affinity Water Catchment Hub
• Water station with free souvenir Groundswell re-usable water bottles