Farmers and agronomists in Canada began exploring the benefits of reduced tillage and direct drilling nearly 50 years
ago. The reasons were simple – the need to reduce soil erosion, retain soil moisture, save on fuel costs and reduce
the time taken to establish their crops. It hasn't been the answer to everything, and in some years additional tillage is
required, but the technique has helped farmers achieve the goal of maximum yield while managing input costs.
Here in the UK, direct drilling has become widely adopted lately. One of the drivers has been the emergence of a greater understanding of the need to look after the condition of our soil. The benefits of organic matter and its connection with increased water retention, the improvement in soil structure leading to stronger root growth, more earthworms to break down nutrients and less soil erosion are positive benefits ascribed to no-till. Originating from Canada, the Bourgault VOS system is imported into the UK by Martin Lishman. It is helping farmers to achieve the benefits we have already highlighted. Achieving such results with VOS is the product of many years of Research and Development and listening to farmers' concerns. There are important considerations in coulter design that should be recognised. As Rick Schemenauer of Bourgault Tillage Tools in Canada says, "Not all openers (coulters) are created equal, so it's very important that farmers educate themselves on the subject and choose an opener that makes a positive difference to the results.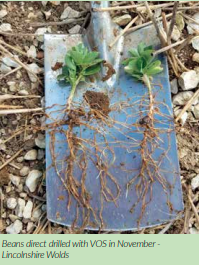 This is especially true when it comes to 'one pass seeding' with high rates of nitrogen fertiliser placed at the same time as the seed. A dual or multi-shoot coulter must be capable of placing fertiliser far enough away from the seed so as not to negatively affect germination or impair the young plant. The VOS 4082 multi-shoot tip has integral outlets with precise horizontal and vertical separation of seed and fertiliser. The furrow is kept open until the fertiliser is delivered precisely and accurately and carbide sealer plates under the tip close the furrow and create a firm seed bed. The shallow angle of the 4" wide wings creates minimal disturbance, a gentle soil flow over the tip and a smooth field finish.
VOS stands for Versatile Opener System, and the range offered certainly delivers on versatility with various options of holders and compatible tips available. Tips come in single or double shoot versions to deliver seed only or seed plus fertiliser; pulses such as beans can be delivered with the same tips or there are specific versions for this purpose. The range also delivers on quality of design and durability. The low disturbance and low draft generated by the tips contributes to low wear rates as well as reduced fuel costs. This is complemented by the high chromium content of the tips and the carbide on the wings which self-sharpens as it wears and provides increased penetration with no soil smearing.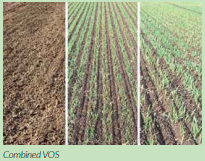 Andrew Harker of H.R.Bourn & Sons, Lincs has been one of the first farmers to adopt the Bourgault system. He shared his experience: "Bourgault VOS has improved the performance of our Horsch drills. Drilling late for blackgrass control, we are seeing less smearing of soil and much less soil disturbance. This is giving us less blackgrass to control in the crop, much improved and more even crop establishment with far better rooting plants." James Porter of Porters Farms (Walpole) Ltd also gives the system the thumbs up: "The Bourgault VOS coulters have greatly enhanced the performance of our Horsch Sprinter drill. They are extremely versatile; we can use them on min-till land and when direct drilling. We have since benefited from even seed depth and less soil movement, which has greatly helped to reduce moisture loss and resulted in an improved crop establishment." A quick look at @BourgaultVOS on Twitter will reveal pictures and videos of neatly and consistently drilled crops accompanied by claims of 'improved drill performance', 'better germination', 'less blackgrass' and 'reduced moisture loss'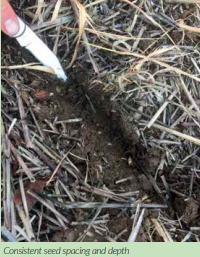 An automatic question on the tip of every tongue will be: how many acres or hectares will the tips last for? Of course, there is no simple answer since different soil types will create different wear rates that are difficult to compare. However, a farmer test in Alberta, Canada reached at least 7000 acres. Perhaps a more relevant question relates to min-till as a cost-saving concept. As observed by Adrian Joynt of Goulborn Farms and reported in Farmers Weekly, min-till enabled them to farm a bigger area with less labour and establishment costs reduced to £65/ha.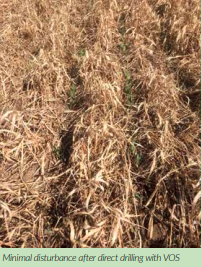 Growers will all have slightly differing views on what they believe is the right approach to cultivation and drilling, and the majority will get it right most of the time. There is no one answer or blanket statement that will suit all. However, Bourgault VOS has proved to be financially beneficial in saving time, fuel and wear; low soil disturbance has meant reduced weeds such as blackgrass and less chemical application; better moisture retention and improved soil structure has contributed to healthier crops, less soil erosion and reduced water quality concerns; and consistent sowing depth and precise fertiliser placement has helped to achieve increased crop yields and less waste. Users seem more than happy with the results, so it looks like a serious choice for not only Horsch drill users but also users of the tine drills from other manufacturers.