5th July 2019 – How to move towards net zero carbon emissions in Farming
Venue: Fir Farm, Lower Swell, Gloucestershire. Generously hosted by Sir Alan and Lady Parker.
A new event has been organised by the Sustainable Food Trust with support from the NFU. The event will explore the unique ability of farming systems to address the threats of climate change. Showcasing the ability of farms to increase biodiversity, increase soil carbon levels, increase soil health and reduce inputs whilst producing high quality, healthy food. This conference was inspired by Minette Batters' target of net zero carbon emissions from UK agriculture by 2040. It is the first NFU/SFT joint event, underlying the urgent need to work collaboratively as farmers to address the challenge of climate change.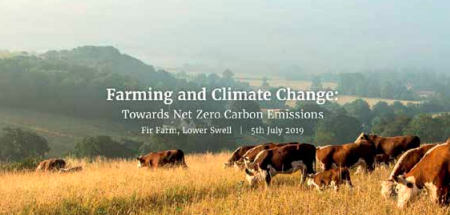 They are inviting farmers, policy makers, investors and other stakeholders to join the event in exploring the practical, policy and economic changes that are needed to enable a transition to sustainable agriculture. We very much hope that direct drilling, regenerative and conservation agriculture will be the buzz words at this event and that this will lead to a greater light been shone on the good work many farmers have done to make their farms both physically and financially sustainable.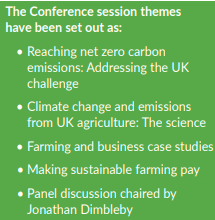 Speakers at the event include: Minette Batters – President, Jonathan Dimbleby, Professor Dieter Helm – Chair, Natural Capital Committee, Patrick Holden – CEO, Sustainable Food Trust, Tony Juniper – Chair, Natural England, Professor Michael Lee – Rothamsted Research, Charles Massy – Australian author and farmer, Henry Edmunds – Cholderton Estate, Gail Bradbrook – Co-Founder, Extinction Rebellion, Nicolette Hahn Niman – Author of 'Defending Beef'.
Direct Driller Magazine will be attending and writing up the event in the next issue