Affinity Water has been working with local farmer, Rob Fox, to investigate the role of companion cropping on improving water quality, soil health and crop protection. Direct Driller, delves into what they've found from the ongoing trials.

Catchment areas in the UK are largely dominated by agricultural land, which makes collaboration between water companies like Affinity Water and farmers essential to protecting essential natural resources – water and soil.
Cover crops play an important role in building soil health and are a key part of Affinity Water's strategy to help make catchments more resilient to the weather extremes experienced in recent years, reduce soil erosion and fix excess nitrate in soils which can potentially impact groundwater quality.

The Affinity Water catchment team has been working with farmers in their catchments to fund cover crops and so far, have funded over 3700 hectares since 2020.
To take this further, the company has been trialling the use of companion crops with home counties based farmer, Rob Fox.

Companion cropping trials
Rob Fox, farm manager at Woodhall estate in Hertfordshire, has been working with Affinity Water and Alan Dewar at Dewar Crop Protection to look at how companion cropping in oilseed rape (OSR) could protect nearby watercourses from herbicides losses and help benefit crop production.
The first trial in 2021/22 focused on sections of an OSR field, where selected companion crops, buckwheat, fenugreek and berseem clover were planted in with the OSR and compared against a control area of just OSR.
The results from the first trial showed benefits for water and the crop also experienced less flea beetle damage in the OSR which had companions compared to area with no companion crops planted.
"It was clear from these results that companion cropping was delivering for the crop as well as the watercourses," says Mr Fox.
A year on, they have carried out a replicated trial to measure the true impact of companion cropping on a larger scale.
"This year we're carrying out a replicated trial in OSR that's under-sown with both berseem clover and buckwheat. The trial spans 23 tramlines across a 30-hectare area, along with a control area which has no companion crops planted," he says.
"Having such a large area of replicated trials allows us to make meaningful comparisons, including with crops that have had no companion crop planted," he says.
Mr Fox explains that flea beetle control and the promotion of soil health are most important from the farm business perspective.
He says: "From the farm's point of view, we're trying to reduce the flea beetle burden on OSR at establishment, improve soil health and promote more sustainable pesticide use to protect nearby watercourses."
"We're already seeing some promising results from the ongoing trials, especially when it comes to flea beetle damage. When comparing the two areas it's clear that there is much less damage in the companion cropping area," he says.
Dewar Crop Protection carried out cabbage stem flea beetle assessments which showed the positive effect of the companion cropped plots of OSR. More of these trial results will be revealed at Groundswell in June. Growers are encouraged to visit the Affinity Water stand to learn more.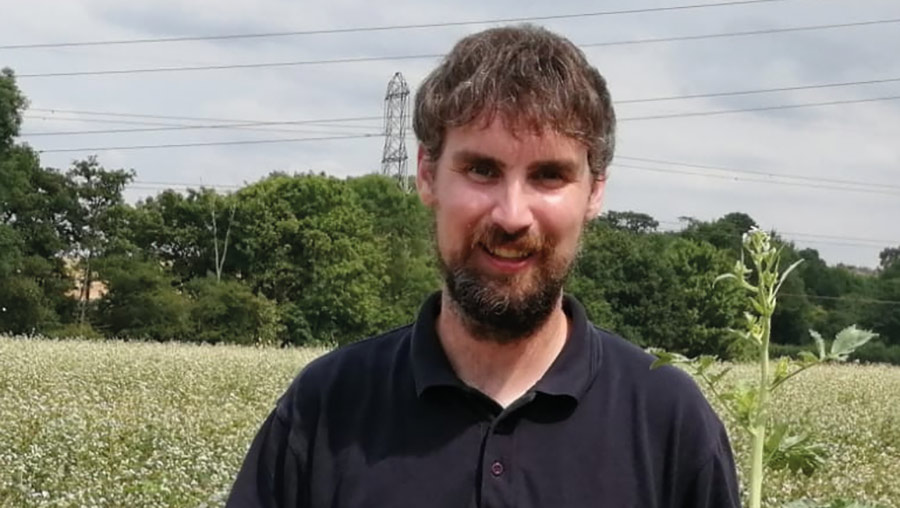 The benefits for soil and water

Danny Coffey, agricultural advisor at Affinity Water, explains that companion cropping in OSR could have huge benefits that farmers can reap, not only for water quality but soil and crop health.
"Firstly, companion crops in OSR such as berseem clover appear to reduce soil water concentrations of herbicides, such as propyzamide, due to additional vegetative cover they provide over winter," he says.
"While growing, the additional protection companion crops provide, may help reduce herbicides being lost from fields and protect the environment and water supplies. r. The trials run at Mr Fox's farm have been very interesting and really helpful for us as we develop the funding on offer to farmers in target catchments".
"Companion crops also have the potential to help improve soil health. Once they're incorporated into the soil that is additional organic matter which is added and if a legume, such as clover, has been used – like in this trial – their nitrogen-fixing characteristics serve to increase soil fertility."
"The results so far have been really encouraging and we have learnt a lot from working with the Woodhall Estate about the practicalities of companion cropping and how we can best support farmers."
Longer term, Affinity Water will continue to work with the farming community who are helping to improve soil health across catchments, protect water quality and the safeguard the environment, as well as produce food for the nation.
"There's a lot of interest in the results of these companion cropping trials so far and we look forward to sharing them with farmers at this year's Groundswell," he says.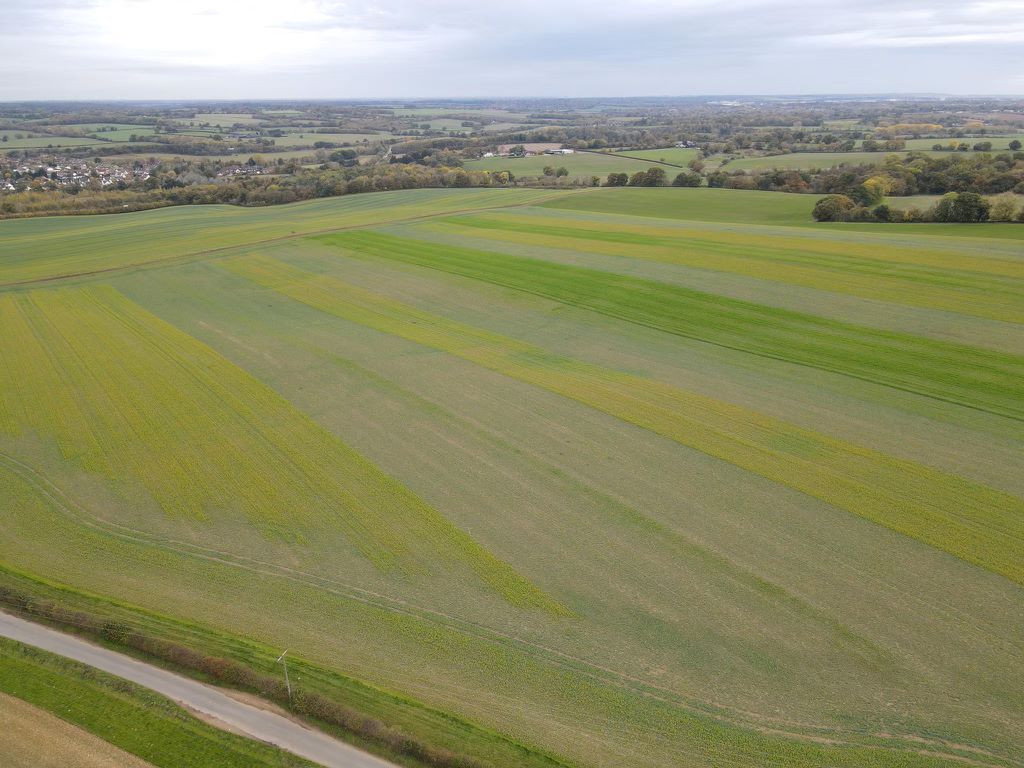 Affinity Water at Groundswell
Affinity Water is the largest 'water only' company in the UK, serving over 3.8 million people in the south-east of England.
Affinity Water will, once again, be the headline sponsor of Groundswell, demonstrating healthy soils, cleaner water and a sustainable future can all be delivered on-farm, by showcasing the results from their recent companion and cover cropping trials .
Companion cropping is one of the initiatives Affinity Water's catchment team has been supporting farmers in their catchments to implement to help reduce losses of the herbicides such as propyzamide to watercourses, rather than relying on expensive end of pipe treatment solutions.
Mr Coffey adds: "Groundswell allows us to learn more about regenerative agriculture, highlight the journeys which many farmers are on to improve their soil health.
"Healthy soils buffer extreme weather events, the water that falls onto soils rich in organic matter is filtered as it drains into water courses and infiltrates down into aquifers – soil and water are intrinsically linked and well-functioning soils across catchments, is the most sustainable form of water treatment there is.
"There are so many pressures on farmers today to not only make land management decisions which sustainably produce our food, but expectations to enhance biodiversity, sequester carbon and protect our water.
"As a water company, we benefit from this way of farming across our supply area, the insight farmers share with us and it is only right that we support farmers in this journey."

Delegates are encouraged to come along to the stand to talk to the Affinity Water catchment team about their catchment management schemes and ongoing trial results.
Farm Facts:
Woodhall Estate, Hertford, England
Farming: 3,500 ha mixed farm, with 2,000ha arable crops
Primarily producing wheat as well as barley, oilseed rape (OSR), oats and beans.
Over 9% of farm is in stewardship
Affinity Water at Groundswell
Stand FY1: Affinity Water Catchment Hub
Rainfall simulator video – at the Affinity Water Catchment Hub
Free souvenir Groundswell re-usable water bottles
Catchment hub area representatives include; Herts & Middlesex Wildlife Trust, University of Reading, Cranfield University and Affinity Water's biodiversity team