By Toby Simpson NSch @tjsimpson
Cast your mind back to January 2021, that particularly cold, dark, and dreary month made infinitely worse by the fact we were in a third lockdown with no end in sight. For me this was the background to an epiphany, while sat by the fire reading through old Nuffield papers, and perhaps after one whisky too many, I concluded that 8 weeks of travelling abroad might be just the tonic I needed to remedy this dark chapter.
I had been contemplating what cover crops to grow in our second year of trying them out. We had recently moved into more of a direct drilling system following 20 years of scratch till during which Dad had consistently improved our predominantly clay loam soils. I had long suspected that cover crops should also have a place on the farm, but I needed to prove it first.
The idea of travelling the world chatting to people about cover crops and soil seemed too good to be true. I first had to clear it with my family who have been incredibly supportive throughout. After that I really didn't know what it involved. Luckily my friend Teresa Meadows had started hers the year before and kindly explained how it all worked; I completed the online application, which is like filling out a CV, and if shortlisted I would be interviewed in London. Simple enough so it seemed, though the addition of a 30 second self-video was completely new to me, and I cringe now watching my first attempts. I settled on the title 'Catch and cover cropping opportunities in UK arable agriculture'.
No sooner had I started to fill out the application that Charlotte Merson, Nuffield's Alumni Officer, was in touch with some helpful tips and ensured I was able to join in with the Chair and Regional Chair on an informative Zoom chat (still a novelty at this point). I continued to feel welcomed and supported throughout the application process.
In September 2021, I attended a regional mock interview during which Tom Chapman, Andrew Scoley and Teresa Meadows questioned me on my subject and motives, while Matt Swain, who later would become my Nuffield mentor, provided first class advice in the waiting room. All of this meant that by the time I reached my London interview in October I was feeling nervous but well prepared, and that the Nuffield community was most certainly something I wanted to be a part of.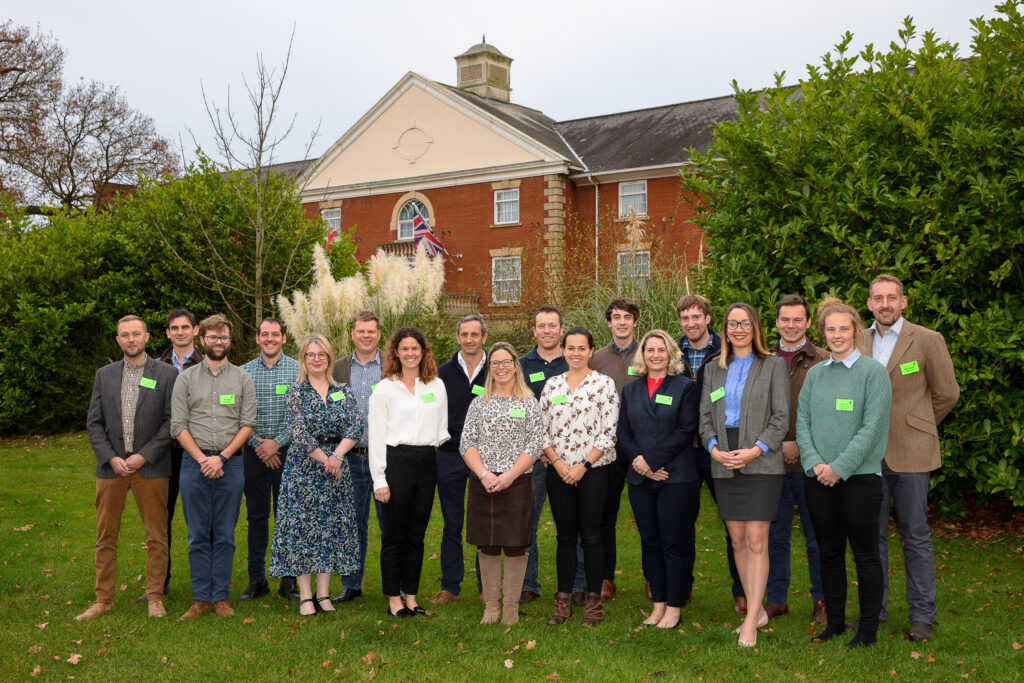 Luckily the selection panel seemed to agree. Something I had realised by that point was that it really doesn't matter where you come from or what academic and business credentials you possess, if you are passionate about something and are in the mindset to learn, then Nuffield is for you. This was further confirmed when I met the rest of the 2022 Scholars at the annual conference training day in November 2021. Pulled from right across the industry, the range of experiences and backgrounds was vast. I felt instantly inadequate as a humble arable farmer having never really done much in the industry before and yet I had never met such a bunch of kind-hearted, brilliantly funny and interesting people – instantly friends for life.
My resounding memory from that first conference was walking into the bar on the first evening as the rest of the delegates were arriving. I couldn't make it two meters before I was engaged in a deep conversation with a complete stranger. Everyone in that room was there to learn and share knowledge, Nuffield Scholars and guests alike. I felt instantly part of a global network of forward thinking and inspiring people, and it was humbling. In the spring of 2022, all the '21 and '22 scholars from around the world attended a first-class Contemporary Scholars Conference in Norfolk hosted by Nuffield UK. Alongside our pre-CSC week in London, it was an amazing opportunity to get to meet everyone undertaking this adventure.
I set out on my Nuffield travels wanting to look at the practicalities of cover cropping and the subsequent opportunities around them, such as integrating livestock, public engagement, and access to private and public funding. I had decided to break my 8 weeks of travel down to manage the work and family life balance, and due to cost only planned to visit places in the northern hemisphere. That gave me a period from post-harvest '22 to spring '23 to see cover crop practices in action.
I headed to Scandinavia in September 2022 and – being famously expensive – I had bought a roof tent for the family Discovery Sport and planned to camp along the way. The excitement and nerves I felt on the first morning I set off from home in Cambridgeshire was akin to the first day of university or Sandhurst, but with wellies in my car boot and not an ironing board in sight. I crossed to Hook on the ferry from Harwich then headed to Norway via Germany, Denmark, and Sweden. It was an incredible drive through some stunning scenery. A highlight was camping on the water's edge in Sweden after 10 hours in the car: I jumped straight in and felt the long journey being washed away by the icy water and late summer sun.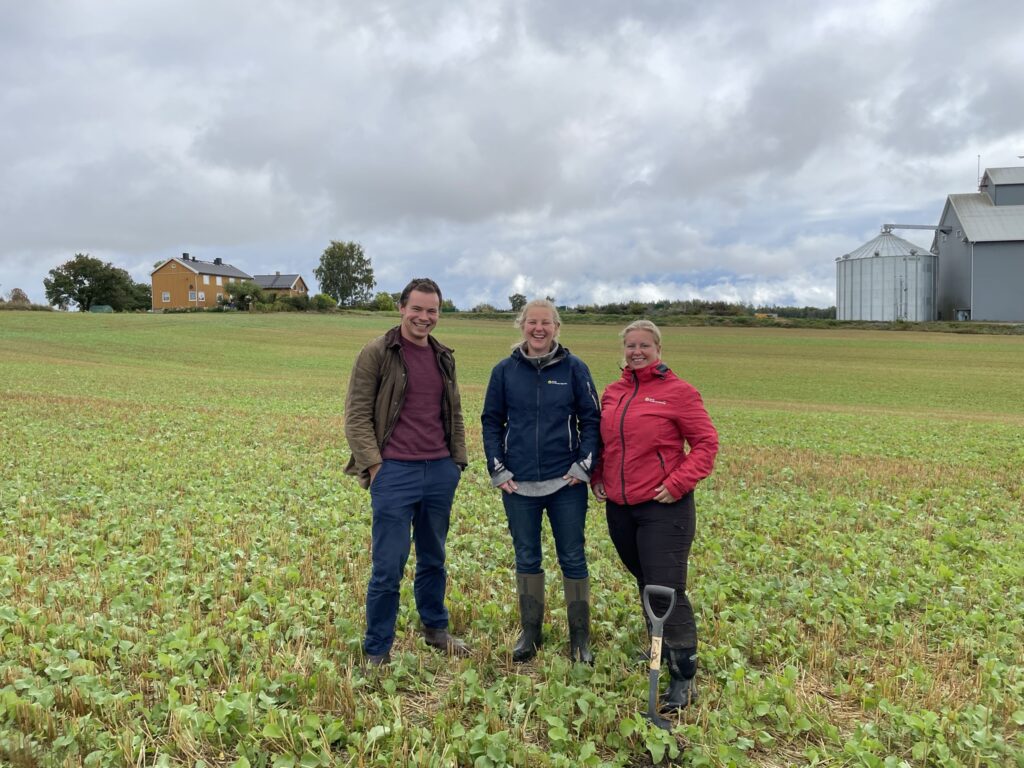 The next day I met Else Villadsen and her colleague Maren who had visited my farm before Groundswell with some of their farmers. So, after being questioned by the Norwegian boarder guard about why on earth I was visiting Norway to look at cover crops (it's so absurd it must be true), I was given the grand tour of some incredibly progressive and innovative farms. Given the short growing season and challenging soil it was the perfect place to see what could be achieved with the right mindset.
Not for the last time on my travels, the wheels metaphorically, and almost physically, came off my plan. The famously reliable Land Rover Discovery Sport decided to blow its turbo on my first evening in Norway. Who could have predicted that…
And so, I was on to plan B, or was it C? Relying on the kindness of my hosts and using hotels, hire cars, and flights, I managed to complete the rest of my trip. From there I flew to Copenhagen and visited some incredible farmers, seed breeders, and industry experts in Northern Germany, Denmark, and Sweden. I fell in love with Scandinavia and the kind people there, and I came back home buzzing with ideas and even more questions.
My second trip was to France, taking the Eurostar this time and hiring a car as the ill-fated Discovery was still being 'repatriated'. I drove to Brittany and met Pierre-Yves Donval who proved that being on heavy clay over clay with 1200mm of rain a year on average is no barrier to no-till and cover cropping.
Following the advice of John Miles, I was kindly hosted and put up by the Agrii soils group along with fellow Nuffield 2022 Scholar Chris Taylor. Steve Corbett and a group of Agrii agronomists and farmers from across the UK were in Northern France for a few days to look at trials and presentations from the French seed breeders Cerience. It was a great couple of days meeting other farmers and advisors, and we were incredibly well looked after by Jerome Vasseur. Before I got the train home, I was able to squeeze another visit in to see Frederic Remy and a quick culture tour of the Louvre!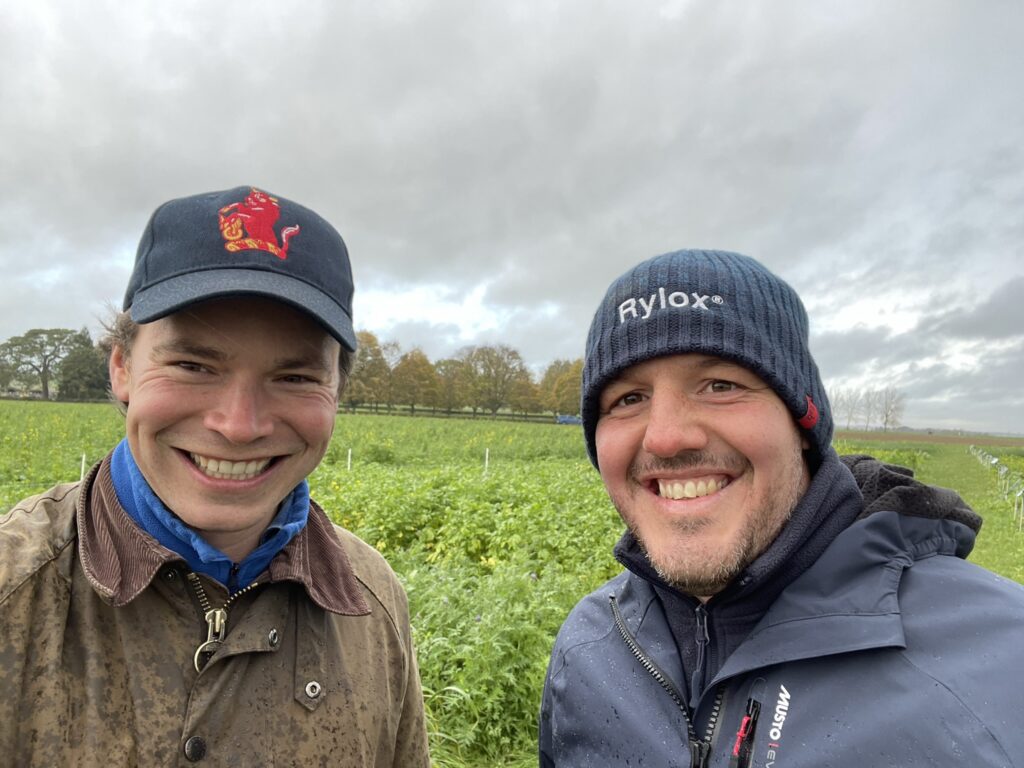 As I wanted to make the most of the Nuffield opportunity, I had also been visiting some brilliant farmers in the UK whenever I got a chance. Jake Freestone, Martin Lines, Steven Briggs and Ed Horton had all kindly hosted me at some point in the spring of 2022. I put out a tweet in the autumn asking for anyone in the UK who might be happy to show me around and I was inundated with dozens of kind offers, so put a plan together to see as many of them as physically possible.
Over a few weeks in the autumn, I set to and bounced from farm to farm mostly around East Anglia, Lincolnshire, Yorkshire and Gloucestershire. There were so many inspiring and generous farmers who I was able to spend time with and I felt really privileged to have been able to meet them. I wish I could have seen everyone who had offered but I think I would still be going at this point if I had. It proved to me that it certainly isn't strange for farmers to talk about improving soil health and that many had been doing so for years. It is these farmers who are leading the change, the pioneers implementing and experimenting with new things that have forced the rest of the ag industry's research and government policy to follow.
My final trip was to North America in the spring of 2023. By this point I had come across many fascinating ideas and concepts, and we had been trialling integrated livestock grazing and many other things on our farm. But I really needed to add some clarity to all this to bring my Nuffield to a conclusion and make sense of some of the things that had been ever so slightly scrambling my brain.
By now I was well practiced in hiring a car and driving farm to farm meeting fascinating people, I really enjoyed that freedom, being able to follow my nose and recommendations, nothing too fixed in stone. The time driving gave me the opportunity to process my thoughts and catch up on a multitude of audiobooks and podcasts. I travelled from NYC to Cornell University first, then on to western New York state, Ohio, and Ontario, Canada, before heading back to where I started to fly home.
I experienced incredible generosity from everyone I met, including the famous Nuffield hospitality from Canada Chair and cover cropping legend Blake Vince. Again, I met so many inspiring and pioneering farmers including Donn Branton and his son Chad.
The highlight was meeting David Brandt, a no-till and cover cropping godfather with over 50 years of experience. For me this was where everything came together and made sense. I could see what happens when you look after your soil for so long and have that right mindset of always wanting to learn and try things. Sadly, as I write this, I have learned that David passed away today, only three weeks after visiting him. Having spoken to many others who knew him well I can only begin to imagine how many people he has mentored and inspired, and his legacy will undoubtedly continue to do so.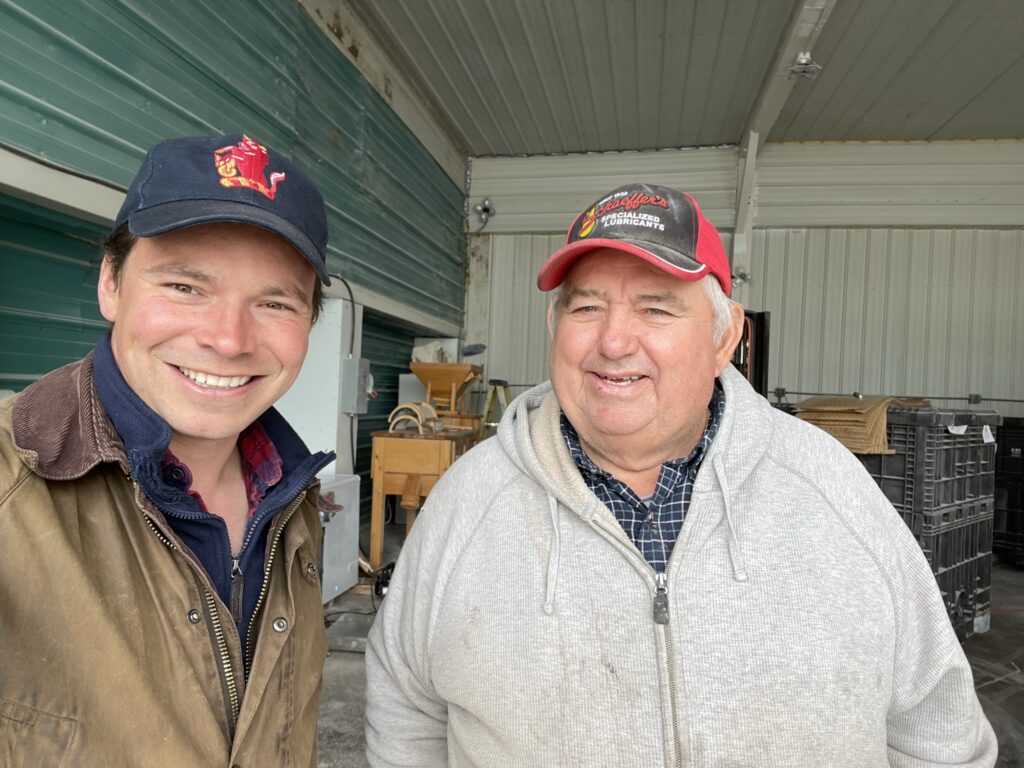 As I reflect on the journey I have been on over the last two years, I cannot overstate just how incredible the experience has been for me. I have met the most inspiring and kind people while spending time in breath-taking landscapes, and it has given me the chance to step away from my business with an open mind to learn and challenge ideas. I come back home now with huge enthusiasm and a hunger to keep learning and sharing ideas with people. I have the small task now of writing up my Nuffield report, creating a three-minute video of my travels, then presenting it all at the November 'Super Conference' in Exeter.
I certainly have come back with more questions than answers, but I also am looking at the farm and our soils in a completely different way than when I first set out. For anyone interested in more detail about my Nuffield and findings the report will be out later this year.
I would like to encourage anyone thinking of applying for a Nuffield Scholarship to just do it. There is never a good time, and it has been hard to get the balance between work, family, and travels right. But anything worth doing never came easy. I would also highly recommend anyone who is after a great couple of days out and enjoys sharing ideas with strangers to attend the Nuffield conference in November. Tickets are open to everyone regardless of who or what you know, and there are always brilliant speakers, Nuffield presentations, and incredible hospitality.
I would like to thank my generous sponsor McDonald's UK & Ireland, my family, and friends for being the support network that has allowed me to step out of my life and do this, as well as everyone I have met and chatted to along the way, even briefly, for being so generous with their time and knowledge.
Applications for 2024 Nuffield Scholarships are open until 31st July – for more details, please visit www.nuffieldscholar.org.
Toby will present his findings alongside nearly 40 other Scholars at the 2023 Nuffield Farming 'Super Conference' held 14-16th November at Sandy Park in Exeter. The event includes two days of Scholar presentations and a pre-conference visit to nearby Wastenage Farms, and tickets are not exclusive to Nuffield Scholars – ALL are welcome and encouraged to attend. Ticketing details, a full conference programme and a full list of presenting Scholars can be found on www.nuffieldscholar.org