July 2023
Colleymore is a National Trust farm that forms part of the Coleshill and Buscot estate. My family and I arrived here in 2021, having lived and farmed in France. Of the 295Ha, around ¼ is permanent grass. The rest is Grade 3 arable, predominantly clay. It shares the same characteristics as the clay soils we farmed in France – a very small window between being too wet to work and too dry to work!
In France, there were very difficult years both financially and psychologically as I tried to find ways in which to combine growing crops with turning around the heavily degraded soil, much of which had been reduced to 0.5% organic matter. I was doing so at the same time as learning the vast array of skills required to be a farmer, skills of which society at large is completely unaware and of which I was too at that point, coming from a family with no farming background.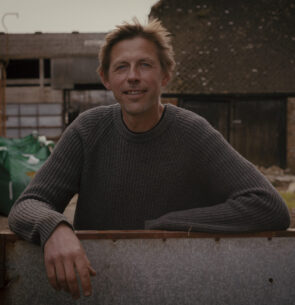 As various cropping systems finally began working, I added value to our harvests through milling and baking. Eventually a farm shop served the local community, the farm hosted regular visits, and our customers were very engaged in supporting our farming practices.
Wildfarmed began as a collaboration with two friends from other walks of life completely and came from a conviction that we need these kind of field to plate supply chains at scale in order to create stable and fair prices for farmers, and engagement in the food system from customers. Both elements I believe critical if we are to create a food system that can address the environmental and health crises which we are confronted. There are now 55 farmers in the Wildfarmed community, which has taken on a life of its own and is a wealth of shared knowledge and agronomy support.
At Colleymore I'm treading a delicate balance between paying the rent whilst trialling different things which we might want to recommend to our growers. For example, plant diversity is an important part of the Wildfarmed Standards that we all follow. This requires cereals to be grown in the company of one or more companions. Wheat and beans or barley and pea are well-established combinations amongst many of our growers. To refine these further, this spring at Colleymore we planted both using variable rates for the legume element, from 40% to 70% of the full rate. Last year we combined wheat with crimson clover and linseed, or barley with pea and rape. We're also working with perennial inter rows.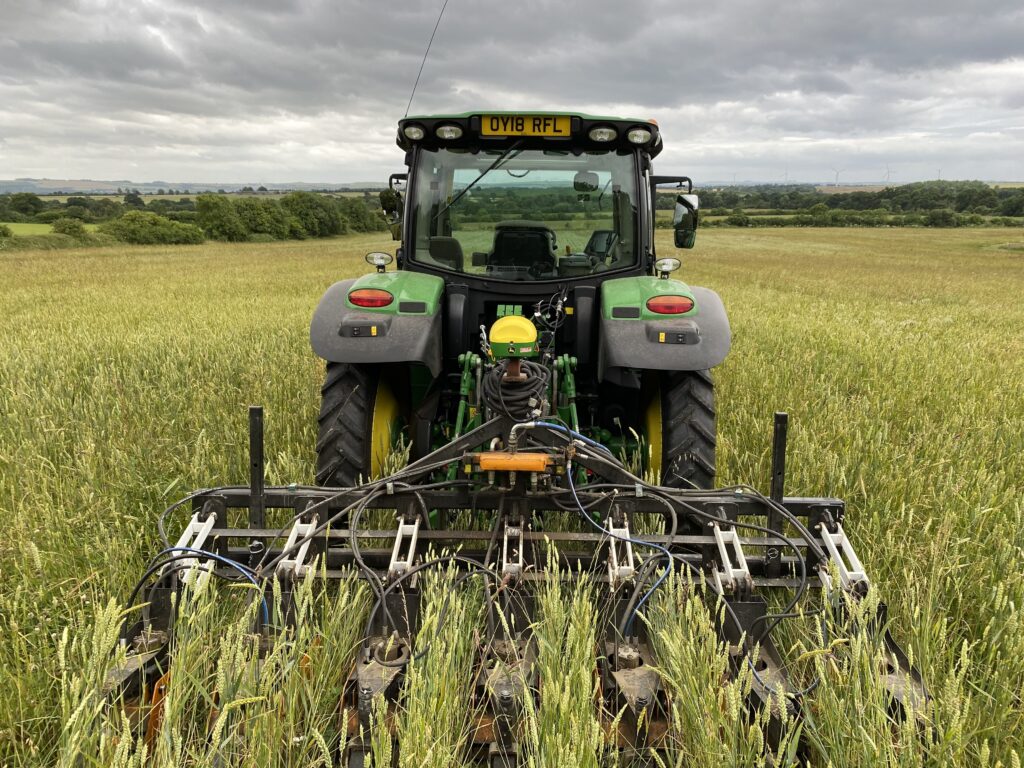 This is in fact where my polycropping began – the design of an inter-row mower to manage permanent pasture between crop rows. The mower went through many different versions and modifications before arriving at today's design. Several of our growers now have one built along the same lines and are using them to manage both annual and perennial inter-row combinations.
We operate on a 50cm centre strip till system, and have tried various drills over the past couple of seasons to plant these strips, from a Rapid with every other pair of coulters blocked off, to a Sprinter running a second (front) tank to deliver different seeds to every other leg. One of the headscratchers when doing this is symmetry, and in the case of the Sprinter, it required running the drill width at 575cm and installing a solenoid on the outer coulters that toggled on and off to keep alternating rows across the field. You'll see what I mean if you map it out with pen and paper!
American agronomist John Kempf often speaks about the enormous potential of seed drenching or inoculation, and Trevor Tappin's liquid applicator has moved around the different drills we have tried, to apply various biological brews at seeding.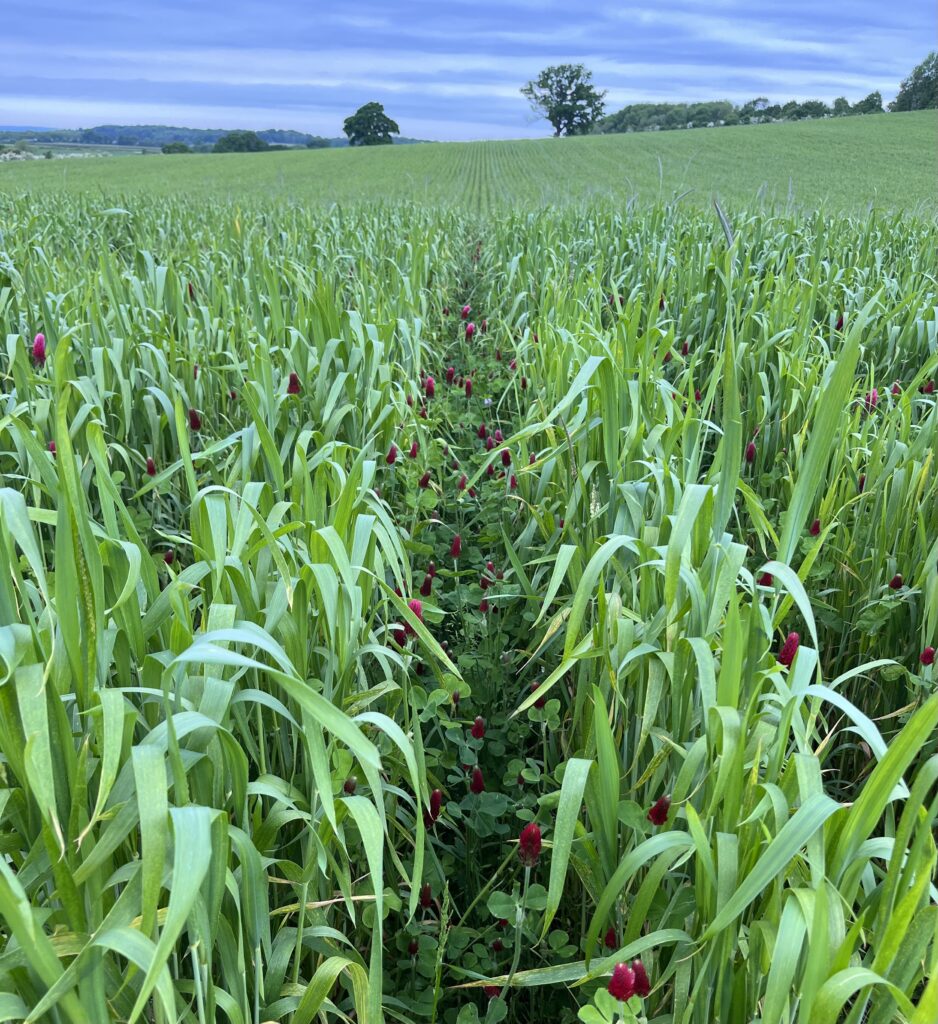 When working with annual crop combinations, one question is whether there is any advantage in a strip layout that creates a kind of in-field rotation. i.e. drilling wheat and crimson clover strips in 25cm centred bands this year, harvesting both, and next year doing the same but with the wheat where the clover was. Given the interconnectedness below ground, perhaps this is over complicating things, and it would make no difference to mix everything up and drill it together. I suspect the answer is the latter, but using the strip layout with the mower allows me to try different combinations of plants where I'm not sure the harvest dates will synchronise, knowing that I can manage the inter row strip if I need to.
The vast majority of Wildfarmed growers use single tank drills to plant their combination crops and ultimately the simpler we can keep the creation of a diverse environment in which nature can do the work, the better. From a Wildfarmed perspective, building a community of farmers all of whom are working with plant diversity in some form, has required creating an effective post-harvest infrastructure so that we can process the different crop combinations. From this harvest, we have teamed up with Robin Appel who have the capacity to separate large volumes according to size, colour, and weight.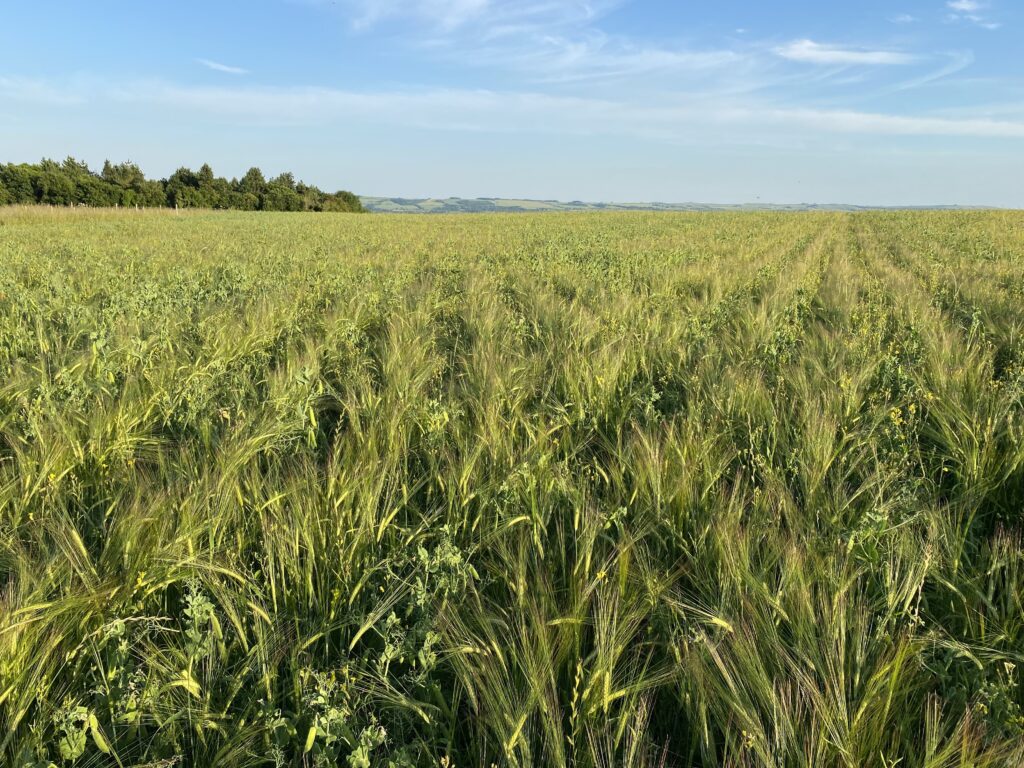 We are working with Rothamsted's Andy Neal to further understand the changes in soil biology that follow increased complexity above ground, as well as running an experiment comparing glyphosate and tillage on the soil microbiome. We use Soilmentor to help track changes, and SAP testing to assess the need for any nutritional applications. There is so much to learn, and fascinating things to try. One of the joys of being part of a community is that we can learn so much faster.
We're always looking for new growers to join our community, so please drop Harriet a message for more information.: Harriet@wildfarmed.co.uk