Change of administrator for the National Register of Sprayer Operators (NRoSO)
It has been a busy 12 months for the Voluntary Initiative, making arrangements to transfer The National Register of Sprayer Operators scheme to BASiS our new scheme operator. Andy Lister is the new NRoSO Membership Manager. Andy gives an update on BASIS and how delivery of NRoSO will unfold over time. The new dedicated telephone helpline has greatly assisted over the past few months and keep your eyes peeled for the digital NRoSO newsletter.
The NRoSO Advisory Board has had a refresh and met with the new scheme operator to offer support and advice on sprayer operator professional development, the annual training event, knowledge trails at shows, integrated pest management and best application practice.
Work is underway for the 2023/2024 Annual Training Event; this will be a new format from BASIS and see improvements to the knowledge transfer and test procedure.
The VI and NRoSO will be exhibiting at Cereals 2023, Groundswell, Fruit Focus, CropTec 2023 and LAMMA 2024. Pop by the stand to claim NRoSO and BASiS CPD points.
Pesticide enforcement officer visits to start October 2023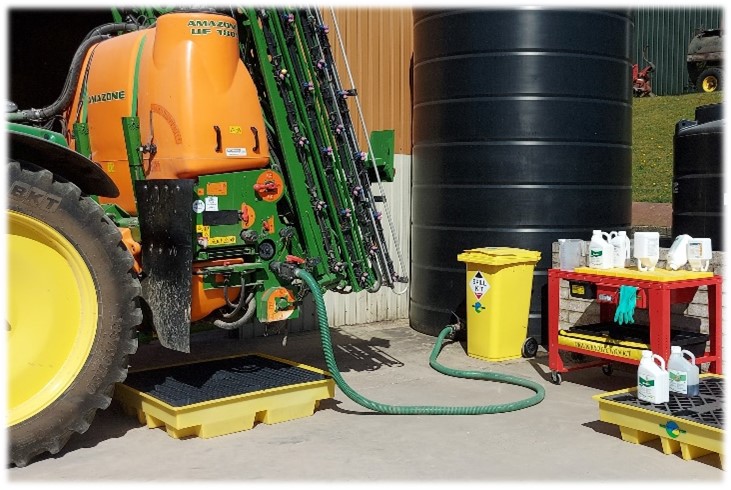 Please check with your agronomist that you're complying with your duties under plant protection product law. They may include confirmation of the registration submitted under the Official Controls (Plant Protection Products) Regulations 2020.
The role of a pesticide enforcement officer (PEO) is to conduct official controls on operators throughout the plant protection product (PPP) supply chain in Great Britain (England, Scotland and Wales).
Operators include importers, manufacturers, formulators, those who package and label PPP's, distributors/sellers and users of PPP's authorised for professional use.
The following links may be useful:
https://www.hse.gov.uk/pesticides/enforcement/peo-visit.htm
https://www.naac.co.uk/download/hse_publications/Storing-pesticides.pdf
https://voluntaryinitiative.org.uk/media/ie3j5hdj/bpg-pesticidestorage-6_small.pdf
Events – Water Protection
Through June and July, the Voluntary Initiative is organising a series of free events to highlight the need for careful stewardship to safeguard water.
Each of the Water Protection Days will include information on:
Securing grants and funding for water protection.
Current topics, filling and application & best practice.
Combining food production and environmental protection.
Events will take place on mixed, arable and grassland farms and are open to anyone with an interest in water stewardship such as farmers, sprayer operators and agronomists.
Thursday 13th July 2023, The Grange, Mears Ashby, Northamptonshire – Arable, in collaboration with BASF. 10.00-15.00
We are also organising an autumn grassland event with United Utilities & a September webinar is in the pipeline.
Register for all events:
https://voluntaryinitiative.org.uk/news-events/2023/arable-and-grassland-water-stewardship/
BeeConnected
– is an online tool that does what it says on the tin, connects beekeepers with farmers and vice versa. It's free, quick and easy to use, and is designed to send anonymous notifications to surrounding beekeepers whenever you apply insecticide to your fields.
Developed in association with the NFU, BBKA (British Beekeepers Association) and CropLife UK, BeeConnected is funded and administered by the VI and currently connects more than 3000 beekeepers with nearly 2000 farmers.
For more info on The Voluntary Initiative, email us: mailto:info@voluntaryinitiative.org.uk