After five years of cover crops and reduced tillage cultivations, Kent farm manager Dom Hughes reviews his experience – and how good advice has been vital to not making a mess of it.
"Slowly, slowly catchee monkey" has become my mantra. This old English proverb, which is another way of saying 'be patient', is perhaps the most apt way of describing the transition to a less intensive cultivation regime. It also helps to inject a modicum of humour to a process that has at times being both stressful and frustrating.
Across 800 hectares of sandy loam over chalk in north Kent and silty and clay loams in East Sussex, M. C. Atwood & Partners follows a rotation of combinable crops that is typical of the lowland England. In most seasons this is winter wheat – winter wheat/spring barley – winter barley – winter oilseed rape/winter beans/spring linseed.
The intention is to have roughly half the farm in winter wheat as this is consistently the most profitable cash crop. None of the break crops are especially impressive, but with the alternatives even less worthwhile, we persevere.
My focus over the past five years has been to maintain output performance while simultaneously preparing the business for the withdrawal of direct payments and the introduction of a system geared towards environmental actions.
Until 2018 a Simba Solo performed most of the cultivations with some land ploughed. Crops were then sown using a Vaderstad Rapid drill. This regime worked well, but there was a recognition that it was not sustainable. The policies emerging from Defra at the time (and since) favoured a less intensive approach and within the business there was the view that our spend on crop establishment was too high.
Around the same time we took on a new agronomist in Neil Harper of Agrii. Neil has been central to our efforts to develop a new system. His understanding of the farm and the reasoning that is guiding our decisions has helped to ensure we make good progress. He also appreciates that this is not some form of pseudo religion that puts philosophy above profitability.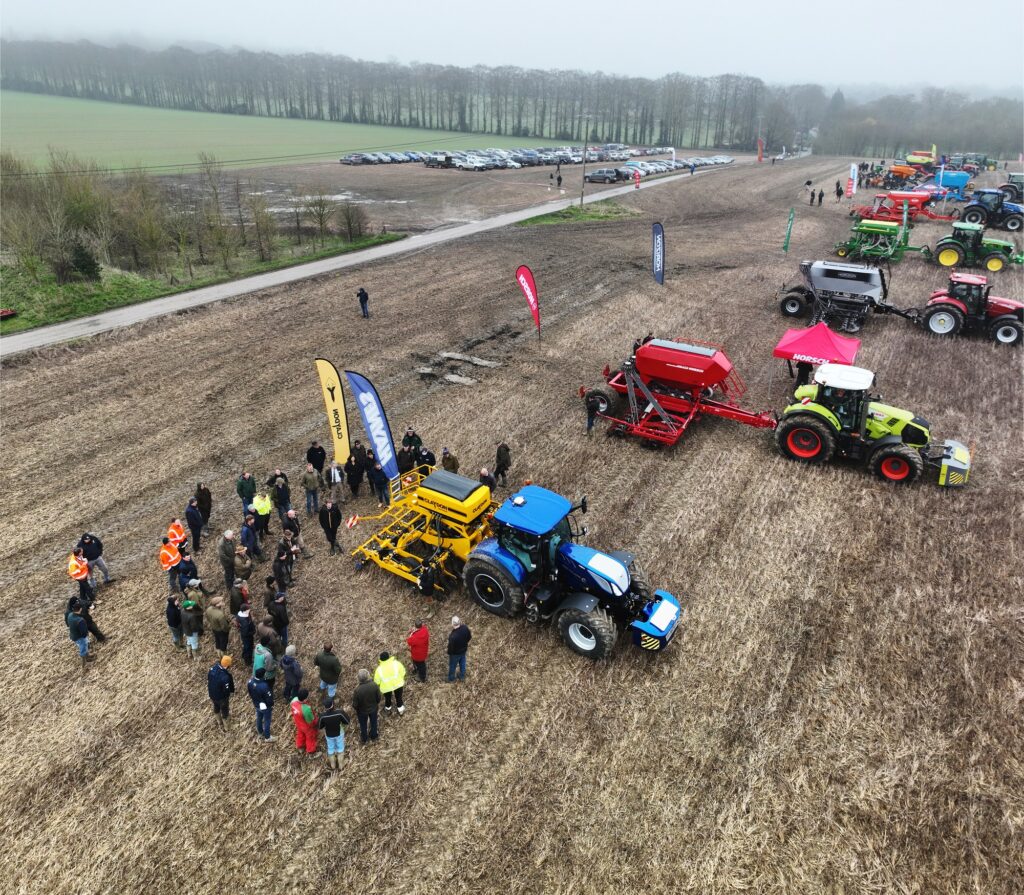 Under the Ecological Focus Areas introduced as part of the greening measures, we began to experiment with cover crops. We noticed that in some situations this made the soil easier to work. This spurred our interest and through regular inspection digs to monitor changes, several visits to Agrii's research farm at Stow Longa and follow-up discussions with Steve Corbett, Agrii trials manager, we began to take a more serious interest. We were made aware, however, that it is not all rainbows and unicorns; it can take many years to see the benefits, especially financially. This was sage advice and we have found our way both slowly and cautiously hence the idiom at the start of this article. Cover crops now form part of the rotation and are established in the autumn ahead of the spring barley. In some years this can be as much as 20% of the farmed area.
In the years since 2018 we have sold the Simba Solo and bought a less aggressive disc cultivator that wears less metal and requires less diesel to pull. The Vaderstad Rapid has been replaced by an Amazone Cayena.
Silt is the main component in most lowland mineral soils and it is the reason why our endeavours with direct drilling have yielded mixed results. It naturally settles out to form a solid layer that roots can't penetrate. During periods of dry weather when crops can't access moisture the consequence of this are clear for all to see. We've direct-drilled oilseed rape and some winter beans with success but found that it doesn't suit linseed. There are some cost savings, but they are minor in the grand scheme. When the reduction in output eclipses the savings in costs, it's time to ask the obvious questions. This was the situation we found ourselves in after direct-drilling wheat into linseed stubble. It drilled fantastically but yielded 1t/ha less than that sown into cultivated ground.
In contrast, we have found that drilling into a cover crop results in better performance [than sowing into stubble]. There are, of course, other considerations. Less surface run off into ditches or out of gateways are non-cash benefits, but as an employed farm manager, my first responsibility is to maximise profitability, albeit within the framework of good environmental practice.
This harvest we will trial a short season cover crop consisting of a legume mix for the eight to 10 weeks between harvest and autumn drilling. We will see how it goes, but it must not jeopardise the autumn drilling window. We have a 10-14-day window in October when we need to complete our autumn drilling; if we are not drilled up by late October, yields suffer.
Cover crops versus metal
My interest in cover crops extends to their soil conditioning properties. I am not so naïve to think they can replace metal, but there must be a happy middle ground. Based on what I and Neill have observed so far, a cover crop mix of phacelia, vetch, buck wheat and linseed looks to be the best for our situation. As for low disturbance sub-soiler cultivators, I'm leaning towards the He-Va Stealth from Opico.
I've also sought to recoup the cost of the seed by renting out the cover crop for winter grazing. I accept that sheep can have a place on an arable farm, but it is not an experience I wish to repeat. We found that they tread the ground a little too much, especially when its wet. This removed much of the soil conditioning benefits of the roots. We ran a split field comparison and after comparing establishment performance and scrutinising the costs to allow for different N Min values, the cover crop without sheep was the most viable option.
I've tried to be more analytical rather than anecdotal in my assessments. I've compared the soil analysis results from pre- and post-cover crop regimes; I've considered soil health indicators such as worm numbers and whether yields have shown less variation. On all points there are signs of encouragement, but it will take a few more years to confirm we are on the right path.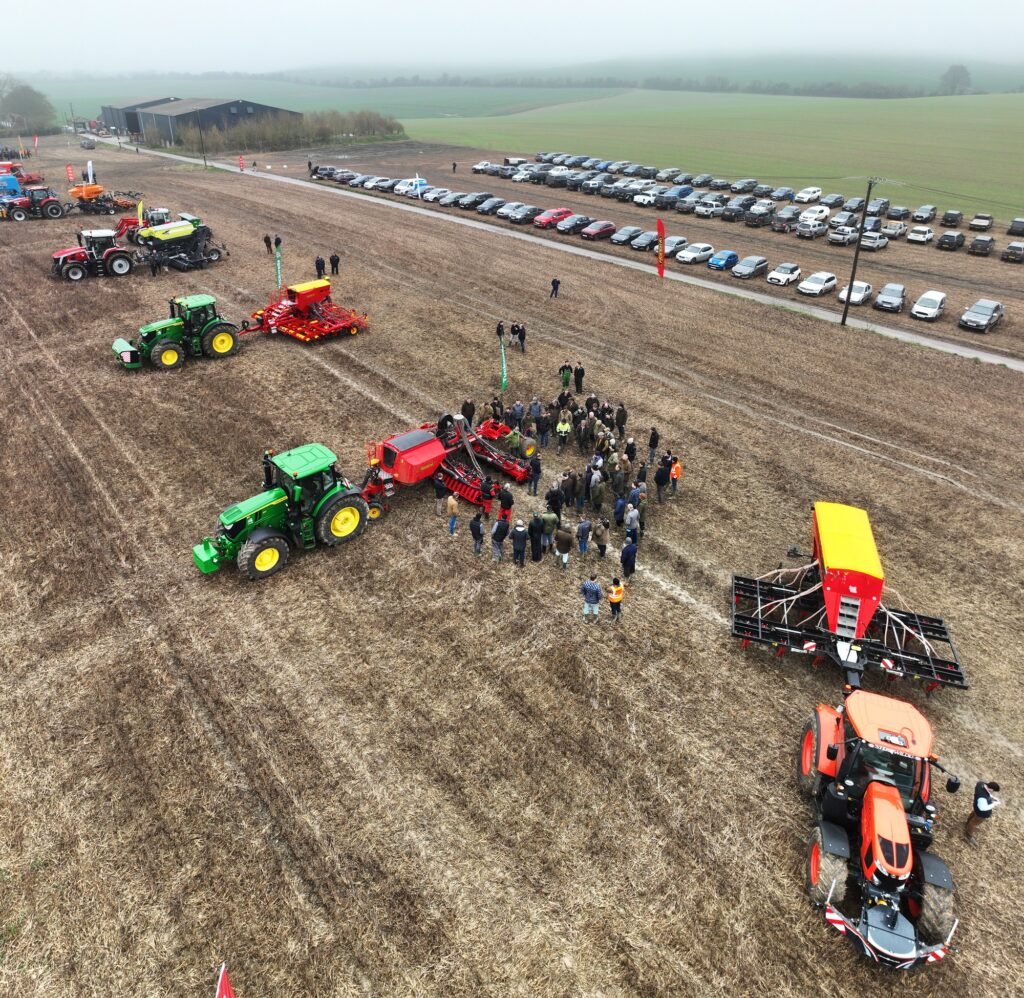 A second drill
We have come to recognise that having a second drill would be to our benefit, but it needs to be economically justifiable and not just the 'nice-to-have' second machine for when we are up against it. This served as the motivation to host a demonstration day and it is to Agrii's credit that it managed to arrange for 17 drills from 13 manufactures to attend. More than 200 farmers attended the day. It was therefore a shame that the wettest March for more than 40 years meant conditions on the day were so poor that no drilling took place. Fortunately, eight of the manufactures agreed to leave the machines with us for a week and once conditions improved, we got to work.
There is also the dreaded issue of black-grass. Our use of residual herbicides is now far more targeted than it was while the change in cultivation policy of recent years has done much to reduce the area to be sprayed with Pacifica Plus (amidosulfuron + iodosulfuron-methyl-sodium + mesosulfuron-methyl) but the bank of dormant black-grass seed is considerable. This needs to be remembered when looking at drill design and configuration.
So which drill do I think will best suit our situation? At the moment there is little to separate them. In my opinion the Amazone Cayena was the best all-round machine – if only it was wider than 6 metres.
The Amazone Condor appealed because it followed the contours well, but I was disappointed with the soil closing behind the coulter. I was impressed with the John Deere 750A, but the conditions suited a disc drill. How do we recreate the mineralised nitrogen we get with a tine if we move to a disc drill? I don't know.
I was also pleasantly surprised by the Kuhn Espro which has done what looks like a nice job albeit it has moved a lot of soil and we may yet see a flush of black-grass which we don't have the means to control other than with glyphosate or by rogueing.
We arranged for a neighbour to come in with his Horsch Sprinter, but with Dutch openers it was a little different to the demo machine and also moved a lot of soil. The Simtech machine was a surprisingly easy drill to set up and has done a good job. It's a simple machine with not too much to go wrong so I can see its appeal. This is where drill configuration becomes important to performance. There are different types of point, opener, closer and packer designs. Then there are front packers, leading discs and spreader plates to consider. It's a minefield of considerations.
What is apparent, however, is how drill design and configuration has evolved. Choice largely comes down to how much cultivation you want? It's not an exact science and we need to better understand the nuances of each system and the trade-offs that exist between different designs, before we can answer the question.
Nor should we fall into the trap of seeing transformations in performance as the result of one single management change. There are other factors to consider, not least the weather and the inevitable need to address compaction. There are certain practices we need to observe too, such as the need to incorporate sewage sludge, farm-yard manure and other organic soil amendments. It would be easy to think of direct drilling as the nirvana of systems, but in my experience, it's about achieving a balance. For us this means a sub-soiler cultivator of some description though I accept a return to the Simba Solo is perhaps a little extreme.