No-till with low initial weight and the flexible ballasting
Novag is expanding its product portfolio of modern no-till machines from 1 to 10m working width in the lower size segment: the new Novag T-ForcePlus 250 offers variable working widths between 2 and 3m, up to 12 coulters and closes the gap between the Novag T-ForcePlus 150 (1 to 2m, maximum 8 coulters) and Novag T-ForcePlus 350 (3m, maximum 18 coulters) models.
Focus on Southern Germany, Austria and Switzerland
Whilst the smaller model (Novag T-ForcePlus 150) is used in viticulture (especially by contractors working with grape harvesters, and for the insert of plots in trials) and the larger model (Novag T-ForcePlus 350) is used on farms with 100 to 400ha of arable land, Novag has developed the new Novag T-ForcePlus 250, a compact machine especially geared to small-structured farms in southern Germany, Austria and Switzerland. It is just as suitable for self-mechanisation as it is for machinery cooperatives.
"We are experiencing an increasing interest in no-till and conservation agriculture on the part of these family farms – whether for arable farming or grassland. They are mainly concerned about high yield fluctuations and acknowledge the connection between soil, and animal health," explains Cedric Köster, Customer Success Manager, Novag GmbH, Germany.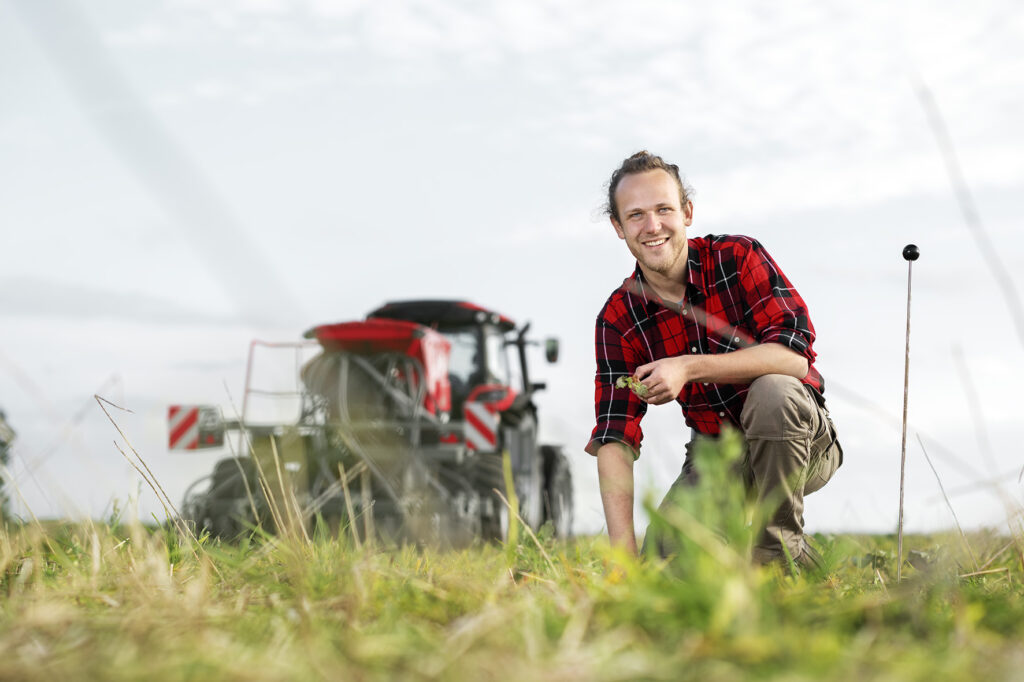 The shedding of ballast
In addition to small fields and slopes, the challenges there are the heavy soils that are usually hard during dry periods in the spring, and wet in the autumn with a low load-bearing capacity. Here, compact no-till technology is needed that does not put too much weight on the soil in autumn but provides sufficient coulter pressure in spring.
"At the heart of our no-till technology is our unique Novag T-SlotPlus sowing coulter system, the benefits of which we are now making available to these family farms with the new Novag T-ForcePlus 250. This is only possible by allowing us to shed ballast on steep surfaces in wet conditions", says Ramzi Frikha, CEO and Export Manager at Novag. He is the creative head of the company and developer of the new Novag T-ForcePlus 250.
Novag develops and builds no-till technology for the Conservation Agriculture (CA) farming concept, which is based on the renunciation of mechanical tillage, permanent soil cover and crop diversity of at least three species in the crop rotation. The technology must therefore be able to cope with dense mulch layers and sometimes hard soils. Accordingly, it is robustly built and is equipped with a unique coulter system that works trouble-free at 12 km/h, even with heavy crop residues.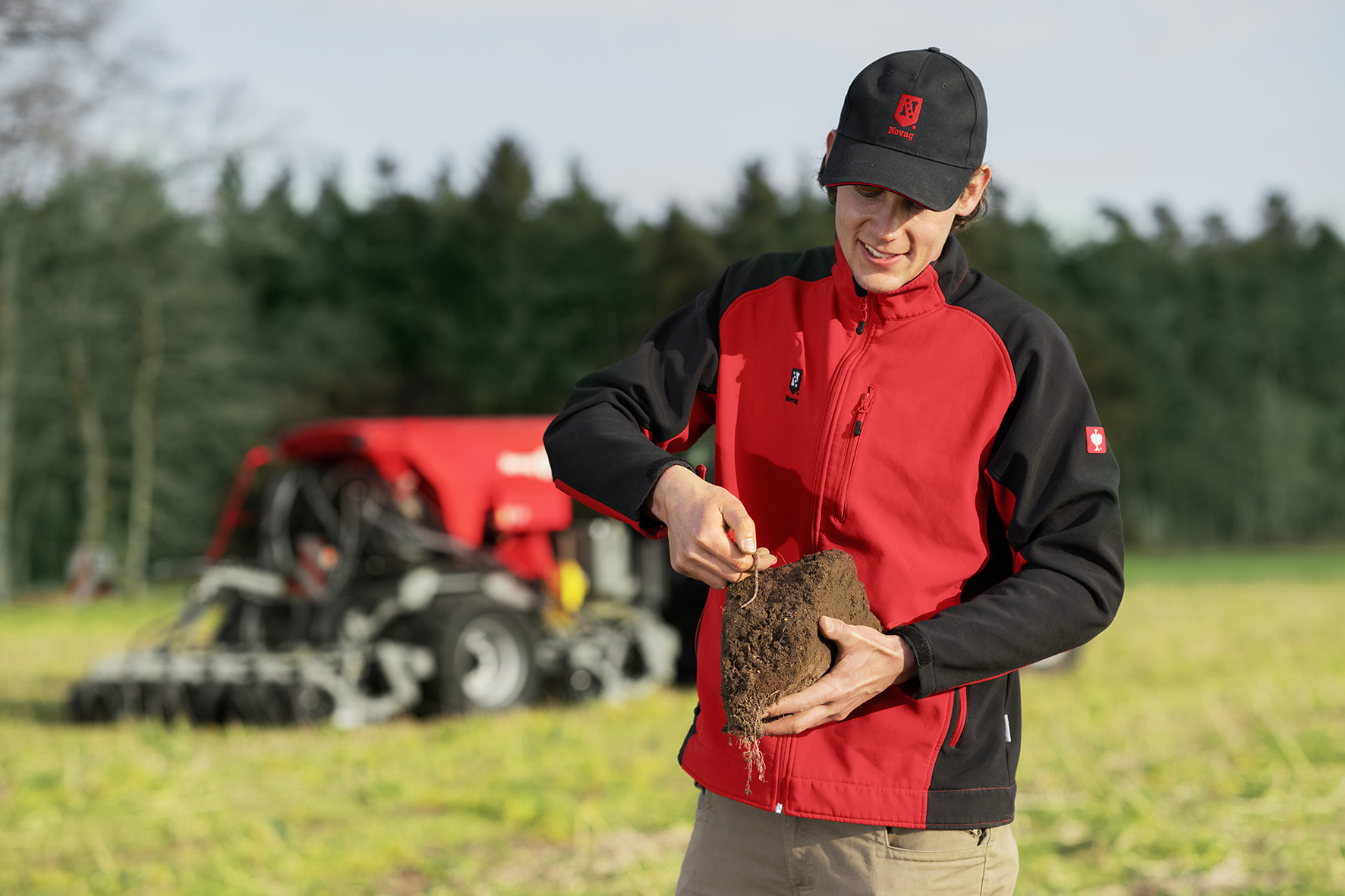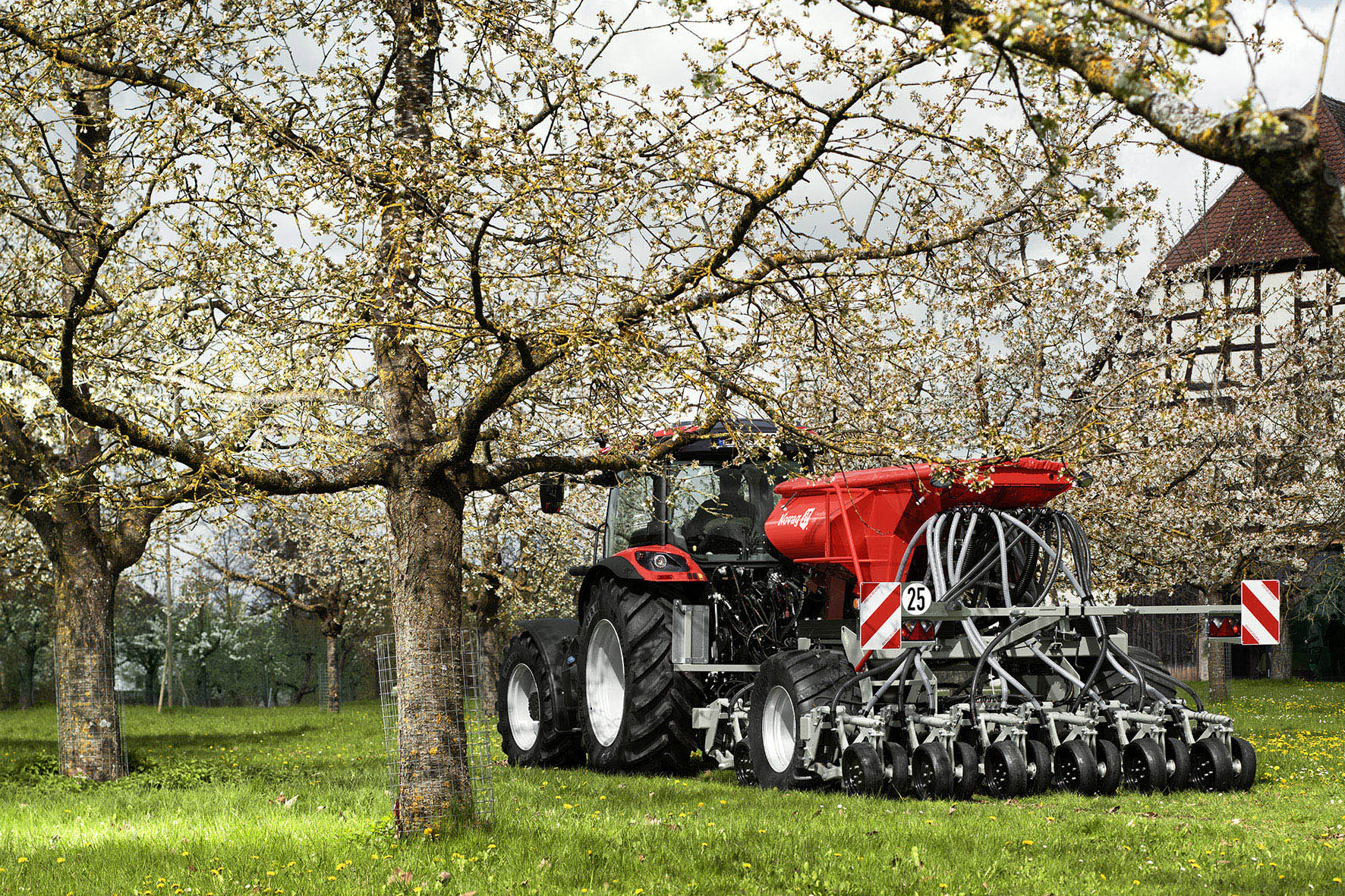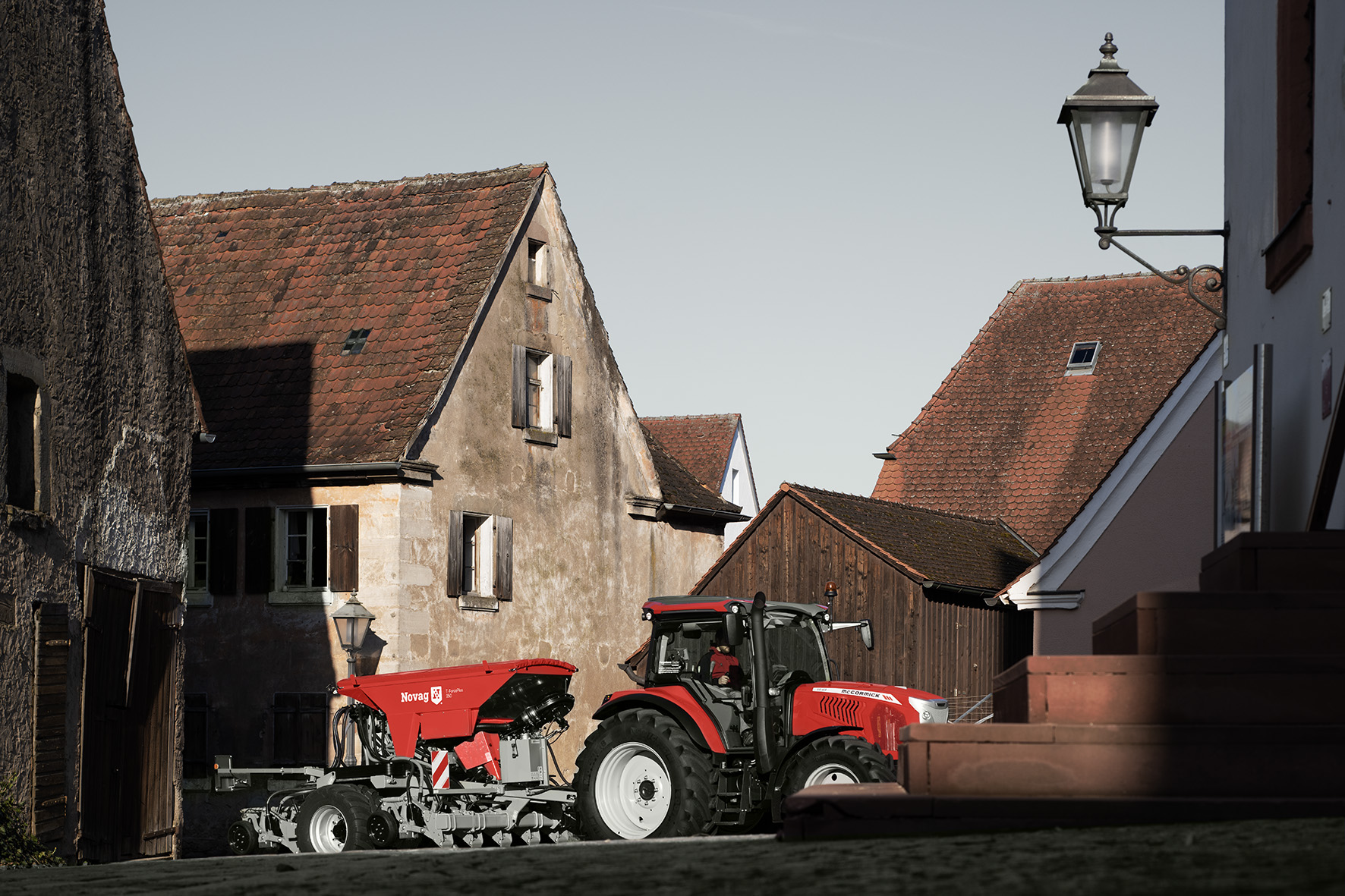 Novag T-SlotPlus coulter system
The T-SlotPlus coulter system consists of a large vertically operating cutting disc (576 mm) with two separate sowing boots. The cutting disc cuts the green material or stubble to "open up" the soil. The sowing boot clears the seed furrows and places either seed or fertiliser to the right and left of the cutting disc and above its working depth. This creates the image of an inverted T in the soil cross-section. The cutting disc pulls overlying straw residues into the soil below the seed horizon and thus prevents the negative effects of hairpinning. The seed is transported by the air flow of the pneumatic distribution system into the horizontal pocket of the sowing coulters, where it has optimum contact with the soil but does not come into contact with straw residues. Two trailing V-shaped pressure rollers close the seed slot. The Novag T-SlotPlus system interferes only minimally with the soil. 90 % of the ground cover remains undisturbed during sowing. This protects it from drying out and significantly reduces weed pressure, but, depending on the hardness of the soil and the intensity of the biomass growth, requires high coulter pressures of up to 500 kg and a high machine ballast weight.
Weight adjustments desired
For the markets of southern Germany, Austria and Switzerland, Ramzi Frikha has therefore designed the new Novag T-ForcePlus 250 to be more compact, with a low initial weight and flexible ballasting. The previous Novag T-ForcePlus 350 offered no flexibility in terms of its weight (6.5t empty with 12 coulters) and working width (3m) and, with its dimensions of 6.5m in length, 2.9m in height and 4200l tank volume, is oversized for these farms.
The new Novag T-ForcePlus 250, on the other hand, in its largest version, also with a working width of 3 m and the maximum number of 12 coulters when empty, weighs just over half (3.6t) of the Novag T-ForcePlus 350 and can therefore sow even in wet, autumnal conditions. In hard ground conditions in summer, the axle can be ballasted with up to 1.95t as required. A total of 39 weight plates of 50kg each are available for this purpose, which can be stacked and bolted directly on the axle and above the tyres.
The Novag T-ForcePlus 250 has a smaller tank (800l seed + 300l fertiliser) and smaller tyres. It is 1.2m shorter, more manoeuvrable and requires a tractor power of 70-120hp. Its reduced overall height (2,35m) with a lower centre of gravity is particularly advantageous on sloping ground, which is why Novag also sees it for intercrop sowing in orchards or fruit plantations. The smallest version with 2m, is also suited for viticulture, depending on the distance between vine rows. All these customers are ultimately concerned with the health of their soils – erosion control, improved rainfall infiltration and bearing capacity.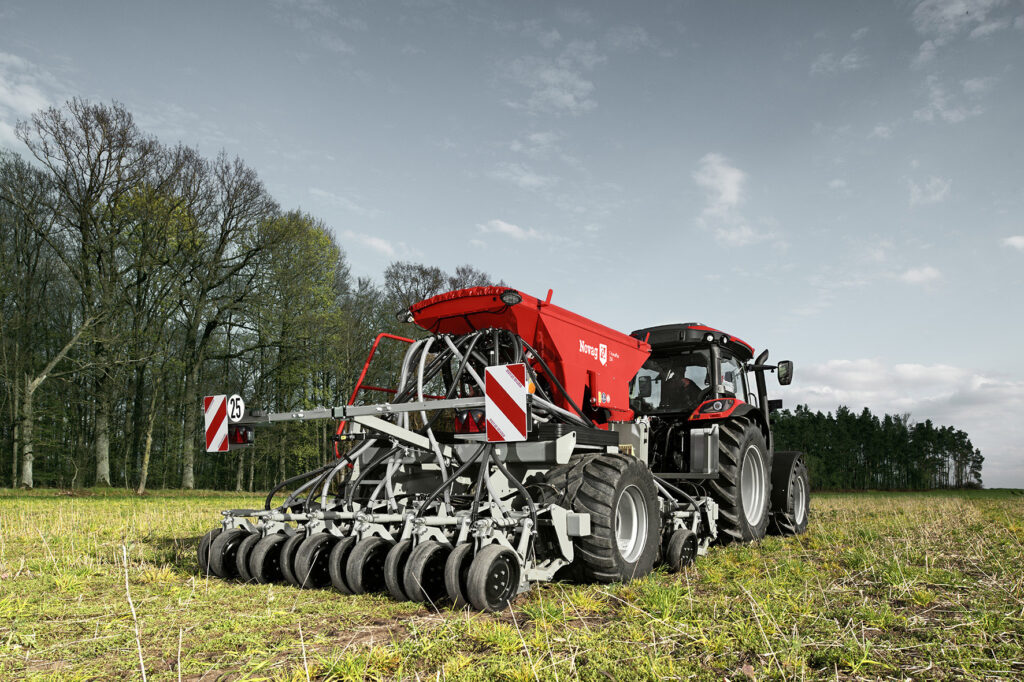 Possibility of customised configurations
Novag manufactures each machine to order and allows individual configurations. With the new Novag T-ForcePlus 250, the customer can choose a working width between 2 and 3m, and the number of coulters, up to a maximum of 12. As with all other models, row spacings of 16.67cm, 18.75cm and 25cm are available from factory and the sowing depth can be individually adjusted from 0cm to 10cm. All Novag models are equipped as standard with the IntelliForcePlus automatic coulter pressure control system, which can be controlled via a 7-inch monitor and joystick. It hydraulically regulates the contact pressure on the coulters from 100 to 500kg. For simultaneous metering of seed and fertiliser, all Novag no-tillers are equipped with a two-part main hopper. On the new Novag T-ForcePlus 250, two additional 50l tanks are available as an option, for example, for slug pellets, fine seeds or special micronutrients. They either dose into the air flow of the main tanks or distribute over a wide area in front of or behind the machine. All four tanks are controlled from the monitor and are each equipped with a hydraulic metering unit, capacitive sensors and individual calibration. All Novag units offer the option of site-specific seeding. The first Novag T-ForcePlus 250 with 12 coulters and a working width of 3 m will go to an arable farm with hilly and uneven terrain in Tuscany, which is switching to no-till conservation agriculture due to intense erosion problems.