DALE DRILLS – MEIR AGRICULTURAL

LAMMA 2019 will see the launch of a new low disturbance Soil Conditioner developed by the team at Dale Drills. As a non-drilling piece of equipment, the Dale's decided to launch the product under a new brand, Meir Agricultural, named after owners Tom and James Dale's late maternal Grandfather, Thomas Meir, who worked as an engineer in Teeside in his youth, before taking on the challenge of farming on the plains of Manitoba, Canada in his later years.
The Meir SC has been designed to complement reduced tillage strategies, such as those employed on the Dale's own farm. 'Much of the soil we farm is not naturally self-structuring,' explains Tom Dale. 'Consequently, it is often a requirement to assist nature to provide optimum drainage through the soil, even in a well maintained soil structure.' Having tried many other combinations of subsoiler frames and legs, the Dale's decided that exactly what they wanted didn't exist. 'We were looking for a reduced surface disturbance, whilst ensuring effective soil loosening through various depths and conditions as well as maintaining a firm finish. Most legs caused excessive surface boiling, whilst many frames positioned legs in ways that prevented effective loosening.'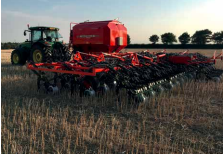 The Meir's Hardox leg leads are fitted with a 25 mm wide tungsten point at a shallow angle to reduce surface boil. The wing is 140 mm back from the leading tip, this allows the wing to run in a zone of fractured soil, reducing wear and improving loosening. A shallow angle on the wing further reduces potential disturbance in the seeding zone whilst still ensuring an effective loosening in the compacted area below. 
Dale Drills – Have it your way
Dale Drills' award winning range of Eco drills now comes in 4 different layouts each suitable for a different size farm. The tractor mounted Eco-S comes in widths from 3 – 5m and can be fitted with a drill mounted or front mounted hopper. The Eco-M has seen significant interest since its launch at Cereals 2015 and represents the mid-sized offering available in sizes from 3 – 9m. The M utilises a more orthodox layout than their larger machines with land wheels positioned between the 1st and 2nd row of tines whilst the seed hopper is mounted towards the front of the drill to ensure an even distribution of weight.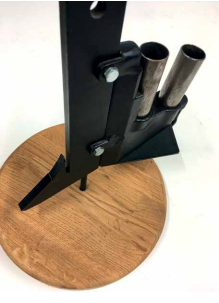 The Eco-L is designed for high output drilling and is available in sizes from 6 – 9m. With the seed hopper mounted at the rear of the drill and designed to be wide enough to be filled straight from the average forklift bucket, the company say outputs of up to 200ac/day can be achieved with a 9m drill. The new Eco-XL was launched at Cereals 18. The improved layout boasts a stretched chassis with a 6.5 tonne hopper upfront, this allows for an uncluttered folding area with widths up to 13.5 meters achievable. Seed delivery is by a pressurised system ensuring both seed and fertiliser can be easily be blown out to the drill extremities. The XL is available in sizes from 8 – 13.5m and is able to fold down to less than 3m wide and 4m high using a 5 section chassis. Sales since Cereals 18 have seen over 40 meters of drill sold in this range.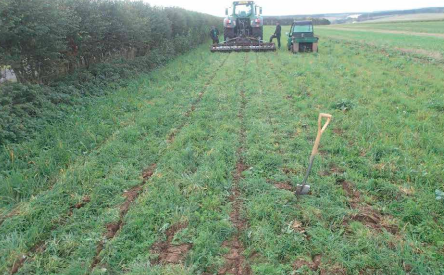 Additional Options
The versatility of the Eco range doesn't stop at the layout. The drills come as standard with an adjustable row spacing of 12.5 or 25cm, and 50cm as an optional extra. 'Drilling at 12.5cm allows farmers to increase competition, whilst 25cm reduces disturbance, so the drill can be set to match your preference', said Director James Dale. A cover crop cutting disc has also been developed over the last 18 months which improves residue flow through the drill, particularly in green covers by cutting a path for the tine to follow. 'The drill 'sails' through thick green cover crops when the cutting disc is fitted, and the tine ensures seed is placed into clean soil. The added benefit of reduced disturbance certainly helps in the battle with blackgrass', added Mr. Dale.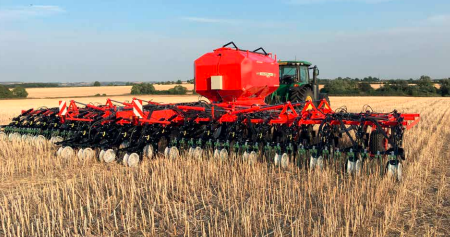 A banded coulter has also been developed which fits straight onto the back of the existing seed knife. Seed can be banded to almost 100mm and fertiliser (either liquid or granular) can be applied down the centre of each band and to a slightly greater depth. The coulter is made from hardened steel and is fitted with tungsten carbide plates to improve durability.
Dale Drills will be showing their extensive range in Hall 20 Stand 20.76 at LAMMA 2019.