New drill & mobile app developments from John Deere

John Deere latest drill and mobile app developments are both designed to improve machine efficiency and productivity at lower operating costs. The new ProSeries opener for the 750A All-Till drill will be available from January 2019 and can be retrofitted to existing machines. This replaces the 90 Series opener that has been a feature of the drill since its introduction in the mid1990s, with global sales of well over two million units.
A key benefit of the 750A is the extremely low soil disturbance created at the point of drilling, which fits well with cultural methods for controlling grass weeds, particularly blackgrass. The new opener is designed to provide even less soil disturbance, more consistent seeding depth, better seed to soil contact and improved slot closure for more even crop emergence and potentially higher yields. It also features only one grease point and increased wear life to minimise annual maintenance costs.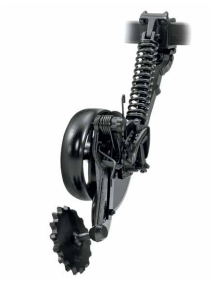 In addition for 2019, John Deere will have new, fully ISOBUS compliant software available for both the 750A AllTill and 740A Min-Till drills, which works with both John Deere and third party displays. As well as managing features such as section control, the software prevents overdosing in tramlines and provides a predosing function that prevents gaps in the field when setting off from a standing start.
Equipment logistics, efficiency and productivity can all be improved by John Deere's new MyOperations app, which allows users to see machine and field data remotely from their mobile phone or tablet and receive alerts on the go. This free app means farmers and contractors can experience less downtime as well as reduce operating costs, by always knowing where machines are and what they are doing.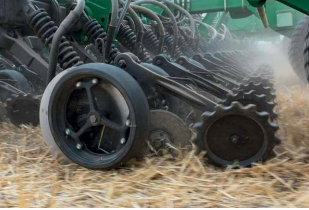 The personalised Operations Centre in MyJohnDeere.com can also be used anywhere and at any time to reference both historic field operation information and current data coming off the field. This is managed under the key headings harvest, seeding, application and tillage. The app has been available initially to new S700 Series combine owners for the 2018 harvest season, to make initial combine optimisation even easier. This option enables users to remotely view and change several combine settings to optimise grain quality and cleanliness of the sample, and minimise losses; the operator then just has to confirm the adjustments on the in-cab display. This allows maximum performance and quality to be consistently achieved, even while harvesting conditions are changing.
Use of the MyOperations app requires an online John Deere Operations Centre account connected to a machine's JDLink telematics system. It is suitable for use with any internet connected smartphone equipped with iOS system 10.0 or Android system 4.4 or later. After downloading the free app from the Apple App or Google Play stores, customers need to log into their existing account or register a new account at www.MyJohnDeere. com. JDLink connects the machine to the customer's account and with a suitable in-cab display, field operation and documentation data is available for analysis.
Some additional features are necessary for use of the app with the S700 Series combine settings function. Information available within the app includes location history, which shows where all machines in a business have driven on that day, a wide range of machine measurements including engine utilisation and fuel levels, field maps and productivity data including areas worked, and annual crop summaries. Remote Display Access (RDA) is available within the app to support operators in the field. In addition, MyOperations users can view machine notifications such as geofence and curfew alerts, low fuel, file management and machine maintenance and diagnostic codes. Users can also edit preferences to receive prioritised alerts and notifications, so that field operations and logistics can be managed more quickly and efficiently.