A Great Year to Start No-Till……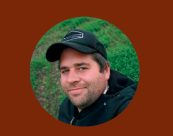 This autumn has been a good one for progressing into no till. The weather had done any subsoiling that was needed by cracking out the soil to a depth of two foot in places. In late September I was getting a little worried. I had been told that late drilling doesn't work very well with no-till. The fields hadn't greened up at all and I was loathed to drill anything until we had killed off a flush of blackgrass and volunteers. Luckily for us mother nature was on our side and we have been able to establish crops into unmoved soils into November after a good flush in mid-October.
We have a large acreage of hybrid barley in the ground which looks well but will need an early dose of nitrogen when the winter ends to get it going in the early spring. Our wheat all looks very well. Since going to no till, we have upped the seed rates in winter wheat. I may have put on a little too much in some fields as we have seen very good establishment this year, in fact its probably better establishment compared to our old conventional system. On all our cereals we have put a small amount of liquid phosphate down with the seed to help improve rooting. I would in the future like to find a biological product to do this job.
Instead of applying fresh nutrients into the soil, it may be better to apply a biological product that could help break the chemical bonds in the soil or help the plants take up the nutrients more effectively. I'm on the search for such a product and will carry a few trials out next year. We have only used a minimal amount of slug pellets on cold north facing slopes. I imagine that the dry summer has meant a huge reduction in the slug populations on our ground. On top of this I have kept with my plan to not use any insecticides on the farm. I hope I can continue to do this when we lose Deter seed dressing. Even though the weather has been ideal for them, we only had a minimal number of aphids arrive on our cereal crops, I'm beginning to think they don't like landing in stubbles but I may still be proved wrong.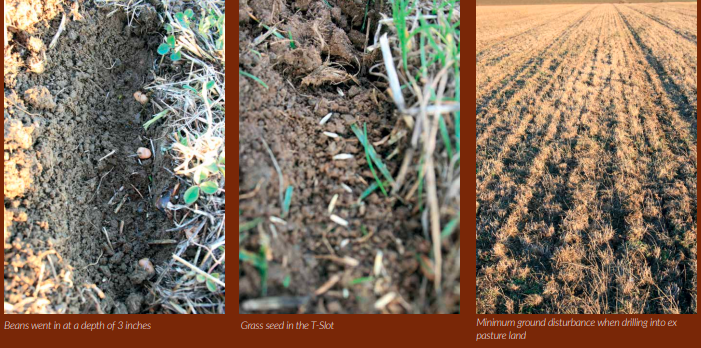 The wheat variety that we have chosen this year is Nelson. It is a highgrade German milling wheat. It also has shown to perform well in organic systems. I am hoping that we can reduce the number of fungicide passes we need in the crop to help protect soil microbes better. It will be interesting to find out if its high untreated yield is due to its symbiotic relationship with mycorrhizal fungi or the fact that it has a huge flag leaf.
We have also drilled winter beans this year, which is a first for me. We sprayed out a four-year grass and clover lay and direct drilled the beans at the beginning of November. The white clover has remained in the crop as its fairly resistant to Glyphosate and we will use it as a companion crop for the beans. I'm hoping the two species will fix a lot of Nitrogen for the following wheat crop and improve the structure of the field as well as suppressing any weeds that come in the spring.
We have reseeded some pasture land this autumn with great success. I have read up on how they do this in New Zealand. The pastures were grazed down very tight and no fertilizer was applied to the fields. This was to limit competition from the existing sward. We direct drilled the fields straight into the existing pasture using a mix of tetraploids and diploids at about a  2/3rds rate. The cattle were left on the pasture until the new grass had chitted and was at risk of being pulled out of the soil (about 2 weeks later, but I think we could extend that). The cattle are allowed to graze as soon as the roots of the new grass has established and it's not possible to pull new plants out the ground. I'm interested in establishing more diverse pastures next spring and using some herbal plants. With a more varied root depth I think we will be able to pull nutrients up from deeper, increase soil biology and keep some growth in the fields throughout the drier months.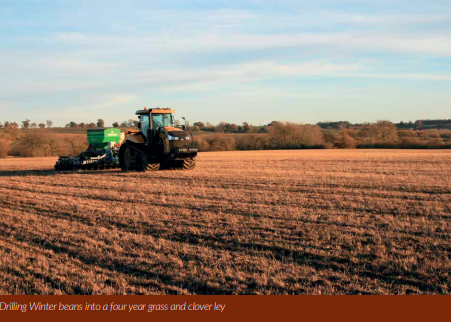 With no cultivation to do we have been able to spend more time on sampling soils in the autumn. I'm starting to carry out a sort of soil benchmarking of our soils. As a bench mark, I am testing soil that has been in a natural cycle for many years. This comes from either under hedges or in small wooded areas. I'm hoping this will give me some figures to aim for in terms of microbial activity and organic matter in the soil. My samples are tested by NRM laboratories who offer a package called the 'Soil Health Suite'. It contains all the usual tests as well as a CO2 burst test for soil microbes, an organic matter test and a soil textural classification. As well as these I am also slowly getting around the farm and carrying out worm counts, infiltration tests and slake tests. This will help to see where we have improved soils and were we need to do more work.
As well as the farm, I am still expanding my knowledge of how the soil works. It seemed a sensible step to become a member of BASE. I'm looking forward to meeting members and finding out how they have improved their farms and if there is anything I can bring back home from the meetings, I am sure there will be. Since joining I have watched the presentation on the BASE UK website from Dr Kristine Nichols, it's worth the membership fee alone.