By David White
A predicted slowish drive down the M11/25/20 turned out as predicted. Richard Harding my observer and I had left in plenty of time to catch our EuroTunnel train so a coffee and croissant in the terminal building we slipped under the channel on route Dieppe. Day one had been reserved for travelling down but rather than fill it with a long lunch stop at Le Touquet I had researched the resting places of some family members killed in the Great War so I could pay my respects. Blue sky and 17 degree temperatures made for a very pleasant drive across to Auby our first cemetery destination. November 1st was All Saints Day in France which meant the town cemetery was still brightly decorated with Chrysanthemums. After somewhat of a struggle we found a pair of simple graves that had been immaculately looked after by the Commonwealth War Graves Commission in the decades since the war, as they will be going forward.
Next stop Louvencourt, a CWGC cemetery, again immaculately tended on a quiet country lane which looked out over the peaceful French countryside, very different from what the scene would have been 100 years earlier. A plaque detailed the history of the battles on the Western Front and highlighted areas that had been fought over several times as each side gained a temporary advantage. I laid a poppy, left a note in the book of remembrance and we headed off for our overnight stay, covering miles in minutes that had been hard fought over for years ten decades earlier.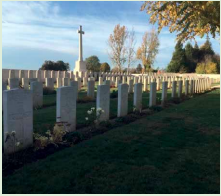 If you have family members who fought and fell in either of the wars a visit to their resting place is something you should try and do. My two relations, both young men were sadly killed in the last few months of the war. It was a special thing to be able to visit their resting places 100 years on in memory of their sacrifices.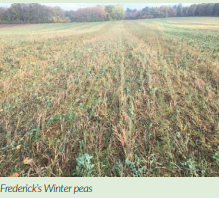 Normandy
The French countryside in this area was punctuated by fields containing either just mustard that was being flailed and disced, through to a few with very varied cover crop mixes. Although spade-less we could not resist getting out to have look at what was growing in some of these fields. As some of the species growing we didn't recognise Richard did he usual taste test to see if we were looking at turnips or radish, hot after taste so radish! Lots of questions for Victor about French farming regulations when we meet tomorrow. We dined very well in Dieppe, this was France, and after a comfortable night in a sea front hotel and a good continental breakfast we headed along the coast road through some lovely seaside villages to meet great friend of BASE UK Victor Leforestier at his first field.
This land, just in from the Normandy coast is very productive, capable of growing vegetables and roots and as evident from the operations being carried out, the plough and power-harrow drills clearly still favourite. These farms can produce 10t/ha of wheat quite easily, why change? The rules governing greening in France allow for destruction from Nov 1st so there were discs, ploughs and drills turning mustard cover into wheat everywhere. We have the impression that many farmers were "greening" because they had to, not because they could see the wider benefits.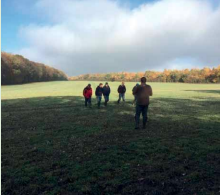 We were greeted by a very different scene when we arrived at Victor's field, no mistaking that we were in the right place (see pic 1). Victor is somewhat unusual in the world of Conservation Agriculture in that he is working with three root crops in his rotation, beetroot, potatoes and sugar beet, but still extensively using cover crops to build SOM and biology. He strip-tills for sugar beet but practices fuller cultivation for beetroot and potatoes. He rotation is built around flax, widely grown in Normandy, but also grows wheat and barley and we saw some impressive clover "understory" in some barley stubble. Initiatives like this and cover crops growing in potato ridges show what is possible in a non 100% combinable crop rotation. Victor had his tele-handler at the field to dig some soil profiles which demonstrated very well how he'd built up the organic matter near the surface and how roots had taken advantage of the impressive worm holes.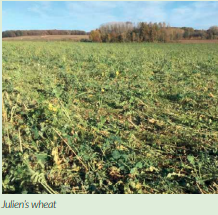 We enjoyed a very relaxed (this was France) lunch at Les Fregates Resturant in a little coastal village Veulettes-sur-Mer, then escorted by Victor who was acting translator for the afternoon visited Emmanuel Bellest who farms at Paluel. Emmanuel is also growing sugar beet in his rotation using strip-till with autumn sown cover crops, also like Victor he had the most amazing fields of multi species cover crops in flower and was using compost amendments and carrying white clover companion established in rape through several years of his rotation. You don't get to visit some of the very best BASE France farmers without clocking up a few miles so on leaving Victor and Emmanuel we headed 150 kms west to Amiens for our second night.
Our town centre Ibis didn't promise to much from the outside but the rooms were clean and comfortable (to comfortable for one who slept waaay to well….), it had a bar and secure underground parking, Result! So as to not dilute the memory of the exquisite dinner we'd had in Dieppe, and also to keep the trip on budget we went for a less upmarket resturant this time, we reasoned that as some locals were dining there it should be ok but the laminated menus should have been a clue to the fare we were about to have, if you value steak by how much chewing it takes to be able to swallow it we got great value!!!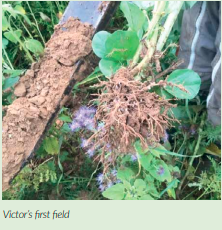 Early to rise (for most of the team) resulted in a quick breakfast and check-out then 100 km drive south to the beautiful estate farm of Frederic Remy. We were greeted by Frederic and our host for the afternoon Julien Senez at a very impressive machinery shed and grain store. I had my usual attack of French trailer envy, gosh they do have fabulous trailers, and the Fendt on a new Horsch Avatar drill just off the do some contract work for a neighbour equally impressed. But as we know its not all about the machinery so over a coffee and croissant we enjoyed a very informative short presentation on Frederic's farming history at the estate he manages and journey into Conservation Ag.
Both Frederic and Julien had a good enough command of English for us to have a good understanding of what they are striving for on their farms, Conservation Agriculture is of course an international language. Frederic does indeed have a very beautiful farm, just 14 kms from Paris he can see the Eiffel Tower from his tractor cab. The farm with its woods and glades, lake, beautiful old buildings, a small estate church and Castle make it the most amazing place to live and work. Frederic's fields were immaculately farmed too, crops edge to edge even, save for a wheat headland grubbed up by wild boar, and his attention to detail and huge enthusiasm for how he is now farming and the success he's had over the last five years was infectious.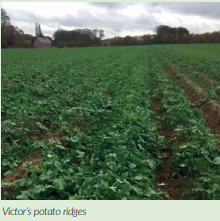 Lunch time again and this time courteous of Julien in a gorgeous conservatory at a golf club near his farm at Vignemont. Julien has been zero-till for eight years and in that time has done around 60 trials on his farm to work out how to improve his soil to give increasing and reliable yields. Standing in a flowering cover crop that was around 5 feet tall made up of a 15 way mix looked to be cover crop perfection. But due to the high carbon to nitrogen ration of the crop residue in Julien's wheat, barley and grain maize rotation he wanted to increase the nitrogen element so this cover was about to be terminated and then have a high % legume mix drilled into it to provide fresh new growth for the next 5 or so months before maize planting time.
The soil in this field had around 40% clay content but had the colour and structure of something you would find in a grow-bag at a garden centre. As France has already lost neonic seed dressings on cereals we saw many later planted crops which helped offset the need for early insecticide sprays as did planting into "the green" with the cover crop vegetation hosting some of the aphids instead of the cereal plants. Our final field stop was at the bottom of a sloping field which had a newly planted agri forestry scheme on it to help overcome drainage issues.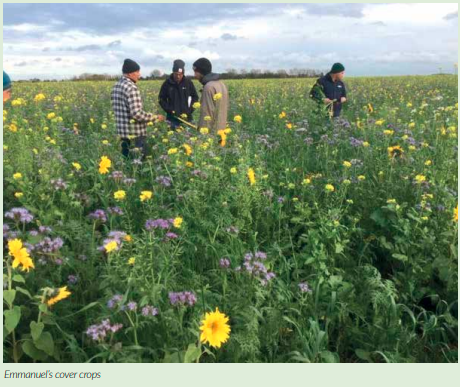 Some common themes on the very innovative farms we visited were; improving soil structures and nutrition, the use of cover crops in a rotation with roots, companions with rape, clover lasting through 2 or more crops in the rotation, strip tillage, very dense diverse cover crop mixes with investment in seed much higher than would be considered in the UK, the importance of on farm trials and time spent on research plus visiting other farms to build a personal knowledge base, the reduction in inputs, machinery labour and tractor hours that Conservation Ag brings to a farming business freeing up time for those farmers to spend doing other things, enriching their lives. On behalf of the group I'd like to thank Victor @VictorHolistic Julien @Senez8 Frederic @fredericremy95 and Emmanuel Bellest for their hospitality, generous time given and knowledge sharing that made the trip so worthwhile.