Agricology is a community of farmers and researchers sharing knowledge and experience on agroecological farming practices; online and in the field. We are a free service to support all farmers and growers to transition to more resource efficient, resilient and profitable farming systems, regardless of labels.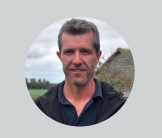 Mark Lea is a farmer profiled on the Agricology website who has put diversity at the centre of his mixed, low-input farming system in Shropshire. Here he shares some of his experiences with growing alternative cereals, agroforestry and intercropping (adapted from the profile).
'Green Acres is a 223ha mixed farm, with a five-year arable rotation including red clover for seed or silage, wheat, oats and peas. We have been breeding cattle for 10 years (we have a herd of pedigree Hereford cattle) and have recently introduced sheep primarily to help with weed control. We have been organic for 18 years and are certified by OF&G. We are on sandy /clay loam soils and run a compost business, providing the opportunity to enhance our soils and also diversify the business.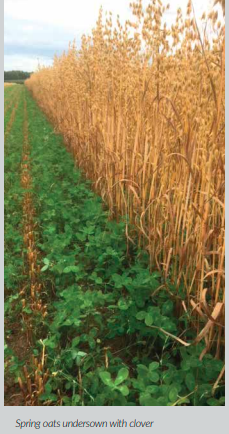 It is all about diversity! First of all, it makes life more interesting! But we also think that diversity across the farm builds resilience. We are keen to increase diversity of the crops, the business and the people we work with. Connecting with the people who eat and process our food makes us feel like food producers rather than commodity producers and is much more rewarding!
We started working with Homedod's (who won the 2017 BBC Food and Farming Awards!) about 5 years ago. We valued peas in our rotation but felt they were not fairly valued by markets, especially given how difficult they are to grow. We started growing yellow, blue and marrow fat and carlin peas for Homedod's. This has helped us to maintain a diverse rotation and build meaningful connections with our customers.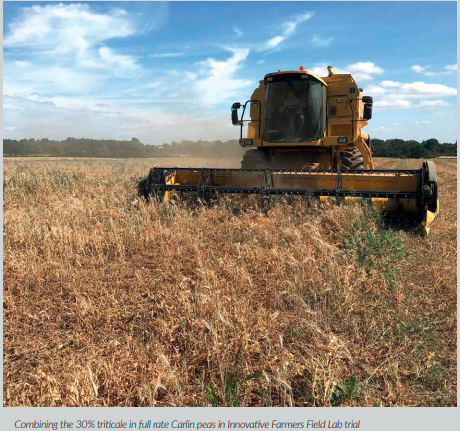 Rotation, livestock and cover crops
Our rotation is changing all the time but currently includes clover ley, winter wheat, fodder beet, spring peas, and spring oats undersown with clover. We will see how successful the beet is, but the principle of a completely different crop has clear merits in relation to interrupting the lifecycles of some of our problem weeds.
We have always had cattle but this year brought in sheep to help with weed control (particularly docks). We don't have too much ambition to make large profits out of them but feel they add to the diversity of the business. We see the advantages, but it has been hard work!  We have been growing 1 year leys – undersown so they last for 18 months. We have now diversified the mixtures and are adding more grass species and clover. We are interested in more diverse mixtures, but as we have a short ley we are not sure we would get the benefit from the deeper rooting species etc. to justify the cost. 
We have increased diversity in our cover crop mixtures and moved from just using brassicas to a 7 or 8 species mix in one field, and for the first time have added seed into mixtures (buckwheat and phacelia) to encourage mycorrhizal fungi. We have more biodiversity on the farm because we don't spray and weeds and pests are not always the problem we thought they were going to be!
Crop diversity
I am keen to enhance diversity at a crop level – over time by diversifying the rotation and in space through practices such as undersowing and intercropping. Carlin peas, marketed as 'black badger', are traditionally eaten on bonfire night in Lancashire. They have a lot of biomass and often end up on the floor, affecting yield and quality, so I was looking for a cereal to provide some scaffolding.
Last year, as part of the DIVERSify / Innovative Farmers Field Lab, we did an intercrop trial with different seed rates of triticale (0%, 5%, 10%, 20% and 30%RD) in full rate carlin peas (240kg/ha) in 1 ha strips across the field to see what the impact would be on lodging. Visual assessment at harvest suggested that 20% and 30% were doing the best job at holding the crop off the floor (although the thistles were also helping in the 0%!) and the 30% was definitely the easiest to harvest.
However, analysis of the yield showed no significant difference between the treatments. This was a low lodging year and there was not a large amount of loss in any of the treatments, but I think that if we were to do it again I would go for the higher rates and possibly higher. We have been undersowing since the farm became organic – usually when crops are about 8 -10 cm at tillering – early May. We use an Opico harrow with an air seeder and broadcast it into the harrow – we may do it next year with a homemade front mounted air seeder.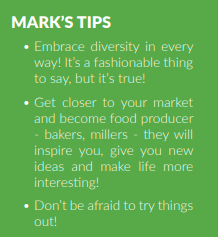 In our genes…
We are growing heritage varieties and populations which we think have a lot of potential in a low input sustainable farming system. Weed suppression can be fantastic, they are good at scavenging nutrients and they could hold resilience to pest and climatic variability that we have lost in breeding modern varieties. For the last few years we have been growing the ORC Wakelyns Population; a highly heterogeneous winter wheat made from 190 crosses of 20 different varieties.
We grow it because of the increased resilience to pest, disease and climatic risks that we gain from having so much genetic diversity in the mix. Some of this has been sold to bakers such as Small Food Bakery in Nottingham (winners of 2018 BBC Food and Farming Awards!). We have really enjoyed building relationships with people along the value chain who are interested in how we produce food and want to support us to farm using agroecology. Longer term we are also considering establishing an on-farm mill.
We are part of a network of seven farmers trialling organic wheat varieties with the Organic Research Centre and Organic Arable. We are each growing a selection of winter wheat varieties in different combinations to enable comparison between them. I have chosen to grow all seven varieties to help showcase the trial and to gain more insight on the farm. The enterprise is being funded in part by LIVESEED, an EU project designed to try to boost organic seed and breeding across Europe.
Agroforestry
We are also building agroforestry into our system and are in the second phase of planting trees, this time from the Woodland Trust. We have planted wide rows with 9 hazels planted inbetween rows of walnut. The idea is that the hazel will be cut on a 5 year rotation, with 20% cut each year, to provide wood for our biomass boiler. The rows are running east to west to provide maximum shade and shelter on the north side, where it borders with a field which has a grass ley in rotation. The idea is that it will provide shade for cattle in summer and shelter for sheep in winter. As the grass ley is coming out, we will harvest from the line on the edge, that way the cattle and sheep will have the benefit of the highest line of hazel.
Visit agricology.co.uk for the full version of this and other farm case studies. Agricology is an independent collaboration of over 20 of the UKs leading farming organisations (see our partners.) Each month we profile a farmer using agroecology to enhance their farming system, and have a wide range of farmer videos on our YouTube page. Blogs and research hubs provide a space for researchers to share their learnings with the farming community. Our growing library hosts over 350 resources on different agroecological practices (such as soil monitoring, companion cropping and herbals ley). Subscribe to the newsletter or follow us on social media @agricology to share your questions and experiences with the Agricology community.