NEW FLEXIBLE SEEDING OPTIONS FROM KUHN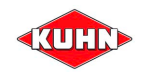 Supplementary seeder range adds versatility
KUHN has introduced a range of supplementary seeders that can be fitted to its Venta, Espro and Aurock pneumatic drills to facilitate progressive practices such as companion cropping or apply fertilisers, granular herbicides or slug pellets whilst drilling. The smallest model in the SH seeder range is the SH 1120, with a 110 litre hopper. In this case, air from the drill's main fan is used to direct product into the venturi to enable it to be applied with seed from the main tank. The larger SH 1540, SH 2560 and SH 4080 models, with 150, 250 and 400 litre hopper capacities respectively, are equipped with their own electrically driven fans and apply product via splash plates behind the main seeding lines. All models use KUHN's Helica volumetric seed metering system, as used successfully on their range of mechanical drills, to maximise the accuracy of output. Application rates are controlled through the ISOBUS system in relation to the forward speed of the tractor.
"The SH seeders are an effective way of adding great versatility to KUHN pneumatic drills," says KUHN UK Product Specialist Ed Worts. "With the main drill sowing seed in the usual way, the SH seeder can be used to sow a secondary seed, such as a companion crop used to suppress weeds, add soil fertility or act as a pest deterrent, for example. "The SH seeder can also be used to apply starter fertiliser, slug pellets or a granular herbicide such as Avadex, such is its versatility and adaptability. "In the case of the Espro RC and Aurock RC, which have split hoppers as standard, the SH seeder adds a third application possibility. This allows a variety of applications to suit individual requirements and reduces the need for expensive seed mixtures." On the larger SH 1540, SH 2560 and SH 4080 models, application rates between 2.2kg/ha and 130kg/ha can be accurately achieved alongside the application from the main drill.

Adaptable seeder offers cost effective establishment option
A cover crop seeding unit, compatible with a wide range of minimum tillage cultivators and capable of applying all types of seed, or fertiliser, at rates from 1 to 430kg/ha, is available from KUHN Farm Machinery. The SH 600, equipped with KUHN's Venta metering unit and with the option of 16, 20 or 24 outlets from the distribution head, is designed for uniform seed spread across a 3–9 metre working width. Seed is distributed via discharge plates located in front of the cultivator roller to achieve optimum soil-to-seed contact. Precise and simple application rate settings are achieved using KUHN's Quantron S2 control terminal, which aligns output with forward speed. Quantron S2 also monitors seed level and controls fan speed and metering unit speed. With a 600 litre hopper, the SH 600 has big bag capacity, and the machine is fitted with a ladder and walkway to allow safe and easy access when filling. The SH 600 is specifically designed to operate with KUHN's Prolander, Performer, Optimer XL and Cultimer L 1000 minimum tillage and stubble cultivators and is sufficiently adaptable to work with other makes of machine.