If you are like us, then you don't know where to start when it comes to other reading apart from farming magazines.
However, there is so much information out there that can help us understand our businesses, farm better and
understand the position of non-farmers.
We have listed a few more books you might find interesting, challenge the way you currently think and help you farm better.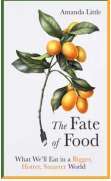 The Fate of Food: What We'll Eat in a Bigger, Hotter, Smarter World
We need to produce more food. With water and food shortages already being felt in some parts of the world, this might sound like an insurmountable challenge, but all is far from lost. You may not have heard about it, but the sustainable food revolution is already under way. Amanda Little unveils startling innovations from the front lines around the world: farmscrapers, cloned cattle, meatless burgers, edible insects, superbananas and microchipped cows. She meets the most creative and controversial minds changing the face of modern food production, and tackles fears over genetic modification with hard facts. The Fate of Food is a fascinating look at the threats and opportunities that lie ahead as we struggle to feed ever more people in a changing world.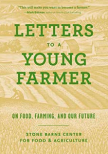 Letters to a Young Farmer: On Food, Farming, and Our Future
An agricultural revolution is sweeping the land. Appreciation for high-quality food, often locally grown, an awareness of the fragility of our farmlands, and a new generation of young people interested in farming, animals, and respect for the earth have come together to create a new agrarian community. To this group of farmers, chefs, activists, and visionaries, Letters to a Young Farmer is addressed. Three dozen esteemed leaders of the changes that made this revolution possible speak to the highs and lows of farming life in vivid and personal letters specially written for this collaboration.
Barbara Kingsolver speaks to the tribe of farmers—some born to it, many self-selected—with love, admiration, and regret. Dan Barber traces the rediscovery of lost grains and foodways. Michael Pollan bridges the chasm between agriculture and nature. Bill McKibben connects the early human quest for beer to the modern challenge of farming in a rapidly changing climate. We have listed a few more books you might find interesting, challenge the way you currently think and help you farm better.

Dirt to Soil: One Family's Journey into Regenerative Agriculture
Gabe Brown didn't set out to change the world when he first started working alongside his father-in-law on the family farm in North Dakota. But as a series of weather-related crop disasters put Brown and his wife, Shelly, in desperate financial straits, they started making bold changes to their farm. Brown—in an effort to simply survive—began experimenting with new practices he'd learned about from reading and talking with innovative researchers and ranchers.
As he and his family struggled to keep the farm viable, they found themselves on an amazing journey into a new type of farming: regenerative agriculture. Brown dropped the use of most of the herbicides, insecticides, and synthetic fertilizers that are a standard part of conventional agriculture. He switched to no-till planting, started planting diverse cover crops mixes, and changed his grazing practices. In so doing Brown transformed a degraded farm ecosystem into one full of life—starting with the soil and working his way up, one plant and one animal at a time. In Dirt to Soil Gabe Brown tells the story of that amazing journey and offers a wealth of innovative solutions to our most pressing and complex contemporary agricultural challenge— restoring the soil.
The Brown's Ranch model, developed over twenty years of experimentation and refinement, focuses on regenerating resources by continuously enhancing the living biology in the soil. Using regenerative agricultural principles, Brown's Ranch has grown several inches of new topsoil in only twenty years! The 5,000-acre ranch profitably produces a wide variety of cash crops and cover crops as well as grass-finished beef and lamb, pastured laying hens, broilers, and pastured pork, all marketed directly to consumers. The key is how we think, Brown says. In the industrial agricultural model, all thoughts are focused on killing things. But that mindset was also killing diversity, soil, and profit, Brown realized. Now he channels his creative thinking toward how he can get more life on the land— more plants, animals, and beneficial insects. "The greatest roadblock to solving a problem," Brown says, "is the human mind."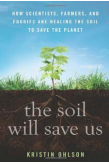 The Soil Will Save Us: How Scientists, Farmers, and Foodies Are Healing the Soil to Save the Planet
Journalist and bestselling author Kristin Ohlson makes an elegantly argued, passionate case for "our great green hope"—a way in which we can not only heal the land but also turn atmospheric carbon into beneficial soil carbon—and potentially reverse global warming. Thousands of years of poor farming and ranching practices—and, especially, modern industrial agriculture—have led to the loss of up to 80 percent of carbon from the world's soils. That carbon is now floating in the atmosphere, and even if we stopped using fossil fuels today, it would continue warming the planet.
As the granddaughter of farmers and the daughter of avid gardeners, Ohlson has long had an appreciation for the soil. A chance conversation with a local chef led her to the crossroads of science, farming, food, and environmentalism and the discovery of the only significant way to remove carbon dioxide from the air—an ecological approach that tends not only to plants and animals but also to the vast population of underground microorganisms that fix carbon in the soil. Ohlson introduces the visionaries—scientists, farmers, ranchers, and landscapers—who are figuring out in the lab and on the ground how to build healthy soil, which solves myriad problems: drought, erosion, air and water pollution, and food quality, as well as climate change. Her discoveries and vivid storytelling will revolutionize the way we think about our food, our landscapes, our plants, and our relationship to Earth.

Holy Shit: Managing Manure to Save Mankind
In his insightful new book, Holy Shit: Managing Manure to Save Mankind, contrary farmer Gene Logsdon provides the inside story of manure – our greatest, yet most misunderstood, natural resource. He begins by lamenting a modern society that not only throws away both animal and human manure – worth billions of dollars in fertilizer value – but that spends a staggering amount of money to do so. This wastefulness makes even less sense as the supply of mined or chemically synthesized fertilizers dwindles and their cost skyrockets. In fact, he argues, if we do not learn how to turn our manures into fertilizer to keep food production in line with increasing population, our civilization, like so many that went before it, will inevitably decline.
With his trademark humor, his years of experience writing about both farming and waste management, and his uncanny eye for the small but important details, Logsdon artfully describes how to manage farm manure, pet manure and human manure to make fertiliser and humus. He covers the field, so to speak, discussing topics like: How to select the right pitchfork for the job and use it correctly How to operate a small manure spreader How to build a barn manure pack with farm animal manure How to compost cat and dog waste How to recycle toilet water for irrigation purposes, and How to get rid ourselves of our irrational paranoia about faeces and urine. Gene Logsdon does not mince words. This fresh, fascinating and entertaining look at an earthy, but absolutely crucial subject, is a small gem and is destined to become a classic of our agricultural literature.