Agritechnica, the world's leading agricultural machinery exhibition, takes place in Hanover, Germany, 12-18 November 2023. Agritechnica is the largest venue for arable farmers, anticipating over 400,000 visitors.
UK farmers busy preparing trip to Agritechnica
Now that the bulk of the harvest has been completed, many UK farmers are preparing their trip to Agritechnica taking place in Hanover, Germany, 12-18 November 2023.
Over 6,000 visitors from the UK are expected this year at the world's largest show for farm equipment. UK farmers take advantage of Agritechnica to make investment decisions for agricultural machinery for the farm.
As all the leading farm equipment manufacturers have already registered as exhibitors – among 2,600 expected companies – farmers from the UK can be sure to see the full range of machinery solutions on display.
From tractors to autonomous equipment systems as well as crop protection sprayers to drones, and from combine harvesters to digital assistance systems, Agritechnica presents both the depth and breadth of agricultural machinery.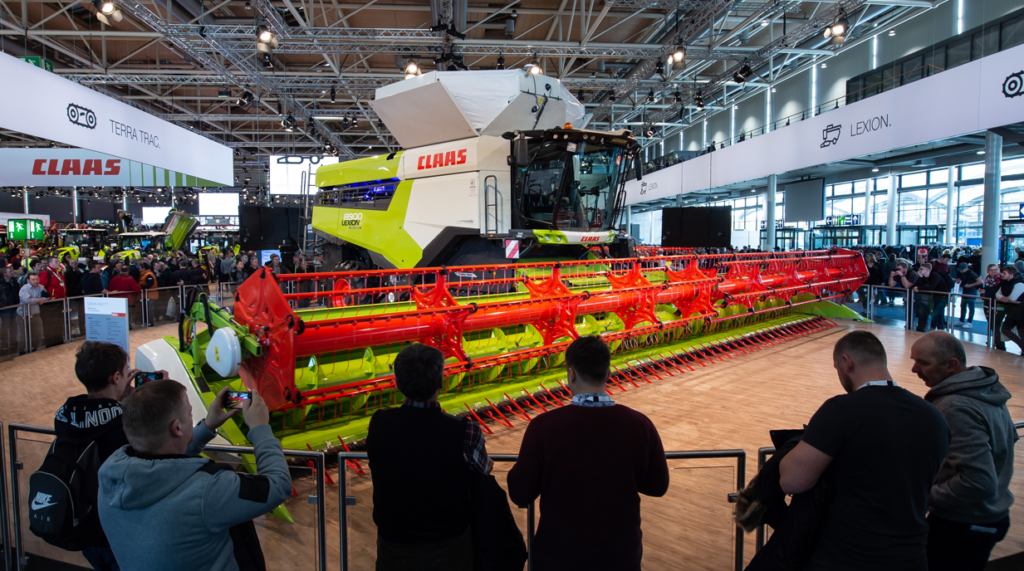 UK farmers plan two full days at Agritechnica
DLG (German Agricultural Society), organiser of Agritechnica, recommends that farmers from the UK plan in three nights in Germany to visit the show for two full days.
Online tickets, which can be booked already now, are the optimal way to avoid queues at the door, leaving more time to inspect farm equipment close-up.
Many farming groups fly into Frankfurt from the UK and then take the fast train to Hanover.
Martin Williams, arable farmer in Hereford and frequent Agritechnica-goer, is planning to take that route.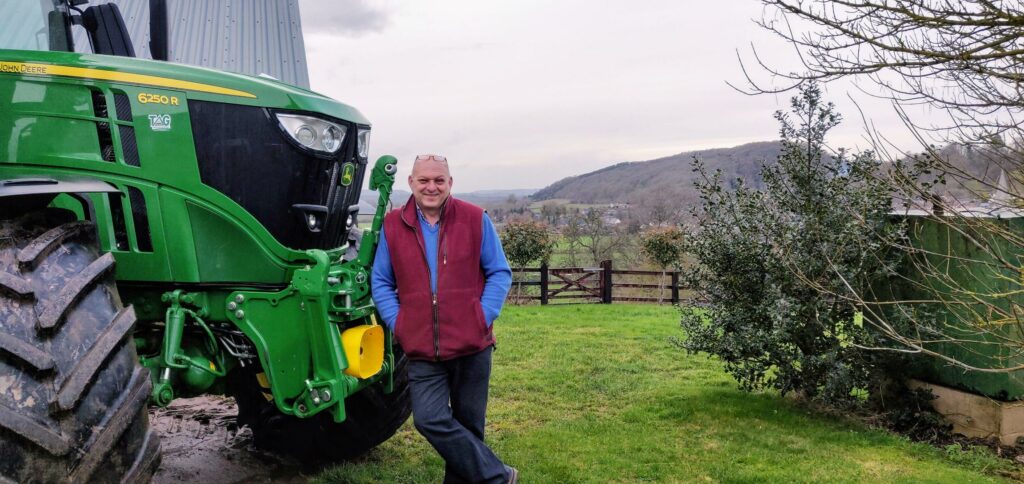 "Agritechnica is a global event that offers farmers an opportunity to see things outside your own zone. At the last Agritechnica, I discovered robotics and automation for the field that I had not seen presented that way before," says Martin Williams.
"Agritechnica shows me where agriculture is going and also what machinery we can use to gain an edge when margins are tight, like right now. My biggest challenge at the moment is staffing. In November, I will therefore be looking for anything that can help solve that problem. Spraying technology is also on top of my shopping list, such as machinery that can identify weed. This is a hot topic right now in my neck of the wood," adds Williams.
Download app for efficient planning
The Agritechnica App offers farmers efficient prior planning. The downloadable app allows users to save their entry ticket – for easy presentation at the gates – and to bookmark pre-identified exhibitors as well as meetings and events that are presented visually on the exhibition ground map. Appointments can be exported to a personal calendar and the app can be used during the entire Agritechnica.
The app stores technical information electronically from the stands for later viewing.
The "DLG Mixie Points" on each stand contain the exhibitors' equipment specifications, and product information. Scanning the DLG Mixie point QR code using the QR scanner within the app, visitors can retrieve at any time, during and after the trade fair. This eliminates the need to carry brochures and flyers while touring the halls.
Downloadable in Apple App Store and Google Play, the app is also offered as a web version at www.agritechnica.de
Agritechnica innovations presented on 100 acres indoors
Exhibitors are located across 24 halls, each with logical product categories, on over 100 acres of indoor space. The seven-day exhibition expects 400,000 visitors.
With the theme "Green Productivity" denoting how new pioneering concepts ensure agricultural productivity while protecting nature, climate and the environment, Agritechnica's technical programme offers hundreds of interactive presentations, many relevant to no-till farming.
Over 250 candidates in the prestigious Agritechnica Innovation Award scheme will be presenting market-ready world premieres, of which some will be selected for a gold or silver award.
The gold medal at the last Agritechnica, announced online in 2022, was presented to Nexat's "all-in-one system tractor" that handles all work steps, from soil cultivation to sowing, crop protection and harvesting. This innovation, which offers a range of no-till benefits, can be seen at this year's exhibition.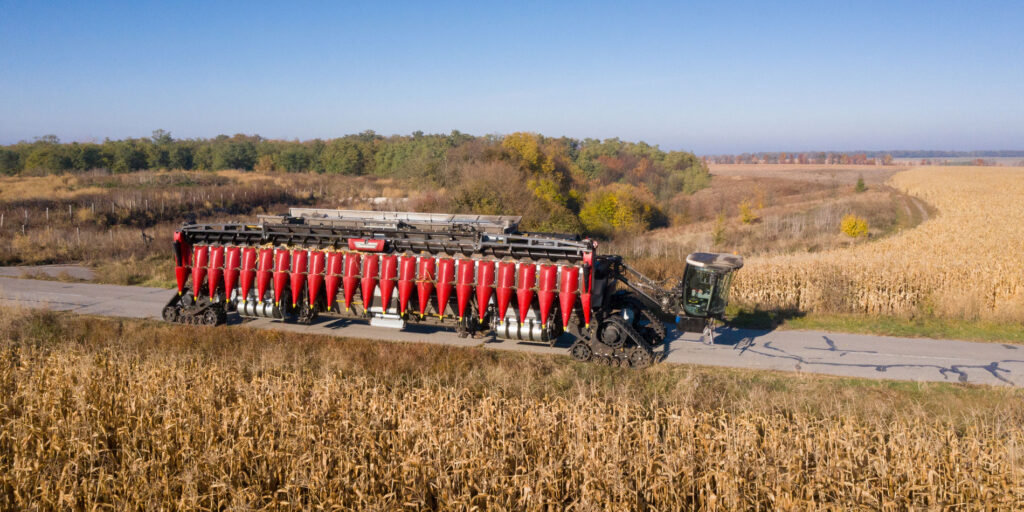 Instead of conventional hauling, the implements for tillage and cultivation are carried by the Nexat tractor, leading to increased efficiency compared to tractor and towed implement combinations.
The 14 meter version is designed such that 95 percent of the total field area is never driven on in the envisaged bed mode, resulting in high yield potential with soil and environmental protection.
Silver awards included solutions in all areas of crop cultivation, from systems for automatic dust extraction, compaction prevention and direct injection crop protection to adjustment control technology for auger cutter bar and automatic machine guidance and regulation of tractor's speed and the baler settings. Most of these innovations are presented in November.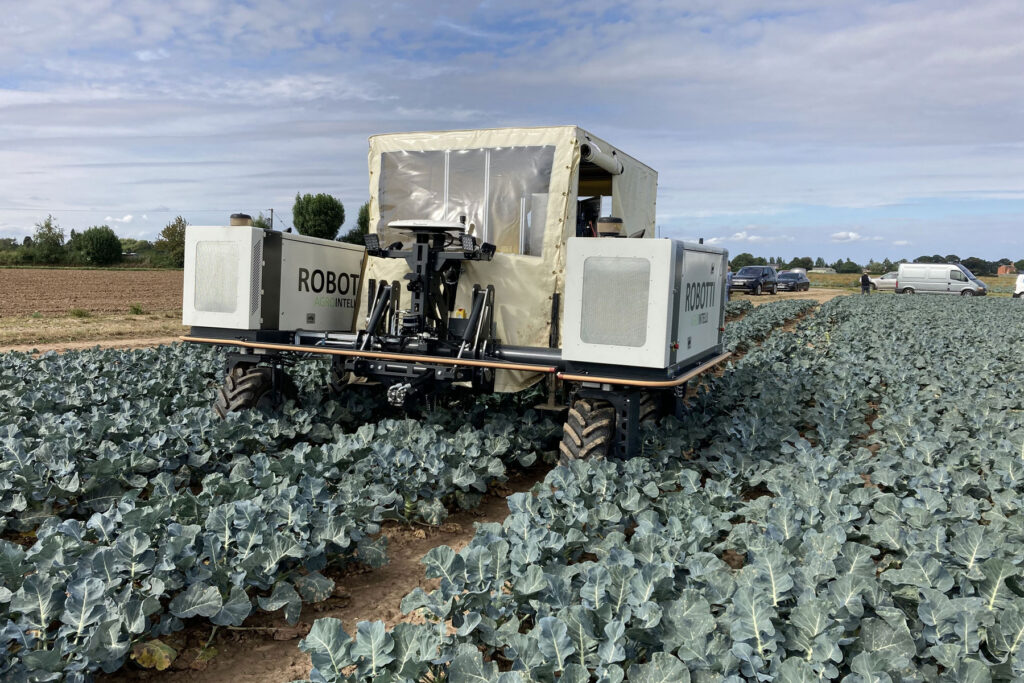 Roboveg
Farmers from the UK can find futuristic concepts among the entries for the DLG Agrifuture Concept Award, which honours innovative concepts that though not yet market-ready offer a glimpse into the far future.
An example is the "Controlled Row Farming", a new arable farming method, in which every crop-cultivation step is taken in fixed rows, offering yield optimization despite lower use of fertilizers and pesticides. Uniform row spacing of 50 cm – grain in double rows – and a row offset of 25 cm for positive crop rotation effects achieve both yield optimization and maximum efficiency of farms inputs.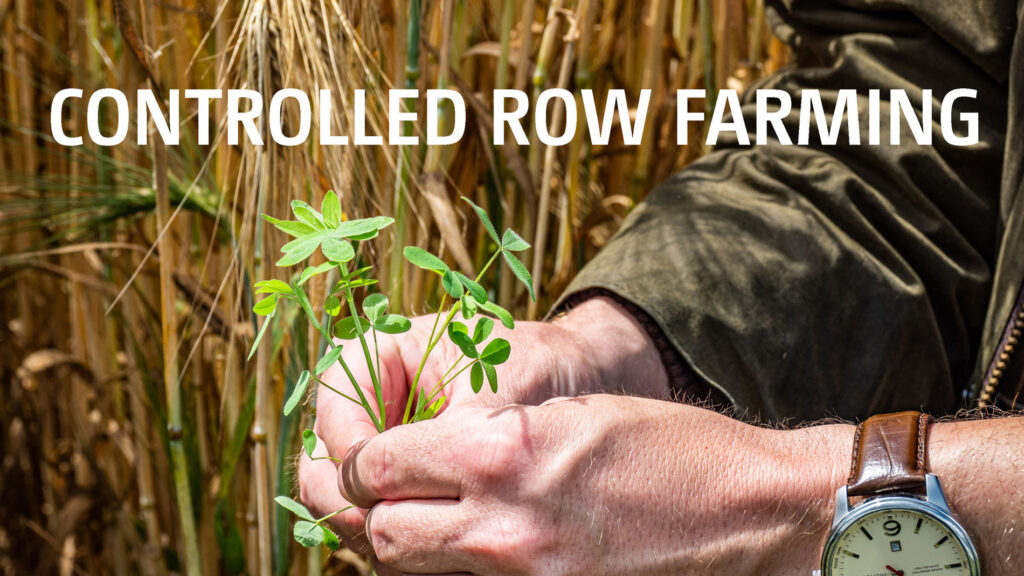 The UK's Department for International Trade (DIT) and UK TAG are organising a country pavilion at Agritechnica 2023 and over 60 exhibitors from the UK are expected in Hanover.
Farmers can explore the current exhibitor list at https://www.agritechnica.com/en/exhibitors-products, which features exhibiting companies from over 50 countries.
In addition to exhibitors' offerings, Agritechnica will be exploring practical topics in depth, including:
Smart farming
Automation enabling technologies for efficient work in the field


NEW: DLG.Prototype.Club
Teams of software engineers will solve technical challenges set by exhibitors
agrifood start-ups
Exhibition and networking area for agricultural start-ups.
Workshop live
Technicians demonstrate maintenance and repair work live.
Systems & Components
Suppliers will present components, including engines, drive trains and spare parts.
NEW: Inhouse Farming: Feed & Food
Self-contained food production systems, like vertical farming