At Amazone, our many years, if fact over 140 years now, of experience in crop establishment means that we are able to offer the perfect solution to all cultivation techniques from no-till to scratch tillage, or even remedial deeper loosening with a range of kit that uses both discs and tines.
As we know, a farmer's greatest asset is their soil. Soil provides the basis and infrastructure in which healthy, high-yielding crops can be grown. With the base aggregate hosting the soil water and air that we need to sustain soil life, we need a soil structure that is able to hold onto soil-borne nutrients and water and so is able to breathe, exchanging CO2 from the air and releasing oxygen as part of the growth cycle. A porous structure enables high levels of surface water to be infiltrated rather than generating run off and erosion issues and that open structure also makes for good root development thus making sure that the plant is adequately fed and watered to achieve its maximum potential. Some soils are naturally self-structuring with the natural drying and wetting process generating fissures and cracks into which the roots can get down to that moisture. Soils benefit from an increased organic content which helps feed the soil biology to promote healthy soils and a better growing environment as well as improving friability. Any increase in organic matter levels also help give the soil resilience enabling it to cope with traffic problems caused by subsequent drilling and crop care operations. Some soils, which are prone to slumping due to their fine particle sizes, might need some physical intervention to provide drainage in the form of a mechanical cultivation, but this needs to be thought through before engaging in any recreational tillage.
The increasing use of cover crops in the autumn, either as a bridge between harvest and autumn drilling, or as a means of keeping a living crop in the ground overwinter, has become an increasingly important part of the armoury in the fight against grass weeds as well as helping improve organic matter levels and boosting soil biodiversity. The ISOBUS-controlled, GreenDrill 501 catch crop seeder can be used here as part of the cultivator in order to establish those all important covers.
Generating a stale seedbed that stimulates as much regrowth of volunteers and weed seeds as possible and yet leave a weather-proof finish that can, in these days of delayed drilling dates, withstand any adverse weather that it might face in the weeks before drilling, is the ideal scenario. Running through harvest residues directly after combining with the Cobra shallow tine cultivator at 3 – 5 cm deep can ensure as much seed/soil contact as possible for those volunteers and weeds. The six rows of tines on a 16.6 cm spacing ensure sufficient surface movement – and even a full width cut when equipped with the 220 mm duckfoot share. The Crushboard behind the tines leaves a level finish for the rear roller to add some reconsolidation. Alternatively, the Catros X-Cutter, with its 480 mm wavy discs, will also move the soil surface yet at a depth of 2 – 8 cm and so also leave that safe finish. With the prevalence of cover cropping, the front knife roller, where required, crushes and bruises any green material helping to start the rotting process and opening up any shiny stalk to any contact herbicide application.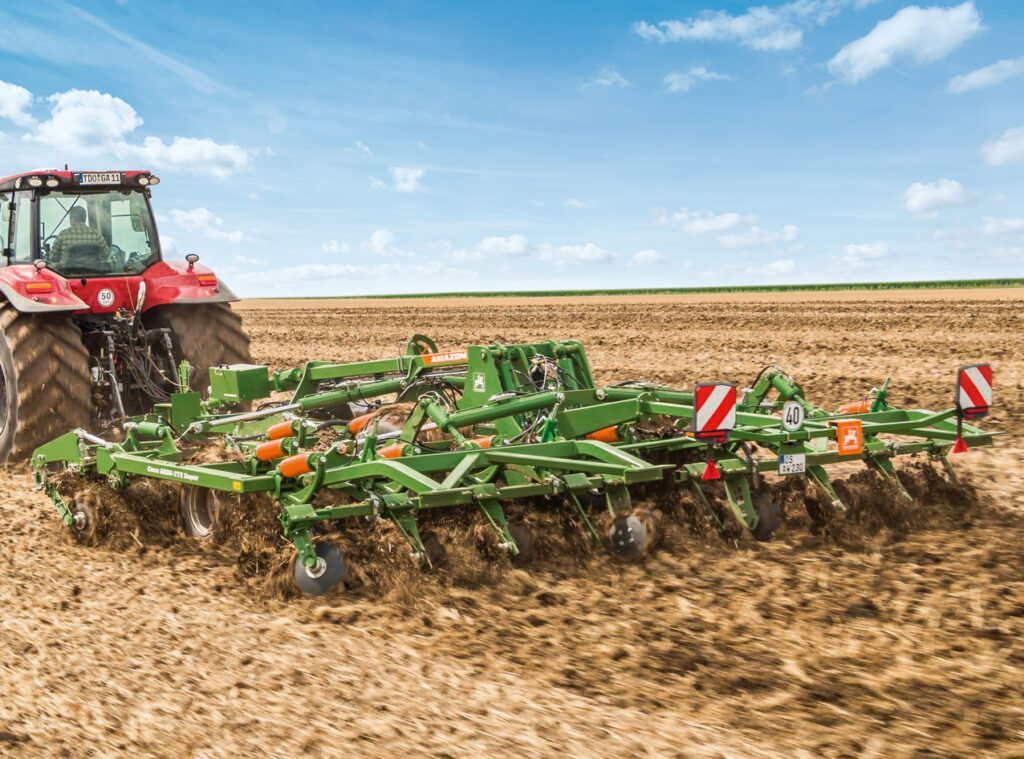 For deeper soil loosening, or as a means of incorporating surface trash with its intensive mixing effect, the Ceus disc and tine cultivator is ideal. The front-running 'Catros' disc element is followed by a four stagger tine element which is able to work down to depths of 30cm or so. Again, behind the tine element, runs a set of levelling discs and a double packer roller. The tines and discs can be used independently of each other thus making the Ceus a flexible soil tillage tool.
Quick and timely soil tillage is the key, so to ensure that your soils get given that perfect bill of health then make the cultivation programme as flexible as possible; dig down to see what is required, how deep are the issues and then only work as deep as necessary to alleviate those problems. Working soils less intensively will preserve soil moisture and remember, optimising organic matter incorporation starts with the combine harvester.