Agricarbon has developed a scientifically robust and cost-effective method of measuring soil carbon to produce carbon credits which meet international protocols and are of high value to buyers and farmers alike. The company is working with Regenerate Outcomes, which supports farms' transition to regenerative agriculture through mentoring from leading regenerative farmers and by selling environmental outcomes to create additional revenue.
The benefits of increasing the amount of carbon in your soil are clear; improved soil, plant and animal health, greater productivity and resilient farm businesses to name just a few.
However, soil organic carbon (or SOC) also creates the opportunity to generate additional income via the sale of carbon credits.
Regenerate Outcomes is working with farmers across the country to sponsor a long-term regenerative farming mentoring programme, as well as verification services related to soil carbon and other verifiable environmental outcomes.
Farms which join the Regenerate Outcomes programme receive long-term, one-to-one support from Understanding Ag, a leading professional mentoring agency in regenerative farming, led by farmers Gabe Brown, Dr Allen Williams and Shane New and supported by 3LM, the UK Savory Network hub.
Farmers join a 30-year agreement with Regenerate Outcomes who work with Agricarbon to baseline and monitor soil carbon stocks every five years. Soil carbon increases are verified following the world-leading Verra Carbon Standard.
"It is essential that the carbon baselining and monitoring for these credits is of the highest integrity possible and compliant with recognised carbon market protocols, to ensure the long-term value of the credits and maximise returns for our farmers," said Regenerate Outcomes Director Tom Dillon.
"This is why we choose to work with Agricarbon, who can carry out these soil carbon surveys while balancing quality assurance with cost efficiency."
Agricarbon provides robust evidence for soil carbon gains, defined by requirements set out in high-standard carbon credit protocols. This focus on quality means that the income generated by Regenerate Outcomes is expected to be reliable in the long term as the credits will remain attractive to carbon buyers in the years ahead.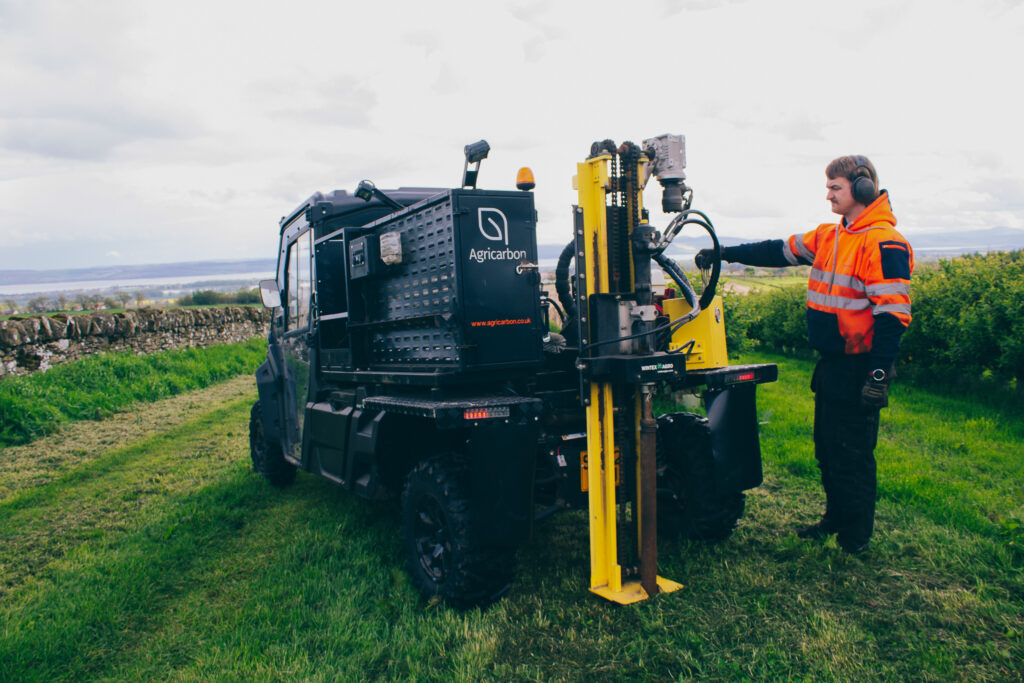 "The real driver for founding Agricarbon was to unlock as much value as possible from soil carbon for farmers to fund their transition to regenerative farming," says co-founder Annie Leeson.
"It's a process that farmers can trust. The reason they can trust it is because carbon buyers trust it. It's been designed explicitly to meet the required standards."
Agricarbon has built an industrial scale robotic soil processing facility, which mechanises the testing process.
"This massively reduces the cost of processing each sample which means you can take enough samples to create reliable and statistically sound baselines and measurements of changes over time," said Annie
"Our automation and robotics also bring greater accuracy to the analysis. Testing can be unpredictable and variable if it's done by human beings across different laboratories. Typically, the margin of error you would expect would be about 20 per cent across most labs. Agricarbon's margin of error is far lower.
"Our automated soil processing technology also measures bulk density for every single sample. Measuring bulk density – which allows us to calculate how much soil you have got – is vital to converting the percentage of organic carbon in that soil into an accurate measure of the total tonnage of carbon."
Regenerate Outcomes plans to sell its first batch of verified carbon credits in 2024/25.
"We believe that regenerative agriculture is the way forward for British farmers to build resilient businesses, increase productivity and farm in a way which increases biodiversity and water quality," said Tom.
"The integrity of Agricarbon's testing process is essential in ensuring we can create a long-term, sustainable income for farmers alongside the many other benefits it brings."