Profitable businesses are best placed to help the planet. Knight Frank's Mark Topliff speaks to consultants Simon Britton and Andrew Martin to discuss the five standout traits of the most successful farmers they have worked with.
Farming businesses that perform at the top 25% level financially are more capable of riding out volatile markets and more likely to invest in environmental schemes. Net margins for farms in the top quartile average around 25% to 30%, regardless of farm size, according to Defra's Farm Business Survey. They also receive more in agri-environmental payments. By contrast, the bottom 25% of farms typically make a loss and take a lower income from environmental schemes. Commodity market volatility, (see chart), will test the resilience of any farm. But successful businesses show characteristics that enable them to keep performing, remain profitable and continue to invest in their infrastructure and the local environment.
According to Simon, high-flying farming businesses "understand their business at every level and are able to focus on details. This means that they can change 100 things by 1% and not just one thing by 100%." However, that doesn't necessarily mean pushing for higher yields is the most successful long-term business strategy, as Andrew knows from personal experience. "It was hard trying to take an arable farm producing good yields to one achieving excellent yields," he says.
Going for high input and high output didn't always work – so he decided to change tack. "This came down to the financial awareness and knowledge of my own business and understanding how the margin was structured," he reveals. "Reducing inputs and using a different wheat variety on some fields proved to be better for margins and the local environment."
It can be challenging to make this journey alone. "Surround yourself with the best people," is the advice from Andrew, who made changes with his farm in order to do just that.
"Whether that's the people you employ or trusted advisers. High-performing farms will help employees upskill themselves, involve them in decision-making and communicate with advisors regularly. Non-traditional communication channels, such as social media and messaging apps, are being used by topflight farms, but it's also about regular communication and open-mindedness," says Simon.
For Andrew, it's also important to take a proactive approach to learning, for example, through a Worshipful Company of Farmers course or a Nuffield Scholarship. "If you're fortunate enough to get the opportunity to go and study other businesses in the UK or around the world, it's invaluable," he says. "And all those people generally make a good success of their businesses afterwards."
Another key attribute of the top 25% of farms is their knowledge of the markets they are selling into. This includes why prices move and how to get the best price for what they produce. "It's about knowing how these markets will affect margins and then the impact on your marketing decisions," stresses Andrew.
Don't rest on your laurels, advises Simon. "You have to regularly challenge what you're doing because it may have to change if the market has changed, whether you're a cereal grower or a red meat producer. Rural Britain is changing, and doing what you have always done will not be an option for those aiming to be in the top 25%."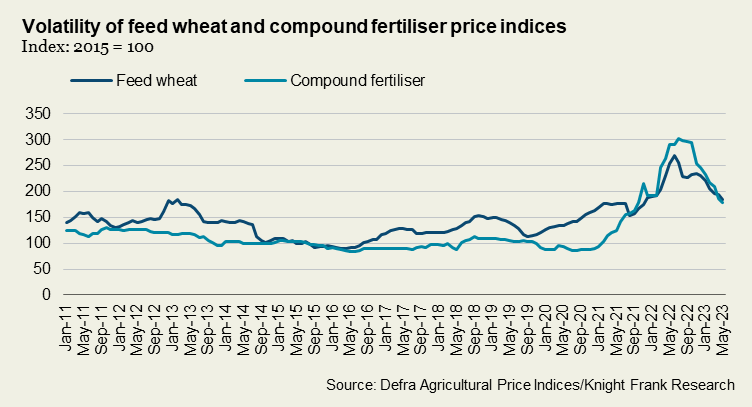 Knight Frank's top five traits of high-performing farming businesses
ATTENTION TO DETAIL
Farms in the top 25% know that focusing on the details of the business drives so many other facets of farm management. They challenge everything they do and do not take anything for granted.
PEOPLE MANAGEMENT
A proactive, inclusive, and communicative approach will achieve a highly motivated and focused workforce. High-performing farms have better retention, recruitment, and staff performance.
OPEN MINDED
Top-performing businesses have a mindset to try or research new things. This goes hand in hand with a willingness and desire to continue to adapt and evolve. Communicating with peers who challenge and expand their thinking is also common.
FINANCIAL AWARENESS
High-performing businesses know where they are financially and where they aim to be. They will benchmark internally and externally, keep management accounts and budgets, and know their cost of production.
MARKET UNDERSTANDING
Top quartile farms understand the markets they produce for but, just as important, how those markets affect their business – helping drive better marketing decisions.
If you would like to speak to Simon and Andrew, they can be contacted at simon.britton@knightfrank.com and andrew.britton@knightfrank.com. Further insight and case studies on regenerative farming, natural capital, Biodiversity Net Gain and other environmental schemes and legislation can be found in The Rural Report 23/24 at www.knightfrank.com/rural-matters .