KUHN Farm Machinery has announced its product line-up for Tillage Live at WH Corbett in Atherstone, Warwickshire.
Working machines will include the Venta 3030 drill combined with the CD 3020 disc cultivator, the Espro 6000R drill, Striger 600R strip till machine, Prolander 6000 with TF 1512 distribution head, Optimer L12000 stubble cultivator, Performer 4000 Select cultivator and the VML Smart Plough.
The working machines will be joined by further products on the KUHN stand including the Megant 602R drill, Maxima RXE maize drill, Cultimer L300T stubble tine cultivator, and the Aero 32.1 pneumatic fertiliser spreader.
Product specialist Edd Fanshawe says:
"Tillage Live is a unique opportunity to see a wide range of KUHN products working, and our team will be on hand to answer questions and provide product information."
The product selection represents KUHN's breadth of machinery featuring both min-till and conventional tillage machinery choices. Mr Fanshawe suggests that the popularity of shallow cultivators reflects the desire to reduce soil disturbance. However, he says many systems still rely heavily on conventional ploughing methods.
"KUHN has expanded the min-till range in recent years, with wider widths for the Optimer and Prolander. However, we are also focussed on providing new solutions for those seeking to plough more efficiently. The VML Smart Plough is an example of how ploughing precision can be enhanced using GPS and ISOBUS to adjust working width, offset, working depth and levelling."
The drills on show include the lightweight Megant 602R that can be operated by tractors with as little as 150 horsepower. The latest Maxima RXE has electric drive and offers precision maize sowing at 10km/h. The 6 metre Espro 6000R will be working at the event to demonstrate how the versatile drill can work after the plough, min-till or directly in residues.
"The KUHN drill range is one of the most comprehensive available, offering diversity for varying farming systems. We will also be demonstrating the 6 metre Prolander with a TF 1512 distribution head, which is suitable for the shallow incorporation of stubble and mixing in a break crop whilst also seeding the following crop in the same pass," he adds.
Product Focus
KUHN Megant 602R
KUHN's lightweight Megant drill features new tine coulters, an updated terminal, and the option to add a second hopper. The Megant 602R shares functionality with the previous 600 model, but features half width shut off and can be specified with an additional SH 1120, 110- litre hopper to drill two crops in the same pass.
Due to its lightweight design, the Megant can be operated by tractors with as little as 150 horsepower. Three types of tines can be specified on the Megant, including reversible forward action, straight, and a new narrow 12mm straight tine coulter which reduces soil displacement through improved penetration and also reduces wear on the tine thanks to the addition of carbide plated points.
The 602R has inherited some features from the larger Espro drill, including spring loaded nonstop track eradicators and side markers that are better suited to dry conditions. A new welded 1800 litre hopper capable of holding 1200 kilos of wheat and drilling 60 hectares a day replaces a riveted hopper on the previous model. The new hopper also includes internal steps to improve access to the distribution head.
The Megant has been fitted with KUHN's VISTAFLOW valves which can be configured and controlled from the terminal. This enables operators to program the flow of seed with the option to save settings for future use. VISTAFLOW also records tramlining configurations such as the working width and wheel track to enable more accurate use of sprayers and fertiliser spreaders which will help to reduce input costs.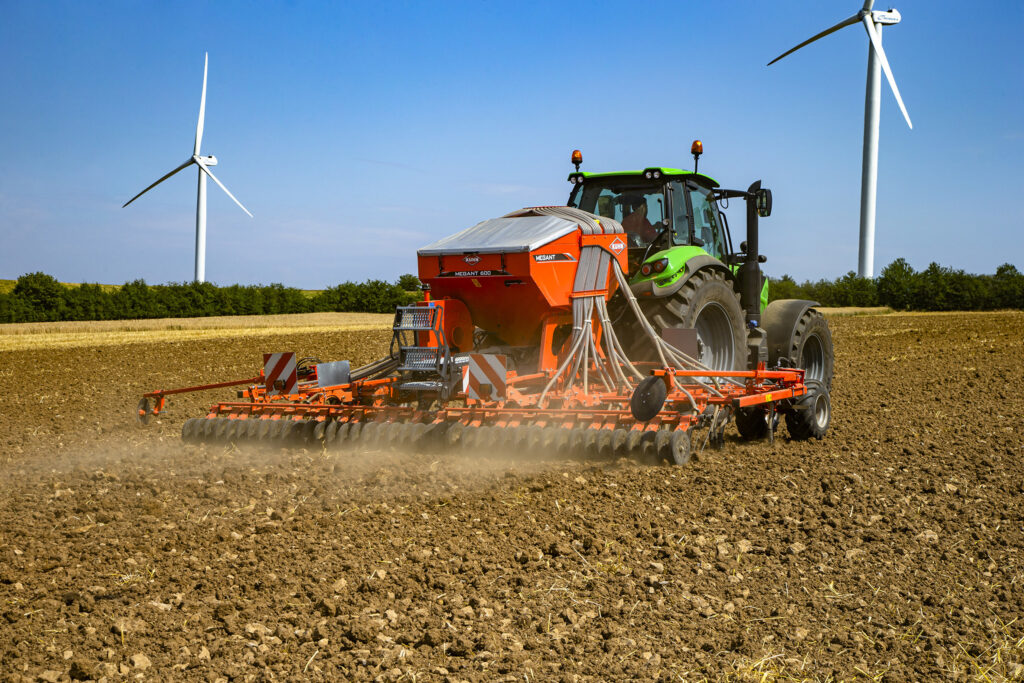 Caption: The lightweight KUHN Megant 602R will demonstrate precision can be achieved without high horsepower.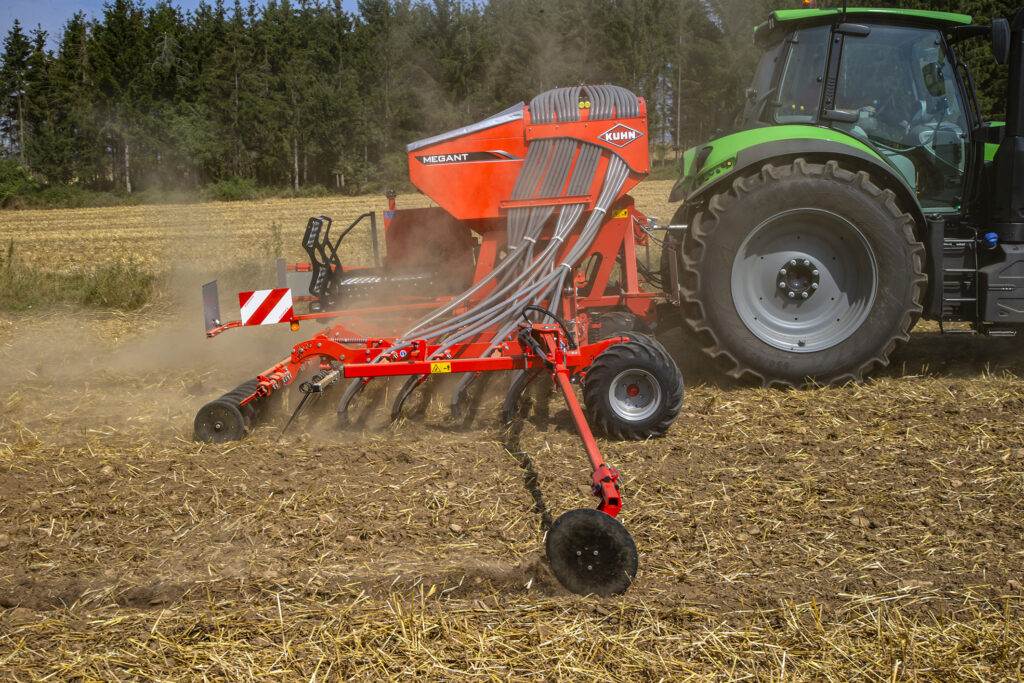 Caption: The KUHN Megant 602R can be specified with an additional tank to sow multiple products in one pass.
KUHN Aero 32.1 mounted pneumatic fertiliser spreader
The KUHN Aero 32.1 pneumatic fertiliser spreader is equipped with a 24-nozzle boom and is available in working widths of 27, 28 or 30 metres. The mounted machine application rate is precise and modular over four sections, and it has an integrated weighing system.
The 3,200 litre hopper (1,900 litres without the extension) and working width of up to 30 metres make the Aero suitable for heavy use operators. It is also easy to operate, with hydraulic booms that are easy to control from the tractor cab and fold to the rear for safety on the road.
Each metering unit is connected to six nozzles which can be switched on or off and be adjusted individually. It is therefore possible to modulate up to four spreading rates and to shut off individual sections, in a single pass.
The Aero 32.1 provides precision application up to the field border. This includes fine, light, or compound fertilisers, such as urea, and bulk mixtures that are usually more difficult to spread over large widths with centrifugal spreaders.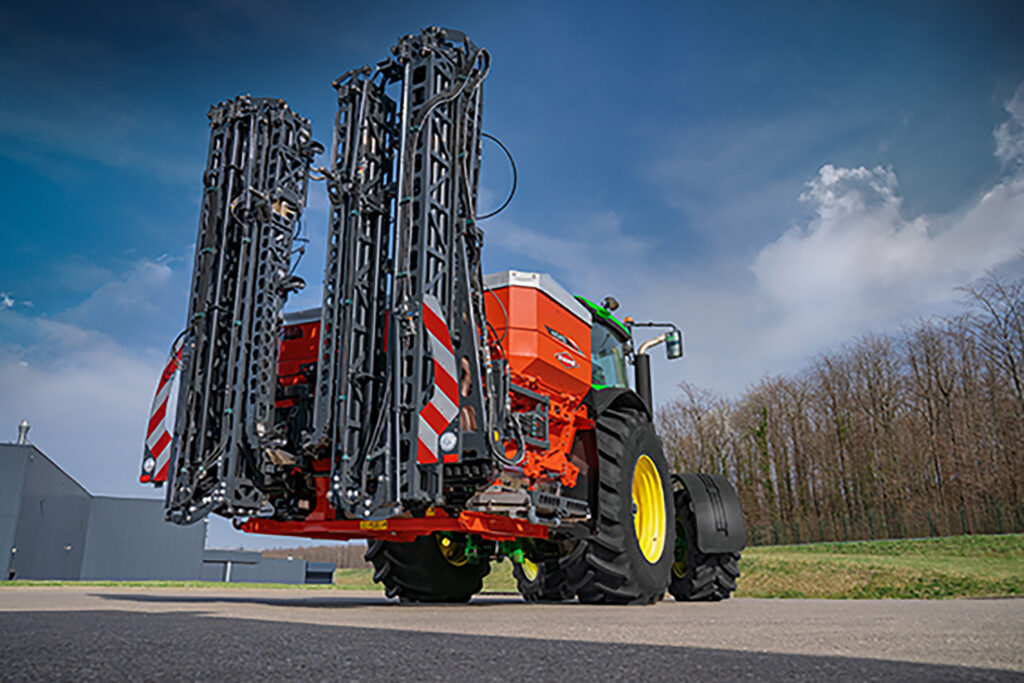 Caption: The mounted KUHN Aero 32.1 is available in 27, 28 and 30 metre working widths, but folds to a compact load on the rear of the tractor.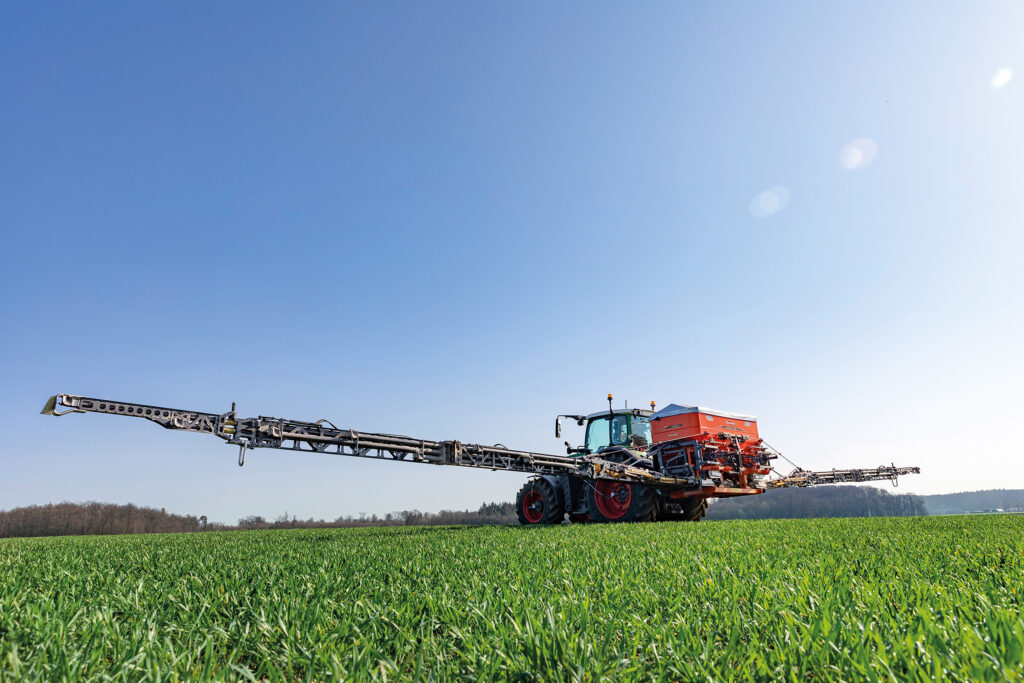 Caption: The KUHN Aero 32.1 features a 24 nozzle boom and can be specified with a 3200 litre hopper.
KUHN Prolander with TF 1512 distribution head
KUHN's Prolander has the versatility to perform multiple cultivation operations, working at speeds of 12km/hour and with a power requirement of just 25–35 horsepower per working width metre. It features five rows of staggered vibrating S tines with progressively increasing spacings to ensure unimpeded trash flow. The robust frame strength allows work in stubble or seedbed and tines can be fitted with 60mm shares (seedbed preparation) or 180mm duck-foot shares (shallow cultivation).
The Prolander comes with a choice of rollers, with the double-U being suited to stubble and general tillage work whilst the tube roller (with the option of levelling harrows) is ideal for fine tilth work on light soils for root crops.
Coupled with KUHN's TF 1512 distribution head, the Prolander can also plant crops, cover crops and apply fertiliser. The front mounted hopper is available with 1500 or 2000 litre capacities and can be controlled with KUHN's ISOBUS CCI terminal or a tractor ISOBUS terminal.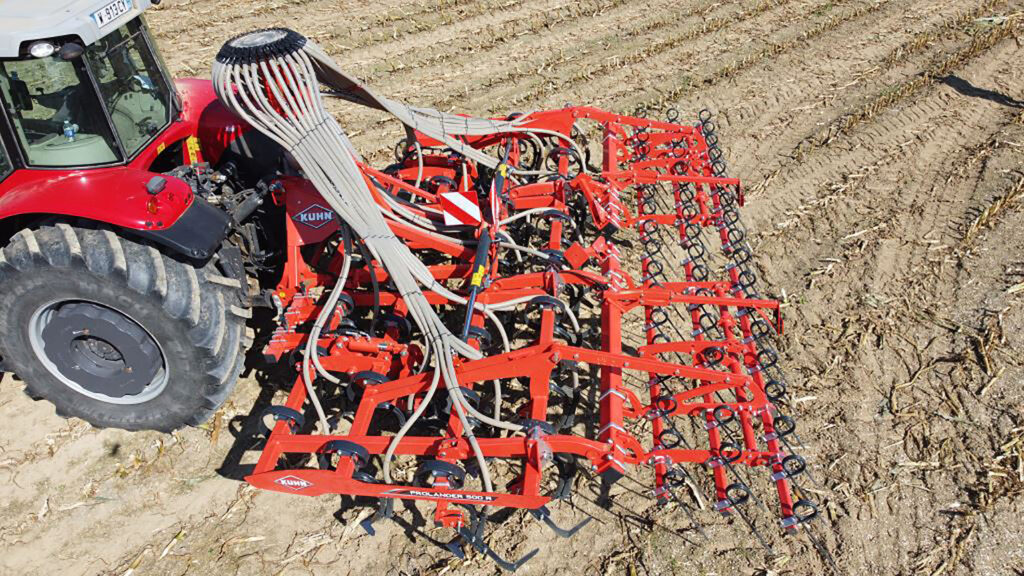 Caption: KUHN's Prolander is now available with a distribution head and TF1512 front tank to enable the cultivator to plant crops and cover crops and apply fertiliser.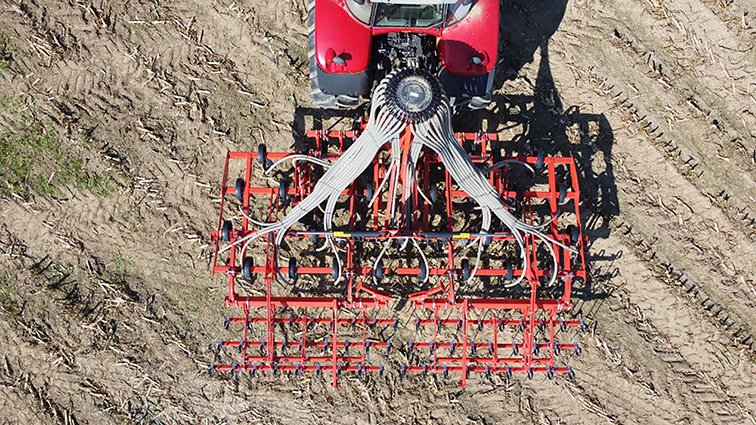 Caption: The distribution unit can be controlled with KUHN's ISOBUS CCI terminal or a tractor ISOBUS terminal.