SELECT TOOLS FITS FOR PURPOSE FOR EFFECTIVE MINIMUM TILLAGE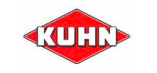 The benefits of minimum tillage or notill drilling systems are well established, and – whilst there will always be a significant role for the plough – there is no doubt having a wide range of cultivation options is important if arable margins are to be maximised. The key point is to use the correct machine for your individual requirements and/or conditions, first understanding precisely what it is you are seeking to achieve. Minimum tillage is as much about improving the soil and plant ecosystem as it is about saving costs. Keeping organic matter in the surface layer of the soil encourages humus development, and this in turn leads to the higher levels of micro-organism and earthworm activity that will improve soil structure and stability.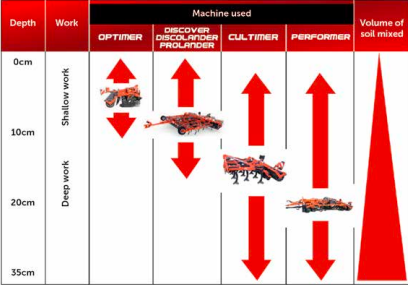 The aim must be to minimise soil compaction and ensure any crop residues are spread evenly across the field. It is then a matter of finding the right pre-drilling cultivation to create the friable, aerated and well-drained soil that is so essential to successful crop establishment. With so much variation in conditions across farms, and indeed within individual fields, UK farmers need flexible systems to achieve the best results consistently. KUHN Farm Machinery's approach to minimum tillage is to provide a range of options, with each offering easy adaptability and great flexibility in use.
NEW FROM KUHN ESPRO range extended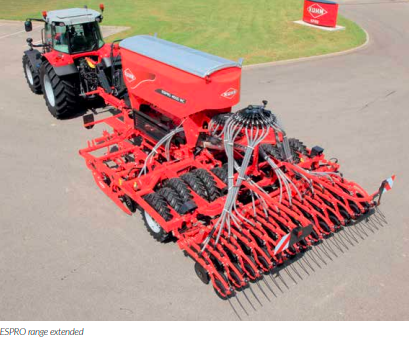 KUHN has added a 4-metre version of its combination min-till seed drill to its expanding range of ESPRO trailed machines: the new ESPRO 4000 RC is a 4-metre working width, foldable machine which enables seed placement and fertiliser application in one pass. The ESPRO 4000 RC joins KUHN's existing line-up of trailed min-till drills which includes the 3-metre rigid ESPRO 3000, the 4-metre and 6-metre foldable ESPRO 4000 R and ESPRO 6000 R, and the foldable combination ESPRO 6000 RC.
Roller option extends PERFORMER versatility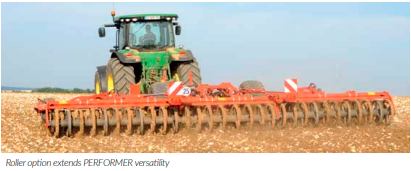 KUHN has enhanced the versatility of its range of PERFORMER deep tine-disc cultivators by adding a new 'Double-U' roller to the range's list of optional equipment. Already available on KUHN's PROLANDER seedbed cultivator, the Double-U roller is now available on all models in the PERFORMER range, with machines available in 3, 4, 5, 6 and 7 metre working widths.
Stubble cultivator suited to lower power tractors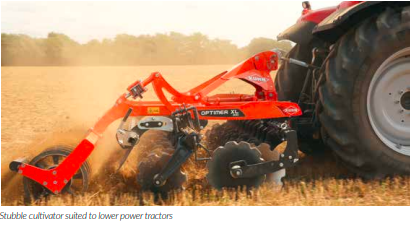 KUHN has launched two mounted versions of its OPTIMER stubble cultivator for use with lower power tractors. Available in working widths of 3 or 4 metres, the new OPTIMER XL 100-series machines feature two rows of independent discs followed by a roller bar which can be equipped with a variety of KUHN press wheels.