Originally published in No-till Farmer USA, written By Mark McNeely posted on June 9, 2018
DOT Technology's driverless platform enables multiple implement use from a single machine, thereby increasing efficiencies on farms large or small. Acceptance of autonomous farm equipment is growing, given its promise of greater efficiencies for both large and small farms. The availability of these driverless machines could help no-tillers drive up efficiency even more on farms both large and small. But one barrier to adoption has been the lack of fully commercialized products.
DOT Technology Corp. is one manufacturer on the cusp of releasing its autonomous power platform that enables growers operate seeders, sprayers, grain carts and other implements with a single, driverless tool. The Canadian company expects limited commercial production to commence in early 2019, but is first testing several machines throughout the 2018 growing season. "Our goal is to have six machines moving in the field throughout the 2018 growing season," says Cory Beaujot, managing director of marketing.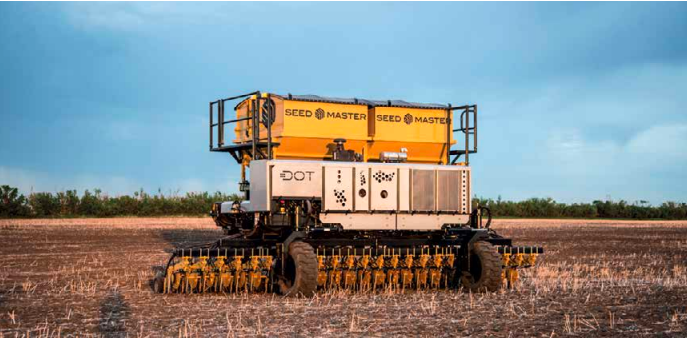 Run DOT Run
DOT's power platform features a 4.5-liter, 175-horsepower Cummins diesel engine that drives two hydrostatic pumps. Those pumps, in turn, drive hydraulic motors that run each wheels' planetary gearboxes, giving DOT a smooth operating speed range from creep to 12 mph. Two auxiliary hydraulic pumps are available for implement operation. The platform includes four hydraulically activated arms that lift and secure implements to the machine's receiving and centering dowels. Loading most implements from the ground can take as little as 12 seconds. Transport width is 12 feet, 4 inches for most implements, according to the company.
Beaujot says that DOT boosts horsepower efficiency by at least 20% over a conventional tractor/implement arrangement, giving farmers added fuel savings. "Tractors need ballast in order to tow an implement and that ballast eats up horsepower and efficiency." DOT operates in fields within prescribed, farmer-approved routes generated through the creation of highly accurate boundaries. Positional information from an RTK GPS receiver mounted on DOT ensures it is only operating within the approved area. If DOT drifts from its prescribed path, movement is halted and the operator is notified.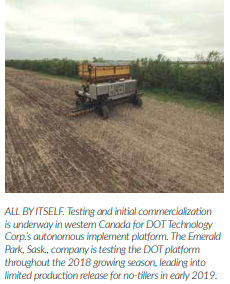 Knowing Customers
DOT's geographical focus for 2018 is on its home turf in western Canada, working with a base of customers who use their sister company's SeedMaster products. The company is also working on partnerships with implement manufacturers to adapt their equipment to become "DOT Ready." One machine will be utilized exclusively on SeedMaster's research farm near Regina in Emerald Park, Sask.
Beaujot expects another unit to soon be used by a no-tiller who also seeds cover crops near Yellow Grass in the southern portion of the province. A third DOT will be deployed near Lemberg, to the east of Regina. That machine will be used by Pattison Liquid Systems, an implement manufacturer who is developing a spray applicator boom for the DOT platform. The sprayer is expected to have a 120-foot boom and 1,500-gallon capacity. "For the remaining units, our primary directive is to have them on farms later in the season where they're air seeding winter wheat, for example," Beaujot says. In its seeding configuration, DOT is currently using SeedMaster's 30-foot air-seeder implement, which is a no-till hoe drill with two knives placing seed and fertilizer in separate openings, followed by a packer wheel.
The unit features the company's UltraPro seed metering system. Its four, frame-mounted seed and granular fertilizer compartments are ready for the numerous crop varieties seen in western Canada, Beaujot says. "Canola is a big part of what's being grown here, as well as acres of pulse crops like soybeans, yellow and green peas, fava beans and chickpeas," Beaujot notes. "We're also planting the cereal grains like wheat, oats, barley and other oil seeds such as flax."
Putting Money Down
Earlier in 2018, the company began taking deposits for future production slots of the DOT platform and interest has been robust from all over the world. "We could be selling DOT power platforms with SeedMaster implements in southern Ontario, throughout the Corn Belt of the United States, Australia or in Europe as early as next year," Beaujot says. "But for 2019, our focus will remain on western Canada and the northern United States, such as the Dakotas or Montana." Beaujot notes that there's definitely interest from large farmers, but some of his more interesting conversations center on how the DOT platform speaks to smaller farmers' needs. "Because of their size, smaller farmers are sometimes relegated to buying used equipment," he says. "DOT presents some innovative realities where they can buy into new equipment at a modest price, use a range of implements with one platform and keep their farm ahead of the technology curve."