The winners of the FCCT Soil Farmer of the Year competition opened their gates over four days and provided a veritable masterclass in managing soils. Spanning a range of soil types, management systems and enterprises, attending farmers gained insights into their award winning management and a better understanding as to why these farms had been picked as the top three in this year's competition.
The Soil Farmer of the Year Competition, now in its third year, is run by the Farm Carbon Cutting Toolkit and Innovation for Agriculture. The competition aims to find farmers and growers who are engaged with, and passionate about managing their soils in a way which supports productive agriculture, reduces greenhouse gas emissions and builds soil health, organic matter and ultimately, carbon. For the first time this year, some of our finalists were presented with their certificates at Groundswell, which was a fitting venue to recognise their achievements.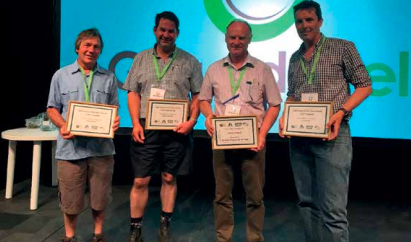 The competition this year attracted a large number of high quality entries. Judging them is always challenging. However, from a list of high calibre finalists, the top three were announced and very kindly agreed to host farm walks to showcase their management to other farmers, explain a little bit of the journey that they have been on to get to this point and share ideas. Simon Cowell, this year's winner, farms 400 acres of heavy clay with a large acreage below sea level. Simon has been working on improving his soils for the last 20 years, and moved to a notill system 12 years ago, being flexible with both management and rotations to prioritise soil health. Simon was chosen as the winner this year because of his passion and enthusiasm for soil management and this was evident during his farm walk. Simon focusses on building soil health with a combination of no-till, the use of homemade compost and a diverse rotation which grows healthy plants, allowing for a reduction in inputs. These were all things that were discussed during the walk. The first stop was the compost heap.
Compost
In the last 5 years, Simon has refined his compost making technique to produce a highly effective biological inoculant that makes a visible difference when it is applied. The compost includes horse manure, woodchip and garden waste, as well as gypsum (providing calcium and sulphur in a biological form) to counteract his high Magnesium levels, and is made to a strict method.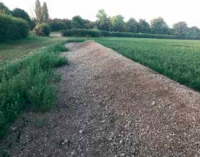 The materials are layered up in rows and then turned using a compost turner, every day to begin with and then less and monitored by using a temperature probe to keep the material below 70 degrees C, to protect the beneficial microbes. Once the compost has stopped heating up and is left, the fungi can start to grow, colonise the woody material and build associations. It is then left to mature, and then applied at between 2-4 tonnes per acre on the surface of fields that need it. Simon explains, "Compost is the best thing ever.
If the soil is not in the right condition, when you apply biology it will not thrive. However if the biology make their home in the compost, when the compost is applied to the soil, they won't die off, they have a stable home and can thrive. It is changing my soils, within a few weeks of an application you can see a visible difference." This year Simon is aiming to apply a lower rate of compost across a wider acreage to maximise the benefits. After the compost heap the group continued looking at some of the different crops growing and discussing rotations.
His long term vision is to get the soils into a position where they can generate all the nitrogen the crops need (he hasn't applied P or K for the last 20 years), and get it so biologically active that the weeds won't grow and the crops dominate. His aim is to lessen the impact of management on the soil and allow it to 'bounce back'. He explains, "In a completely natural environment, all is balanced and correct. Everything that we do, changes it. If you gently ploughed it as the only intervention, the soil would recover. However everything that we do knocks it back, ploughing, cultivation, fungicides, etc. We need to lessen the impact of all these things.
On-farm trials
One of the ways that Simon has managed to lessen his impact is to change to more spring cropping, which has dramatically cut his Nitrogen usage. He is keen to push this further and see how far he can go and what can be achieved. To this end he has a range of trials on the farm, including looking at how wheat performs without artificial Nitrogen, and whether the mycorrhizae will work with the bacteria and fix nitrogen out of the air and fed the crop.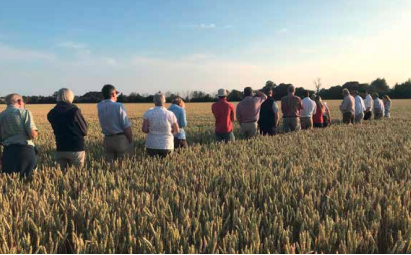 Simon explains – "In a normal situation, the wheat would just go all yellow and be hopeless without Nitrogen, but its looked quite decent all year. It didn't tiller out and there are fewer ears there definitely but it's quite a reasonable crop." As well as the Nitrogen trials, Simon is also testing a range of wheat varieties to see if they behave differently in a notill system. He drills all his wheat with a mixture of 4 varieties (Conqueror, Gator, Diego and Panorama), and this trial was a good opportunity to compare his hybrid variety in terms of yield and performance.
Trials were done last year, and the results were positive; Simon's mix yielded the highest, and as such, the trials have been repeated, and modified this year. As well as testing the varieties, this year he is looking at varying inputs, varying fungicide, herbicide, growth regulator and trace element levels to assess the impacts on yield, performance and costs. The group were looking forward to seeing the results, as this year the trials will be cut with a plot combine.
Simon echoed again the main reason for trialling new ideas, improving soil health. He explains, "Soil health is so important, and is the overriding factor in all decisions made, much more than financial implications. I am farming for the long term rather than one year at a time. It's so difficult to get the crops to grow, the less I do to my soil the better. The driving factor is to do a better job and improve my soil, saving money is just a help."
Simon finished the evening with his best piece of advice for anyone considering changing their management. "You've got to make the decision yourself, its got to come from you, wanting to understand the soil and how it works in terms of its biology. I won't claim that you can maintain artificially high yields, it's a different way of looking at things, but I've massively lowered my cost base. Biological systems are not predictable."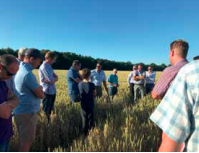 Our second place farmer this year was Angus Gowthorpe, who farms 400 acres in York with a mix of arable crops and grassland for his pedigree cattle.
Angus manages a variety of soil types from blow away sand to heavy clay and has completely changed the focus of his management to concentrate on soil health to benefit the business and the next generation as well as the wider environment. Making the most away from tillage 5 years ago, he has seen the soil structure start to improve especially on his heavy land.
The first crop that the group looked at was some wheat which had followed linseed. Along with discussions on the benefits in terms of input reductions that can come with a transition to a notill system, there was a good sharing of experiences of the use of cover crops, as this field had had a cover crop prior to the linseed. Angus explained the process that he had gone through over the last three years of using cover crops; starting out using a basic mix of oats, phacelia and buckwheat, gradually adding other species including sunflowers, peas, millet and vetches to create a diverse mix. This cover crop was grazed by sheep and the benefits of grazing cover crops including the addition of beneficial biology through manure deposits to turbo charge the soil was discussed. While talking about livestock, Angus explained about the cattle and the wish to move towards a mob grazing system in the future to further improve soil health.
Following a look at the wheat, the group then moved on to look at a field of barley and talked about weed control, drainage, whether or not to apply gypsum and muck as well as the benefits of reduced tillage systems in the dry weather in terms of holding onto what little moisture was there. After another field of barley and more discussions about the importance of soil structure, drainage and encouraging the worms, the attendees gravitated towards the machinery and specifically Angus' John Deere 750a. Questions around drill selection, adaptations, liquid fertiliser kits and different discs carried on for a long time along with ideas around how to take some of the ideas away and work on them at home.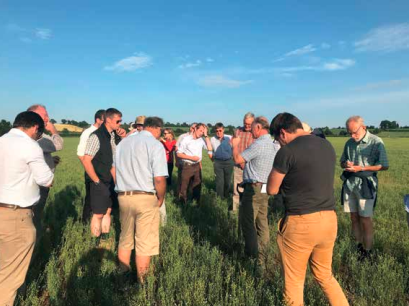 Our final walk took place at Little Pix Hall Farm in Kent, which is managed by this year's third place winner in the competition, Will Steel. Will has transformed the farm into a business where soil management takes priority and is sustained for the long term. The focus of this farm walk was looking at how farming and the environment work together to create resilience, and looked at how to make the most of the assets on the farm. Will explained how getting the soils to work and be more productive was a crucial part of the long term strategy of the business.
The farms soils were tested when it was derelict in 1987 and had a soil organic matter percentage of 5%. This dropped to 2% in the 1990s using a plough based system, and Will has been working since 2000 to increase the organic matter percentage back up to 5% using a combination of minimum tillage, no till and cover crops. Walking round the farm it was possible to understand how the different 'assets' fit together and how the environmental features on the farm form part of the business. Stopping at a field of spring oats.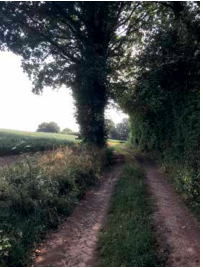 Will explained how cover crops are a key part of helping build soil health and fertility. The field had previously been down to a second wheat, with a cover crop planted immediately after the combine with an 8 way mix to maintain green cover. The aim of the cover crop is to grow fertility – it avoids the expense (and paperwork) of importing manure and the risk of compacting the soil when the manure is spread. Will terminates the crop by rolling on a frost when the temperature is minus 5 and is getting good results using this method.
As with all of the farm walks, how the crops were performing in the dry weather was a hot topic of conversation, and the importance of organic matter in terms of holding onto the moisture was well recognised. Will also recognises the importance of worms (as all of our finalists do) and through regular worm counts is seeing the numbers rise from 12 million per hectare two years ago to 15.3 million per hectare this year. He puts the increase down to the improved organic matter levels and the management of residues as well as a reduction in tillage.
As with all Soil Farmer of the Year farm walks, there is always a lot of time standing around a soil pit and this was a highlight on this farm walk. Will explained about the challenges of managing soils in this area of the High Weald, the importance of magnesium as the soils have a high calcium content, and how he is managing his 8 inches of topsoil. He is seeing the beneficial effects of changing his management including retaining the soil in the field explaining "when we were ploughing, there was a fair bit of soil erosion, the cover crops protect it over winter and you can walk out on the fields after three inches of rain without wellies, it just stays where it should."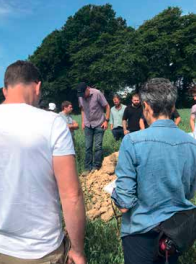 This is a brief summary of the farm walks and the conversations, ideas and plans that were set in motion. A big thank you and congratulations to the three winning farmers of 2018 as well as our three other finalists, Simon Drury, Martin Howard and David Lord, as well as the kind sponsors of the competition, Cotswold Seeds and NRM. If this has inspired you to enter the competition next year, then the competition will open again on World Soils Day 2018 and more information is available on the FCCT website at www.farmcarbontoolkit.org.uk .