A stressful time trying to establish autumn crops is what originally prompted Northamptonshire estate manager, Andrew Mahon, to move away from traditional cultivations. But it's been a journey that's paid off.
As manager of the 1,000 ha Bromborough Estate at Glebe Farm, Podington near Wellingborough – with 840 ha of owned land plus 165 ha under a farm business tenancy agreement – Andrew Mahon has overseen some significant changes during his 10 or so years in the post.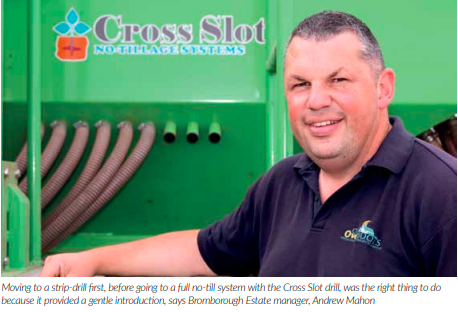 Farming on heavy clay soils brings with it problems of blackgrass. But this hasn't stopped him making a success of moving from a traditional plough/ min-till based system to no-till. And in a fairly short space of time. "The rotation is driven by blackgrass," Andrew explains. "In our low blackgrass situations, winter wheat is followed by a second wheat, which we then often follow with two years of spring crops. In a high blackgrass situation, winter wheat is followed by one of the spring crops. And in a moderate blackgrass situation, it's followed by winter barley. "We dropped oilseed rape from the rotation three years ago because of problems with cabbage stem flea beetle, pigeons and slugs. But we are growing some this year after growing some again last year," he adds.
Initially, the idea of moving to reduced tillage was triggered back in 2012, when the wet harvest meant Andrew not only saw a 30% drop in yields, after struggling to get crops combined, but then also struggled to get crops drilled. "Back then we were using ploughing and min-till," he continues, "ploughing about a third of the arable land every year. It was a really stressful autumn, so we looked at what we could change. We're on heavy, predominantly Hanslope series, clay soils so therefore couldn't really change our cropping. "At the same time, the BASE UK (Biodiversity, Agriculture, Soil and Environment) group was set up and I joined. After researching conservation agriculture and reduced tillage, I thought that was the way forward."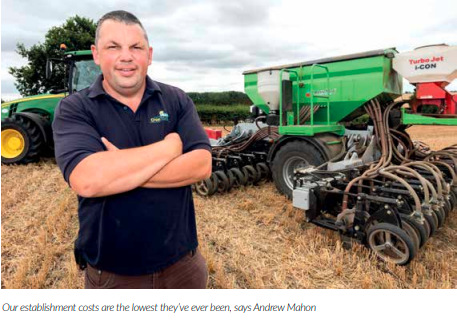 The following year, 2013, Andrew took his first step by ordering a strip-till drill that only cultivated a four inch to nine-inch band of soil for drilling into. At the same time he sold the plough, a set of discs, a press, and two tractors, the latter being replaced with one tractor that was hired in. "We started using the strip-till drill in autumn 2013 and through 2014 and 2015. It became apparent in the first year that it was working. We saw no drop off in crop performance.
"However, I felt we were still moving quite a bit of soil and still having problems with blackgrass. So the next step was to look at no-till. In March 2016 we ordered a 5-metre Cross Slot No Tillage Systems drill. It's been brilliant. We had good establishment and good crops again this last year." Overall, Andrew sees three parts to conservation agriculture – cover cropping, diverse cropping, and no-till. With hindsight, he says moving to the strip-drill first before the no-till unit was the right thing to do. "It was a stepping stone – a gentle introduction. If we'd have gone straight to no-till we'd have struggled.
"Your whole mindset has to change because you're drilling into trashy conditions and cover crops. Also, the soils need time to adapt. So you've got to be patient. And you've got to start slowly. "That said, even in our first year of notill the soils travelled better – with better trafficability. Also, our establishment costs are the lowest they've ever been – with reduced diesel and machinery expenses.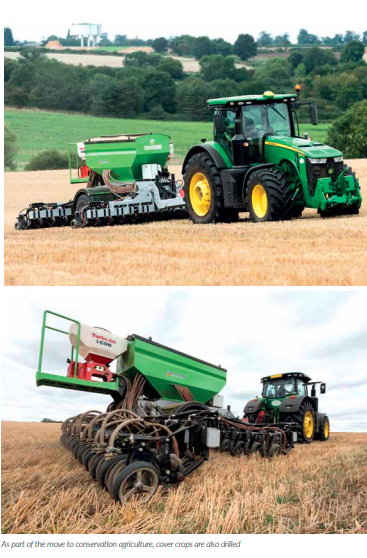 "We've also now got a wider drilling window. We can drill a bit earlier or a bit later. And there's a lot less stress. "Using no-till, we also conserve soil moisture and reduce soil erosion, but you also get the natural drainage you need through worm channels by minimising soil disturbance. If you plough, the seagulls eat the worms straightaway. In one field we min-tilled and cross-slot drilled, there were about 17 worms per unit area of soil. Where we ploughed we found 5 worms. And where we no-tilled for two years we found 27. "There are still areas that we need to mole drain, but soil structure is definitely better.
Anywhere that we need to subsoil we've done that," he adds. In preparation for the no-till drill, straw is chopped and left on the surface and then drilled-into. Another benefit of the approach is that stubbles are left longer, which increases combine output, Andrew says. Organic matters are reasonable across the farm at 5-6%, he notes. "If you're serious about conservation agriculture, you also have to encourage the soil mycorrhizae. I'd say the ability to minimise soil disturbance is key for mycorrhizae. They form fungal networks but are very fragile," he adds. Allied to this, as well as changing tillage practices, 2013 was also the year that Andrew introduced cover crops as part of his move to conservation agriculture, planted directly behind the combine. 
"We started with various mixes. I think they are an integral part. Keeping green cover or living roots in the soil for as long as possible in the calendar year is the name of the game. Cover crops also stop surface compaction as they decay. "We're going increasingly to diverse cropping anyway because of blackgrass. We started with 60 ha of spring cropping, we're now at 275 ha.
"In spring 2016, I also noticed that where we had cover crops and sprayed them off with glyphosate four weeks prior to drilling, the material on the surface helped retain soil temperature and moisture because the soil wasn't exposed to drying winds." Having transitioned through the experience, Andrew reckons the biggest issue with the move to no-till was the change in mindset that was needed, but he needs no convincing of its benefits. "I feel we are more sustainable for the long term. Brexit will have a huge effect on agriculture, and we are gearing our cost of production per tonne to be lower.
"We're also starting to see if we can reduce inputs such as nitrogen as we increase soil health, and we're looking at putting humates on and using seaweed extracts. No-till hasn't been a magic bullet against blackgrass, but there have been some gains," he says.
ProCam offers agronomy help and trials
Making the move to conservation farming can be very much a learning process. For a number of years, and during the conversion, Bromborough has been working with leading agronomy firm ProCam. As well as providing strategic agronomy advice and a range of chemical inputs, the company also carries out soil and tissue tests and has been heavily involved with the estate in conducting conservation agriculture-based trials. "I'm pleased to see them involved in conservation agriculture," Andrew explains. "I'm there as a sounding board," agrees ProCam agronomist Richard Rawlings, who has a strong, personal interest in the whole approach. "We are another head in the decision-making process when it comes to talking dose rates for various inputs and discussing things like whether to apply fungicides, and we provide a helping hand in crop nutrition. Plus, we're working closely with the estate in at least three significant areas of trials.
"We've done a lot of trial work in a direct drilled situation with herbicides and blackgrass control. We found that we can control blackgrass in direct-drilled crops quite well, but have noticed some issues with brome. So we're now looking at trials to control this without compromising the blackgrass control. "This season, we're also about to start a medium-term, two year project looking at planting a companion crop of clover with wheat, spelt and spring wheat at different times – to gauge the response to the nitrogen fixed by the clover and the uptake of nitrogen, as well as the level of crop competition that the clover provides.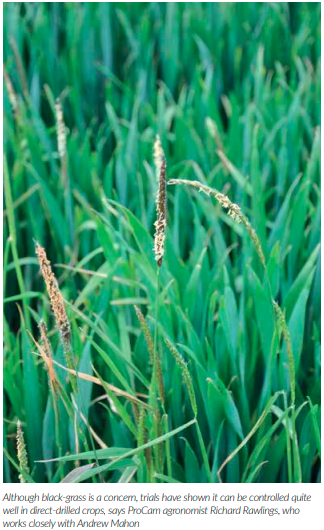 "In 2018, working with the company PlantWorks, we have also tried one of their soil-applied bacterial products to see if it would improve nutrient uptake. The theory is that bacteria in the soil interact with the roots to improve initial uptake of nutrients during the early stages of plant development. We're awaiting the final analysis of the results."
"We're finding by adopting even some small changes, we can make a clear difference," he concludes. Growers wishing to find out more about how ProCam can help with conservation agriculture techniques can contact richardrawlings@procam.co.uk