Top Features for Farmers
James Dale reviews the key features and benefits of the Dale Drills range which tick the boxes for his customers.
Like 2021, 2022 has been another very busy year for Dale Drills, with sales of seed drills up on previous years. A growing interest in no-till and regenerative agriculture along with funding in the form of the FETF grants have certainly helped, whilst our continuous drive to improve, and build versatility into our machines has also been well received.
A busy build schedule throughout spring and summer was made slightly more challenging with the global supply chain crisis. As a British manufacturer, we've always endeavoured to use UK products and suppliers where possible and our close working relationship has helped to reduce the impact of any supply issues, ensuring all our delivery deadlines were kept.
Autumn brought the opportunity to get out onto farms to commission the new machines. It is always interesting to meet with new customers and discuss their plans to incorporate a new machine into their farming strategy. Our focus on producing versatile seed drills mean they will suit almost all strategies from inversion tillage to no tillage and all things in between.
It always interests me to hear what particular features of our equipment lead to our customers 'taking the plunge'. Below is a list of some of the more common responses: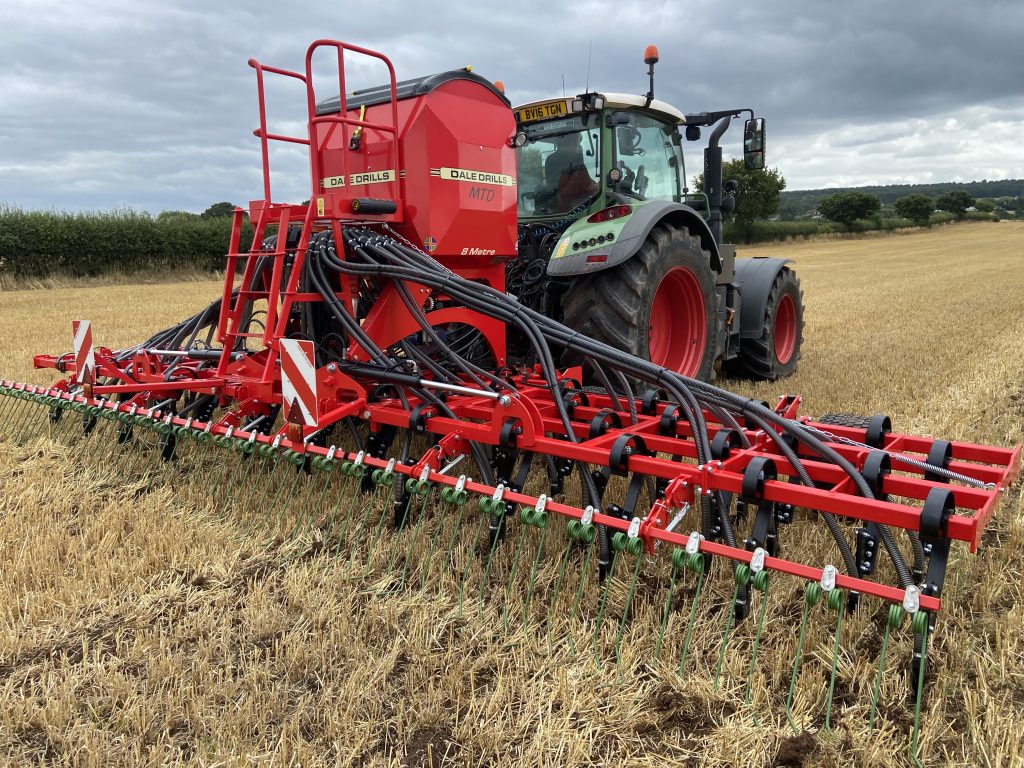 High Output
Many of this year's new customers were looking to increase their output and had purchased drills with wider working widths than their outgoing machines. Pressure on farm labour, tighter drilling windows (delayed drilling for better weed control) and the lower horsepower requirement of our drills were the main drivers for going wider.
The Eco XL no till drill comes in widths of 8m – 13.5m and achieves a typical output of 6 – 10.5 ha/hr ensuring plenty of ground is covered in good conditions and when the opportunity arises. The low draught requirement of around 25hp/m mean that many new customers have been able to use existing tractors on our much wider drills, avoiding the need to replace the drilling tractor at the same time as the drill.
Lighter Footprint
All the drills in our range use our forward facing, 'J' shaped tungsten carbide tipped tine. At just 12mm wide, not only does the tine avoid excessive mixing of the soil, but it also 'pulls' itself into work as it is drawn through the soil. This reduces the need for excessive weight to be applied to the coulter to gain penetration, as is the case with many of the disc direct drills on the market. Consequently, our Eco range of drills are around 50% lighter than many of their competitors, preventing soil compaction at drilling and allowing the drills to continue running in more adverse conditions.
This reduced weight per coulter requirement has been further exploited by fitting more coulters per meter of drill allowing for row spacings as tight as 12.5cm. This narrower row spacing providing users with a more competitive crop, preventing weed growth between the rows.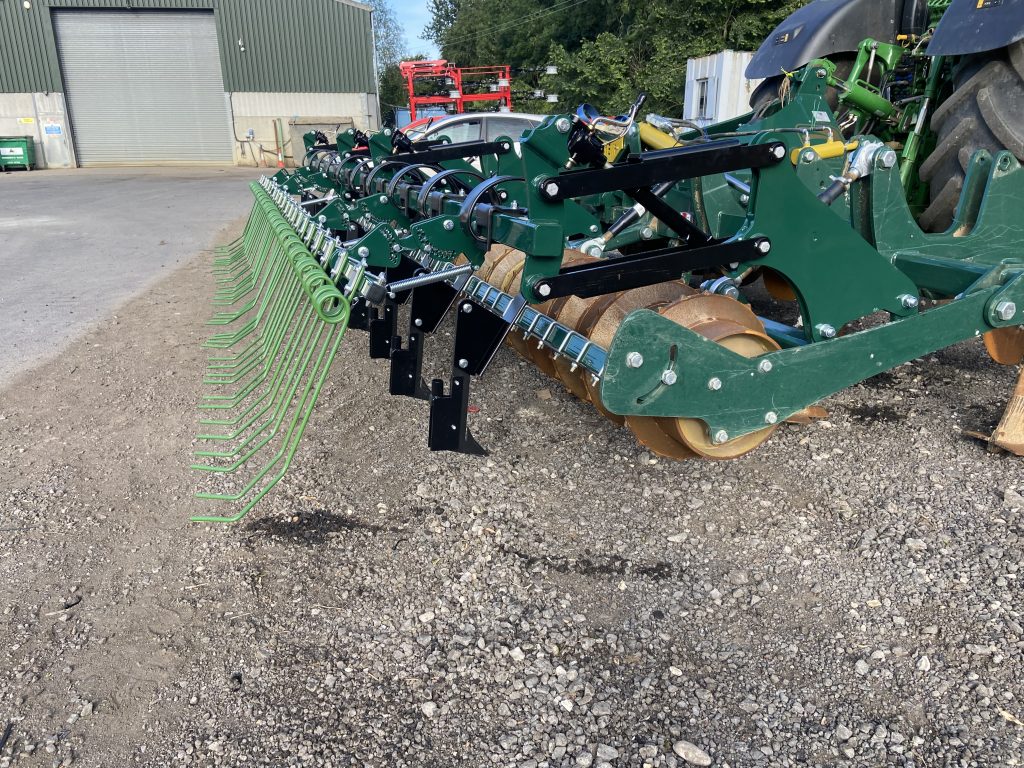 Dependable Depth Control
The Eco range of drills is fitted with Dale Drills' independent drilling assemblies. Each drilling assembly includes a pair of tines, a depth setting press wheel and a hydraulic ram which lifts, lowers and pressurises the tine into work. Because each drilling assembly can move independently from all others, it is able to follow the contours more accurately, offering excellent depth control across the width of the drill. Placing every seed at an even and accurate depth, even on rough ground, ensuring uniform emergence and improving management of the crop throughout its growth cycle.
Many farmers have found this to be a huge benefit to their establishment routine, particularly in wetter drilling situations where excessive drilling depth can lead to smearing of the seed zone, and in drier situations where ensuring every seed is placed into moisture is critical for good establishment.
Low Draught, Low Running Cost
As previously mentioned, our drills are fitted with a 12mm wide Tungsten carbide point. These points tend to last c. 500ac per meter of drill (tines on a 6m drill would on average last 3000ac). Not only does this keep the cost of wearing metal to a minimum (c. £1.20/ac), but it also reduces down time and ensures output stays high, as there is not the need to regularly stop to replace wearing metal.
The low draught requirement combined with the low weight of our seed drills mean smaller, lower hp tractors (typically 150-180hp on a 6m) can be used. The lower initial purchase price of these smaller tractors helps to keep the standing cost low, whilst the greater versatility (the tractor could also be used on a fert. spreader, sprayer, corn cart, hedger, etc) ensure that the machine cost/hour is also kept to a minimum.
With increasing input costs across the board now, many farmers are looking for every opportunity to cut costs where they can. When these savings are combined with the financial and time savings from reduced tillage, the overall benefit is significant.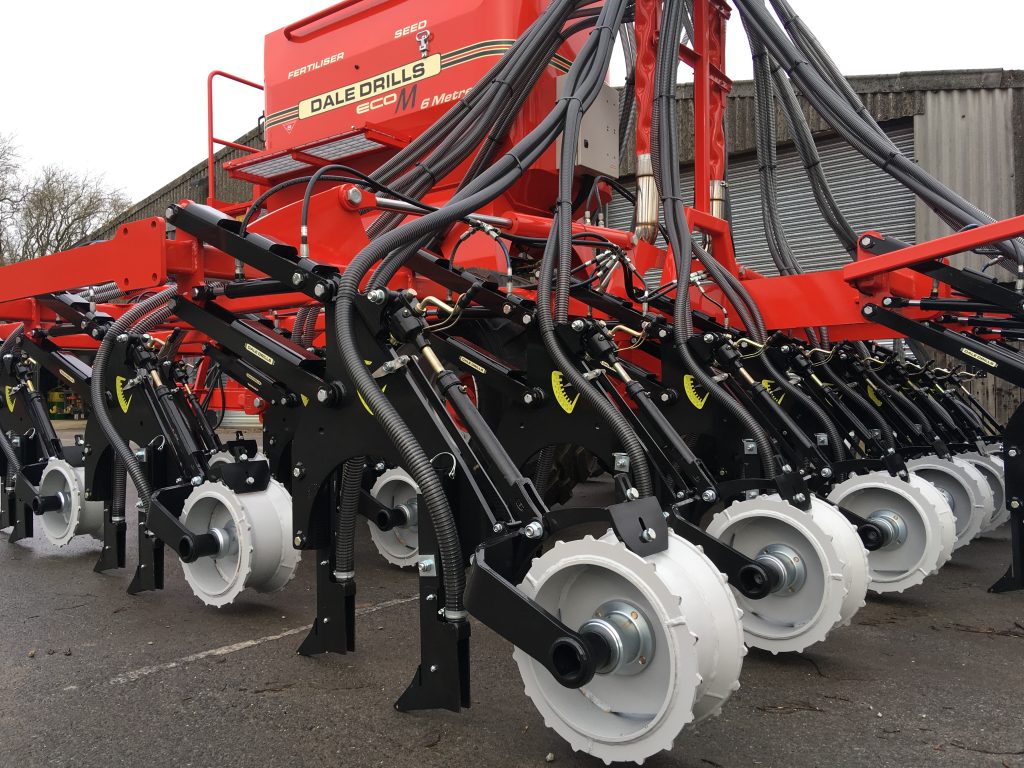 Meir SC – Low Disturbance Soil Conditioner  
Dale Drills sister company, Meir Agriculture, has been established to provide a range of cultivators designed to fit within a Conservation Agriculture system. The Meir Soil Conditioner (SC) is designed to effectively relieve compaction down to approx. 12" without excessive soil disturbance at the surface.
The Meir SC is now available with an optional tine seeder mounted to the rear of the roller. In this configuration the Meir has been used to establish OSR & cover crops. Initial trials have shown the use of low disturbance tillage combined with cover crops has given yield benefits to following crops.
LAMMA 2023
Dale Drills will be attending the LAMMA 2023 show at the NEC, Birmingham on the 10th & 11th January 2023. Come and see us to discuss our range of seed drills and cultivators in Hall 20 Stand 780.